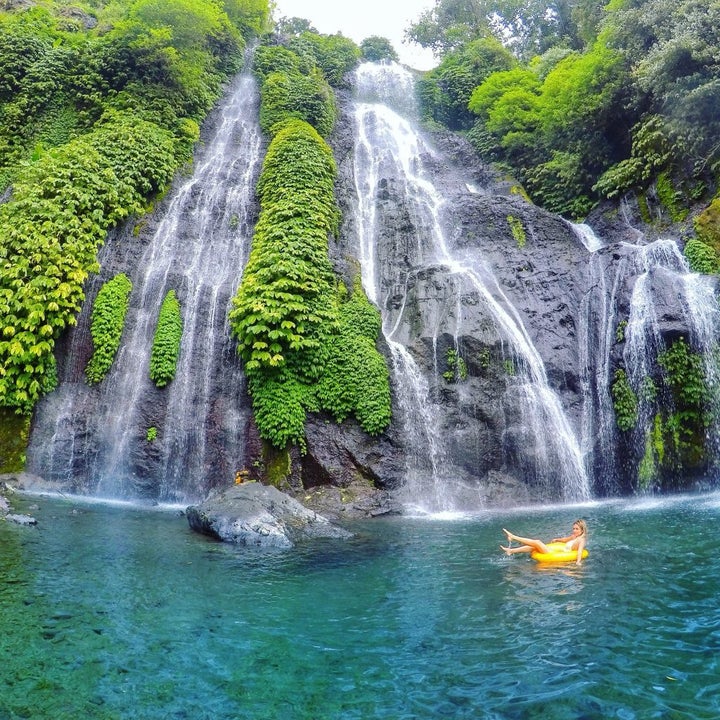 When you think of Bali, you probably envision swimwear clad bodies next to bright blue villa pools, surrounded by white and yellow frangipani flowers, probably some fruit, and give or take a few rad pool floaties. Or, maybe your mind automatically wanders to the iconic rice terraces of Tengalalang, or the equally popular Tegenungan waterfall, or super exclusive, can-only-go-if-you-have-money Hanging Gardens in Ubud.
Bonus points if you're up to date on the most recent Bali photo trend; the Bali Swing, and all the variations of whimsical photos people have been posting from it! But while all of those places are admittedly epic to see (and I've totally taken photos at all of them), I have to say...they're a bit overdone.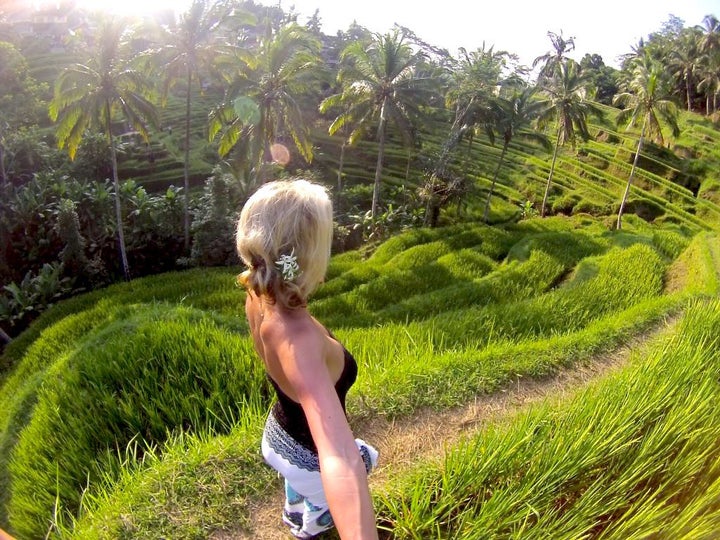 That's why on my recent trip to Bali, I decided to venture past the typical Instagram photo spots, to do the one thing I love doing the most; chase waterfalls, and attempt taking photos of myself in them. The best waterfalls I had seen in Indonesia prior to my recent escapades were all on other islands like Lombok and Flores, but I knew there had to be more on Bali, so I did some research, and set off to the northern region of Bali to find them.
Spoiler Alert: northern Bali is waterfall heaven.
Yes, it takes a little longer to get there than the usual popular destinations, but it's so worth it when you see how many incredible adventures and photo spots there are. That being said...if you're going for the photos, please be sure to enjoy the journey along the way!
So enough of the suspense, here's my favorite 8 new Bali photo spots you didn't know existed, including the Airbnb treehouse I stayed in up there!
1. Banyumala Twin Waterfall
This waterfall was by far my favorite! It looks just like the popular one on Lombok, but doesn't require a 5 hour ferry to get to it! It's not hard to find, but you can get the exact directions here. It only costs about $0.75 to go to, and there's other waterfalls there too!
2. Danau Buyan Lake "Selfie Park"
Ok...so maybe this is on the same level of "set up token Instagram shot" as the Bali Swing is...but in their defense, it's a REALLY good idea. Clearly the locals noticed how selfie-crazed all of us travelers are, so they got smart and built small parks on the side of this lake that you can pay about $1 to get a nicely framed shot of the lake. Plus it's safe since they help you onto the swings, nests, boats, etc., so you can't get yelled at on Instagram.
There's no GPS coordinates for the "selfie parks", but you'll be able to see them on the side of the road, or you can find them near this address.
3. Pucak Manik Waterfall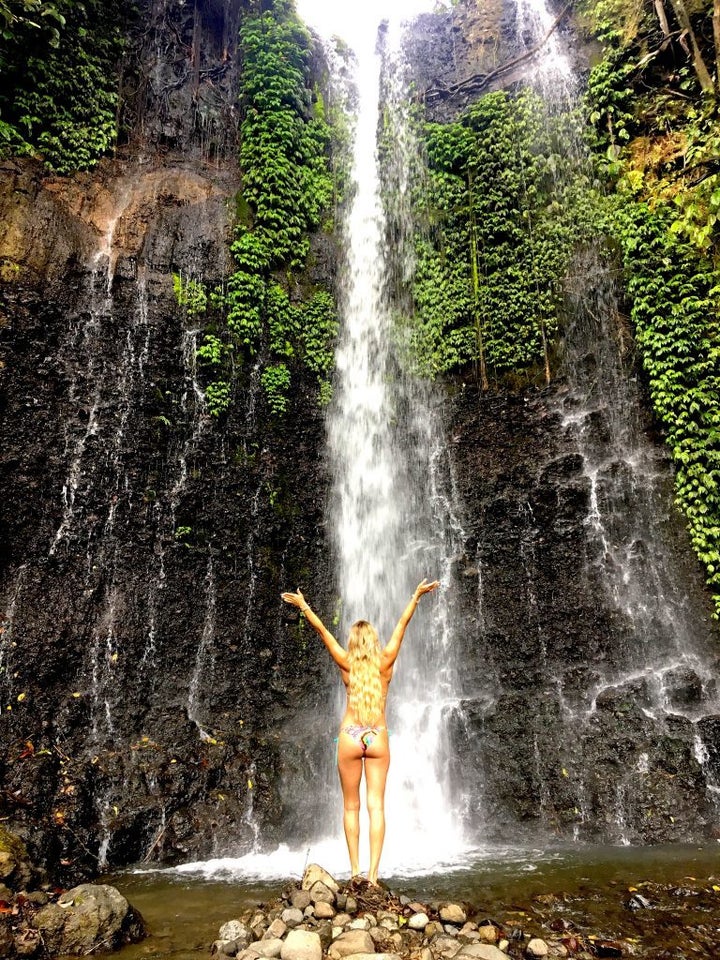 I literally found this waterfall by Google-mapping the word "waterfall" and zooming in on what pops up. It's definitely a place not many people have discovered yet, which I can tell since no one else was there for the hours I was playing at it, which makes it all the more enchanting. Plus there's a 4-level treehouse you can climb!
Curious to know how I'm in the photo if I was there by myself? Check out this behind the scenes video on my Instavlog to see how I set it up!
4. Baturiti Treehouse AirBnB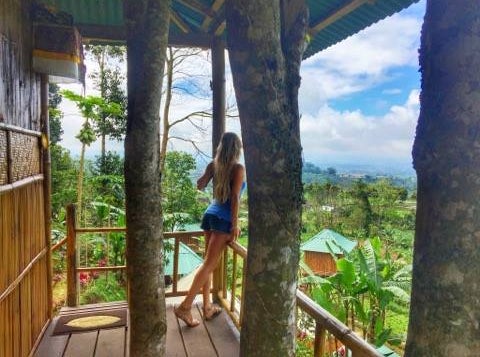 Yes, those are trees, and yes, that is a treehouse. In the middle of the jungle farm area of northern Bali! It was only $23 a night to stay here, and included a full Balinese breakfast, plus they helped with motorbike rentals. I probably could have stayed closer to the waterfalls, which are about 45 minutes away, but I mean...it's a treehouse...sooooo.
For more info on how to find the treehouse on AirBnB and where it's located, click here: Bali Treehouse
5. Git Git Waterfall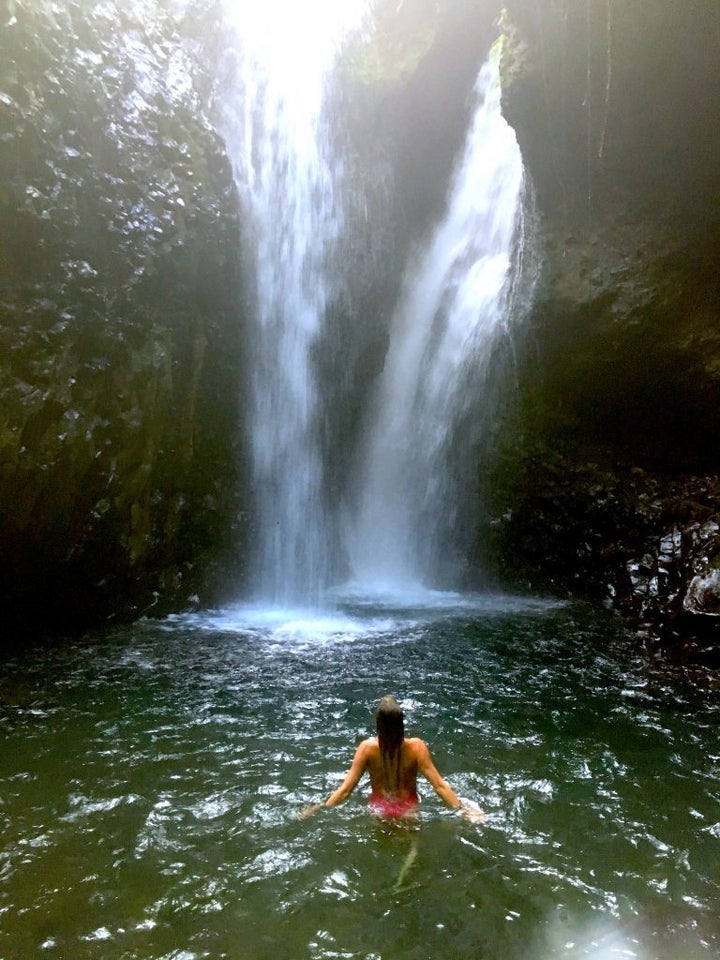 Git Git is the best-known of all of these locations, but not necessarily the best one in my opinion. I'm more of a bright green and sunny type of gal, but if you like a dramatic cave waterfall, Git Git is definitely for you! You an jump off the rocks behind it too if you're daring enough!
Bonus: The Place You Probably Knew Existed
Originally I had included this famous, scenic gateway in my round up of secret locations, but since it's not so secret, I decided not to claim it was. Made famous by Instagram influencers, this gateway (to a golf resort) can be seen right off the main road in northern Bali, on the way to the lake and waterfalls.
Although like the Bali Swing, EVERYONE has been taking photos here recently, it's still really pretty, and on the way to the secret spots anyway. You can find the address and directions here: Bali Instagram Gateway.