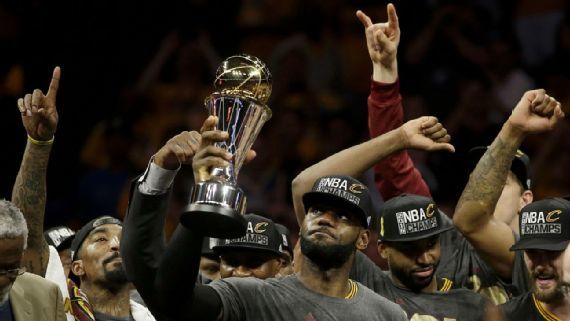 It had all the makings of a great drama. The young, up and coming star, Stephen Curry, gunning for the crown of the older statesman: LeBron James. A feisty spouse, Ayesha Curry, whose animated tweets resulted in her going toe to toe with a popular sports journalist, Stephen A Smith. On the east coast, grit and hard work,on the west, Hollywoodian cool. This wasn't a scripted reality show. This was, ladies and gents, the 2016 NBA Finals!
With these five words: "Cleveland! This is for you," on Sunday, June 19, 2016, LeBron James, the Ohio son who angered many from his State when he left the Cavs for the Miami Heat circa 2010, redeemed himself. In clear terms, he simply turned Cleveland into "Believeland." He fulfilled his promise to Clevelanders by bringing home the first NBA championship in franchise history to a city with a 52-year sports championship drought.
LeBron James, I daresay, is a polarizing figure. People feel very strongly about the man and you will hear him described with adjectives from one extreme end of the spectrum to the other: Hero-Villain. Confident-Arrogant. Humble-Proud. Hate him or love him, you and I can learn a lot from LeBron and the Cavs:
1. Don't be Defined by your Present Circumstance.
The Cavs were down 3-1 in a 7-game series. Going into the finals, the vast majority of Sports analysts and experts said there was no way the Cavs could come back, talk less of the series going to 7 games. No way! They said. After all, no team in NBA history had come back after being down 3-1. Of course, records are meant to be broken and the Cleveland Cavaliers came roaring back after being down 3-1, to not only tie the series, but to win it all in an emphatic fashion!
In our personal lives and careers, we sometimes face circumstances that seem insurmountable: rocky relationships; rough starts on a project; parenting; you name it…We've all faced situations that made us question our experience, abilities, and competence. But we are not alone. Even the great ones have had their fair share. We've all heard about a guy named Steve Jobs who lost his company at one point. The Cavs have taught us that the tide turns, your current situation is temporary so don't dwell. Stay hopeful and remember it's just a phase - the best is yet to come!
2. No Man or Woman is an Island.
LeBron James is 6'8", 250 lbs. (I know, right, a HULK of a man!) and everyone expects him to do it all: score; rebound; assist his teammates; be perfect.  Truth is, he couldn't and can't win a championship by himself. When he won 2championships with the Miami Heat, he had his brother-friends with him: Dwayne Wade and Chris Bosh; among others.  When the greatest of all time, his Airness, Michael Jordan, won all those championships in Chicago, he had Scottie Pippen, Dennis Rodman, and others.   Out in LaLa land, Kobe had Shaq, Derick Fisher, Robert Horry, and a host of others. LeBron won with help from Kyrie Irving, J. R. Smith, Kevin Love etc.
When it comes to your personal goals: losing weight; learning a new language; being more present when you're at home (I know it can be hard to break free from those phones!), or professional goals: learning a new skill; taking on a new project; taking your career to the next level--you can't do it alone. It's great to have accountability partners, mentors, a network of people that can help you get where you need to go and be the best you can be at whatever it is you are trying to accomplish.
3. When the Going gets Tough, get Tougher!
After Sunday's win, LeBron said: "Throughout my 13-year career, I've done nothing but be true to the game, give everything I've got to the game, put my heart, my blood, sweat, tears into the game, and people still want to doubt what I'm capable of doing…"
Lord knows there are days when I feel like I've given my all, yet people are not satisfied. (Can we start with my 5 and 3-year olds?? Or my husband LOL). I've had challenging work situations in my 15+ years career that have made me call my good girl friend or my mom crying, and I've had situations in my marriage where I'm like, umm, this isn't what I signed up for! But life isn't all roses and rose, so we have to get tough! Nothing worth fighting for is that easy. So, dig deep and find that strength because sometimes, your all isn't enough.
4. Don't be Afraid to Re-write your Story.
When LeBron's now infamous "Decision" aired in 2010, which is when the world learned that he was taking his talents to the Miami Heat, all hell broke loose in Cleveland. LeBron jerseys were being burned, in the streets, the Cavs owner was extremely bitter and had some choice words for LeBron. LeBron went on to win two rings in Miami and, just as he shocked the world with his decision to go to Miami, the hated son of Cleveland shocked the world once  again when he decided to return to Cleveland two years ago. This time, there wasn't any pomp and circumstance, no televised interview, nada. Just a humble essay to SI.com. That was the first step towards rewriting his story. The 2016 championship marked the end of a chapter.
It is NEVER too late to start over, reboot, or reinvent yourself. I started a style blog at 37 years old (lol), a few weeks before I turned 38! There is nothing we cannot do. I don't care how bad the road is or how windy or twisty, you can always turn around or go in a different direction!
5. There's Always Room for Improvement.
"I wasn't that good in the first few games here…I watched a lot of film, detailed it out, changed my blue print and was able to put together some spectacular games after being down 3-1" – LeBron James
No one is perfect. Not even the man who is now being described as one of the top 5/10 players to ever play the game of professional basketball.
If LeBron can go back and study what went wrong, looking for what to improve on, so can we! Not the tape part lol Unless you do a lot with video:) However, whatever it is that you are focused on (your career, a project, raising kids, nurturing a relationship, or taking up a hobby), there's always room for improvement. We can always do better because we were destined for more! Let's all take the time to invest the time and effort to be better.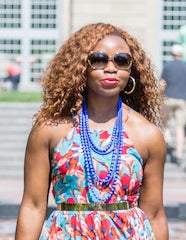 I'm a former tomboy turned Corporate professional by day and Fashion Blogger/Style Consultant @ night.  A wanna be-DJ and lover of basketball, my most important jobs=wife to hubby (Wole) and mom of 2 hilarious little girls (Dara + Demi) who make sure there's never a dull moment! I serve up style inspiration to help working women reinvent their workwear at tokestakeonstyle.com.  Drop by sometime and say hello.
Calling all HuffPost superfans!
Sign up for membership to become a founding member and help shape HuffPost's next chapter
This post was published on the now-closed HuffPost Contributor platform. Contributors control their own work and posted freely to our site. If you need to flag this entry as abusive,
send us an email
.