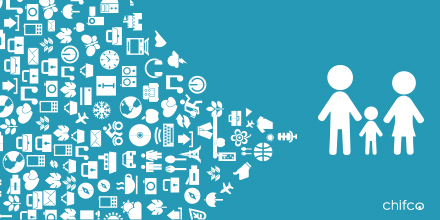 "What do you know about the Internet of Things?" is the question we asked at the beginning of this week. To put it simply, the idea behind IoT is to be able to connect any kind of every day object, say a thermostat, a car, a coffee maker, or a watch to the internet. Not only is it great to be able to have centralized, remote control over one's devices but it is also a game changer to be able to collect data about the functioning and interaction of these machines. This ability to collect and process data from connected objects is already changing the face of a few industries.
1. Your security in the palm of your hand
The time of trying to remember whether you locked the door, turned off all the lights, when you are half a world away from your house and you have to go back to check, is over. The time of worrying about discovering a break in at your house, as you return from vacation is over. The time when you spent the day worrying about your children because you left them at home with a nanny, or a baby-sitter is also over. A few sensors, detectors, smart plugs, IP cameras, a smart phone or a tablet and you are the master of your home, or office at any time and from anywhere. No more worries, just peace of mind, as you take back control of some of the most important aspects of your life, thanks to home automation.
2. The service industry will prove that information is power
A huge variety of Big Data-based services have been emerging and will be emerging soon. On the one hand, some companies are using the data generated by connected objects to enhance their performance and their products. The generated data is key for them to tailor their services to their clients' specific needs. On the other hand, the data collected has been helping service providers market their products and target more specific audiences like never before. To give a small example, Wi-Fi Hotspots are a service provider's best friend. All they need is to optimize the use of their offered Wi-Fi connection. It not only puts them more in control of the goings on in their structures but also helps them collect information on their customers either for marketing purposes, or service enhancement purposes, or both.
3. The automotive industry becomes more efficient
Fleet management systems, such as GPS tracking solutions have enabled companies to become a lot more efficient and optimize the use of their fleets. Whether it is a car-rental company, any kind of company with a commercial fleet, or a car insurance company, the possibilities of tracking their fleet's movement, accidents, theft and consumption are just incredible. The costs these companies will be able to cut thanks to how efficient these solutions can make them are huge, not to mention enhanced performance, service, and again security.
4. The healthcare industry says who is better than you to take care of your own health
And who is? Democratizing health care and making it accessible at home and understandable will revolutionize the way we treat and prevent chronic diseases, partly because of data collection and centralization as well. Centralizing all of the information about monitoring one's diabetes, or high blood pressure for example, receiving alerts, and analyzed data about it on one app, will help the patient keep themselves in check and will provide physicians with valuable information on the patient but also on the disease itself. Making people responsible for their own health will be an efficient tool to reduce unpredictable, lethal incidents, as well as a great tool to incentivize people to live better.
5. Last but not least, finally a way to measure your own carbon footprint, starting with your energy consumption
Just the potential that big data has in helping us limit our carbon footprint in terms of energy consumption, and eventually pollution alleviation is astounding. Almost all home automation solutions out there have a green edge and why not, when regular people can receive this type of information, which raises awareness of issues we needed to contemplate a long time ago. It might sound cliché, but it is the legacy we leave to our children and the generations afterwards. It is high time someone cared about what we do to the environment on a daily basis, in the name of our modern comforts. Isn't it even better, though, when we tell you that you can have your modern comforts and a responsible way to enjoy them thanks to IoT? And if not for the environment, do it for the savings. It just makes sense every which way you look at it. It has to please you to know that the future's technology is a responsible one. We know it pleases us. Moreover, IoT will help do this as much on a personal small scale as it will on a larger scale, simply because it makes studies possible and much easier on how much our machines consume or pollute. This is no mushy, flower-loving hippie, tree-hugger kind of green. We might be on the verge of a real green technology-based revolution. The possibilities are really endless.
Related