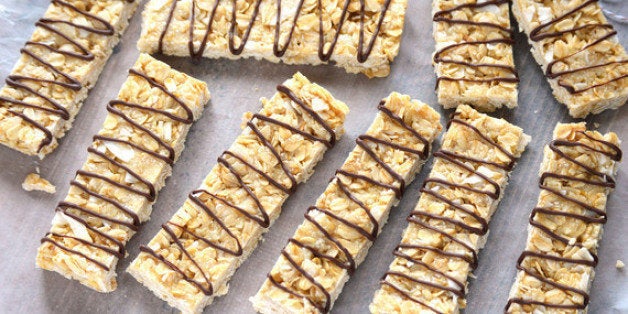 My girls love granola bars and we go through them like crazy. I wanted to try my hand at a homemade version so I came up with these little treasures.
I'm a coconut fiend, so naturally, they're full of coconut flavor, but without going over the top. If you're not a fan of coconut, you'll probably argue that I went over the top. But in my house, coconut is king and I say they're perfect.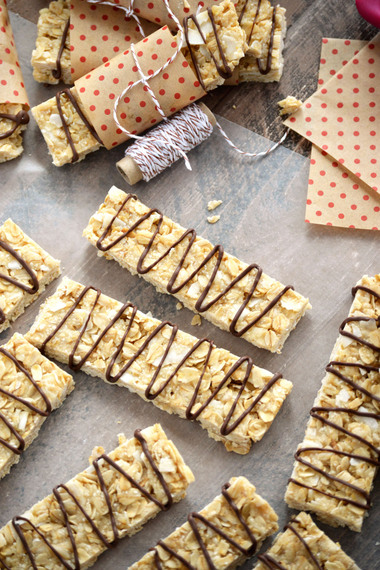 I used my homemade coconut butter in these bars for that extra kick of coconut flavor. Coconut butter is like a nut butter, so if you don't have it and you don't want to make your own, you could always use another nut butter. I highly recommend trying to make it though, it's super easy if you have a food processor or high–speed blender – only one ingredient!
But with that, I'm going to go all Ina on you though and say, If you can't grow your own coconut tree and harvest your own organic non-GMO coconuts on a remote island, store-bought is fine. And I guess you can also say that about making your own granola bars too, ha! If you get a chance to check out Ina Garten store-bought-is-fine memes, do it. They're hilarious. Love her.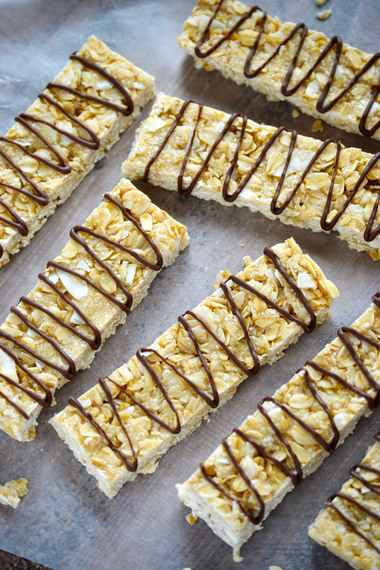 If you do make a batch of coconut butter and you're looking for other ways to use it, I used it in my chocolate coconut energy bites. They're another great no-bake coconut treat that are perfect for snacks.
The best part about these granola bars is that they're incredibly easy to make and you don't have to bake them since they harden up in the refrigerator. And they make a lot – 20 bars! So it's not a snack you're going to have to make every few days because lets face it, that gets a little old. The chocolate drizzle is completely optional but you absolutely can't go wrong with chocolate and coconut. It's the best combo ever in the history of ever-ever. Enjoy!
About Sharon
Sharon is our latest gluten-free fanatic. We love her easy approach to gluten-free recipes that are versatile enough to be gluten-full too. Try one, you'll see what we mean. Find her at What the Fork Food Blog every day.