You know the Christian-run businesses that are always in the headlines, like Chick-fil-A and Hobby Lobby. But what about the smaller businesses that are doing something remarkably creative, like starting a coffee company that only employs ex-offenders?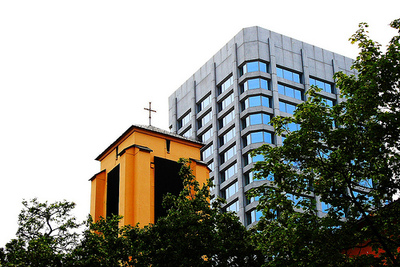 Here are five innovative businesses started by Christian entrepreneurs.
It's more than just a burger -- it's an "elevated product" and "elevated experience." Hans and April Hess founded this restaurant chain to offer high-quality organic burgers as a healthier, environmentally-friendly alternative to fast food. "I felt that God calls us to be stewards of creation, people who take care of it, so that was the driving force behind Elevation Burger in my head," Hans Hess told Faith & Leadership. You can find Elevation Burgers in Texas, Indiana and the East Coast. Check it out.
I Have a Bean employs ex-offenders to produce their coffee, a story chronicled in Christianity Today. It all started with a sketch on a napkin, when three friends met for breakfast and came up with the idea. "After much discussion, brainstorming and prayer, we began to believe that we could create a coffee roasting business that would accomplish two things -- produce truly exceptional coffee, and help transform the lives of former offenders," their site reads. Try it yourself at the I Have a Bean coffee store.
Founder Pete Leonard shared the wisdom behind his success in a phone call. Here's what he said:
Know everything about where your company stands financially at all times. Being great with something you do with passion, and having enough money to get started, is not enough to be sustainable. If you don't have the skills or knowledge to manage your finances, partner with someone who does. You can't let an accountant run your business. You need to have a perfect understanding of where your business stands at any time.
One in three people in the world don't have reliable electricity (according to D.light), but the Economist says that solar-powered lamps will be the gadget that will "most quickly improve the lives of the world's poorest people." That's where D.light design's very affordable solar-powered lamp comes in. Cofounder Xianyi Wu told Christianity Today that he felt God prompting him to go forward with the project when he attended the Urbana student missions conference. Check it out.
This is a frozen yogurt store where "frog" stands for "Fully Rely On God." With adorable frog mascots Scoop and Cookie, SweetFrog opened on the East Coast in 2009, an opportune moment when most frozen yogurt stores were only on the West Coast. Now with 260 stores, SweetFrog is expanding as far as the U.K. and Dominican Republic. They've even developed a mobile game featuring their mascots.
Founder Derek Cha shared his No. 1 startup success tip over an email: "Don't settle for mediocre product -- be the best at what you're serving or selling," he said. Check out SweetFrog here.
Altar'd State is a women's clothing store with a sophisticated style, but it's not obviously Christian when you first walk in. As you look around, you might start to notice subtle traces of faith -- like a cross necklace or products dedicated to giving back (TOMS shoes and more). Altar'd State's tag line is "Stand out. For good." You can see why; this boutique finds creative ways to give. The mission-driven store tithes their profits to local charities on 'Mission Mondays.' Their customers have donated 155,000 TOMS shoes and their employees have volunteered more than 750 hours. Founded in 2009, Altar'd State has already expanded to 30 locations in the U.S. Check it out here.
When asked for their best business tip, Founders Brian Mason and Aaron Walters wrote back:
The best business tip we have learned through Altar'd State is to not be afraid of change. We are continually adapting and changing our business to improve and innovate. Change does not mean failure. It often is the very reason for success. The economic environment is constantly transforming, so it is only natural for a business to adjust in order to compete.
Mason and Walters said Jeremiah 29:11 is the foundation of their company. "We have found hope and purpose in this verse," they wrote. "We know the Lord has a plan for this company, and we want His will to be done through us."
Tell me about an innovative faith driven business you know!
Calling all HuffPost superfans!
Sign up for membership to become a founding member and help shape HuffPost's next chapter