Thailand is probably the best-known -- if not the most visited -- travel destination in Southeast Asia and for good reason. The moment land in the country your heart rate practically slows by ten beats per minute. Most people know that Thai people are incredibly friendly, their culture is exotic, and their food is amazing. Those are all reasons that I moved here 10 months ago.
It's often overlooked, though, how tranquil the country can be.
From feeding and bathing elephants, to strolling among monk-filled temples, to learning how to make papaya salad, there is a multitude of stress-relieving activities to try in Thailand. Here I've distilled the list to the five most extreme blood pressure-dropping, anxiety-relieving activities you can try in the Land of Smiles.
1. Savour Sunset Cocktails On The Beach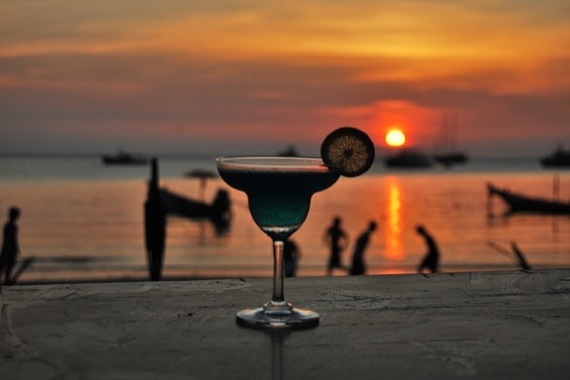 I make a point to do this at least once a week. It's therapeutic.
Any beach in Thailand that is anywhere even remotely near a tourist area will either have several bars and stores selling alcohol on the beach, or adjacent to it. If you're a blender cocktail sort of person, you'll be best off to stay near the touristy areas where the bars are better equipped.
If you're OK sipping on a beer or mixed drink, you'll have a wider variety of choices for places to plant your butt in beach chair as you watch the fiery red sun sink into the horizon.
Local Tip: Beer drinkers should try the local brew, Leo, which is the best-selling beer in Thailand and my personal favorite.
2. Find Your Inner Bliss At A Meditation Retreat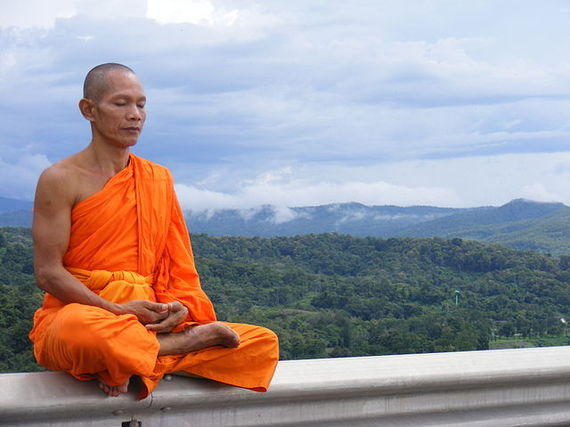 I've known several people who have done this before, but I've always been afraid to myself.
Thailand is a devoutly Buddhist country. There are all kinds of meditation retreats, but there is one specifically that interests me: Vipassana.
Vipassana offers a 10-day silent meditation retreat. When they say silent, they mean it. You are not allowed any form of entertainment -- everything from journals to cell phones are forbidden -- and you are not permitted to speak to anyone except your teacher for 10 days. Basically, you meditate in silence most of the day, every day, for ten days.
Everyone I know who has done this has said that it is one of the hardest things they've tried in their lives. They've all said it was unequivocally one of the most rewarding experiences they've had in their lives as well, and that they left a changed-- and more serene -- person.
It seems that most students of Vipassana must feel this way because the dozens Vipasanna centers around the world run solely on donations from former students. There is no charge for the course itself.
I've made it my goal to attend one this year.
Local Tip: Vipassana has garnered a great reputation and courses can fill up three to six months in advance, so plan your course well ahead of time.
3. Visit An Uninhabited Island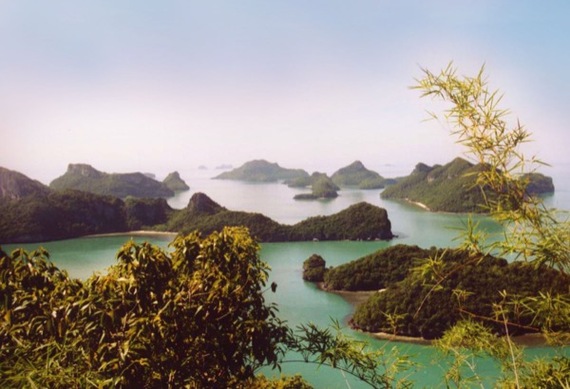 The movie The Beach wasn't stretching the truth in it's portrayal of uninhabited islands in the waters around Thailand -- though it may have been pushing it to suggest people could live undiscovered on one. Many of them are easily reachable for day trips.
There is nothing quite like wading from a boat onto soft, sandy beach surrounded by nothing but jungle, silence, and the sound of waves, and relaxing in the sun while a lunch of fresh fruit and fish is prepared for you on a bamboo table.
Local Tip: One of the most picturesque places for uninhabited island hopping is Mu Ko Ang Thong National Park (pictured above), which is accessed via Koh Samui.
4. Swim Under A Waterfall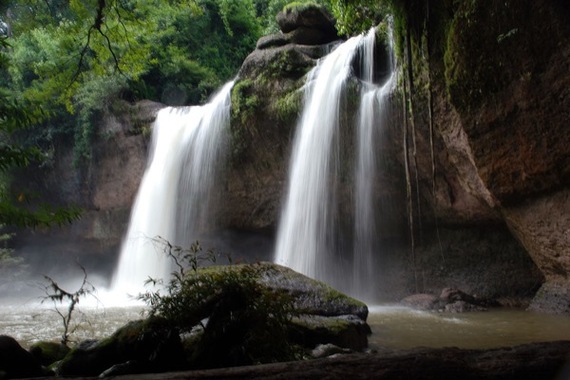 There are hundreds of amazing waterfalls in Thailand, the most popular including Erewan, Huay Mae Khamin and Haew Suwat. They are all key attractions in their respective areas and are popular places for day hikes and swimming.
Few things feel quite as quintessentially tropical swimming in the clear aqua pool at the base of a waterfall.
Local Tip: For bragging rights head three hours northeast of Bangkok to Haew Suwat Waterfall in Khao Yai National Park to see the location of the iconic waterfall jump featured in the movie The Beach.
5. Enjoy A Massage On The Beach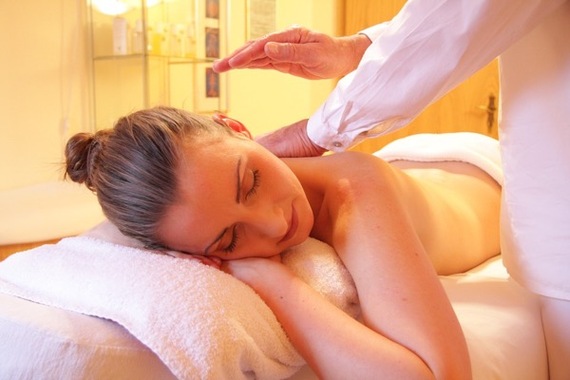 There are few places more relaxing than the beach and there are few experiences more relaxing that a Thai massage from a talented masseuse. Put them together, you have an experience that will leave you feeling like a blob of jelly that's one step from falling into a coma.
There are two kinds of venues for beach massages in Thailand: 1) your own bungalow if you have a private bungalow on the beach and 2) massage tables on a public or resort beach. The only real difference between the two is the degree of privacy you get.
Local Tip: A lot of people offer Thai massage, but not all are certified professionals. Don't go for the cheapest option. For the best experience, call up some of the swankier hotels in the area, inquire about their masseuses' qualifications, and book an appointment with a qualified, experienced masseuse.