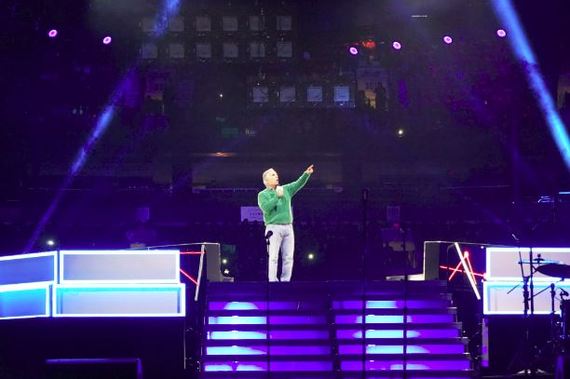 I wish We Day existed when I growing up in Vancouver. I would have jumped at the chance to see actor/director Henry Winkler (above), astronaut Chris Hadfield and others give inspirational talks, encouraging youths to change the world for the better.
Last Wednesday, 20,000 primary and secondary school students from all over BC gathered in Rogers Arena. Run by the non-profit Free the Children, We Day is an annual empowerment-fest with presentations by dozens of celebrities. Tickets are free for youths who have made a difference.
Even though I was older than almost everyone there, I too felt inspired by the messages to dream big and make a positive impact on the world. Here are five of the biggest takeaway moments from We Day Vancouver 2015.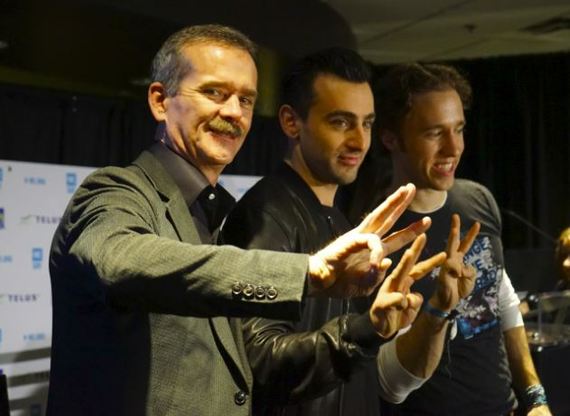 1. Aim for long-term development
In the press room, I attended a Q&A session with astronaut Chris Hadfield, singer Jason Hoggard, and We Day co-founder Craig Kielburger (left to right, giving the Vulcan hand sign).

A teenage reporter asked if they had an "aha moment" that changed their perspective. Jacob told us about traveling in India as a Free the Children ambassador. He met young Indian women living in the poorest of conditions, and then remembers going back into his air conditioned van and reaching for a soft drink. He wondered, "Can this be the same reality?"
The stark contrast opened his eyes the difference between charity and development. "Giving aid is a Band-Aid. It's not long-term solution to bettering their lives. What we need is development, with a long-term progressive view," said Jacob.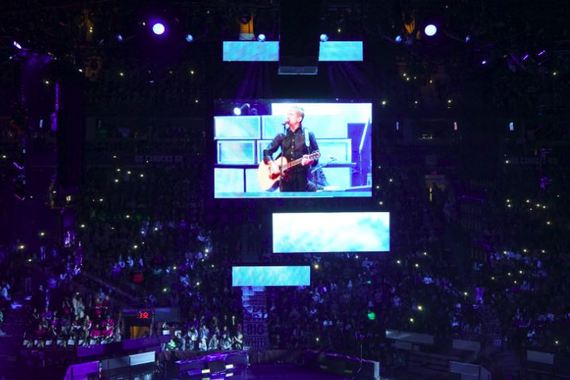 2. Recognize the unity of human experience
According to Canadian astronaut Chris Hadfield (who performed onstage with the Barenaked Ladies), "Exploration starts with learning to walk."
He spoke about his third trip to space, where he spent five months circling the Earth. Chris recalls taking a photo of Karachi from the International Space Station, and posting it on Twitter without thinking much about this foreign city.
However, the next few times he orbited above Pakistan, his perspective had shifted. "Before, there was a feeling of 'us and them'. Now, Karachi had become part of my world, my 'us'," said Chris. "By realizing the commonality of human experience, we will hopefully make good decisions that affect the quality of life for as many people as possible."
3. Imagination is everything
Spencer West, a speaker and author, wowed the audience with his "can do" attitude. Despite losing both legs at the age of five, Spencer has climbed Mount Kilimanjaro.
He spoke about the power of imagination, giving the example of James Naismith, who invented basketball to keep students engaged during a long winter. "How far can your imagination reach?" Spencer challenged us. "Can you imagine a world where cancer has a cure, and no child goes without an education?"

4. Our minds define what is possible

Marlee Matlin was deaf since the age of 18 months, and people told her that this meant she could never become an actress. However, with the encouragement of Henry Winkler, she pursued her dreams -- and won an Oscar for her role in "Children of a Lesser God."
Marlee shared her winning formula: "Courage + Dreams = Success." She showed the crowd how to express this equation using sign language. "Accept any challenge in front of you, dream big, and you will succeed," said Marlee.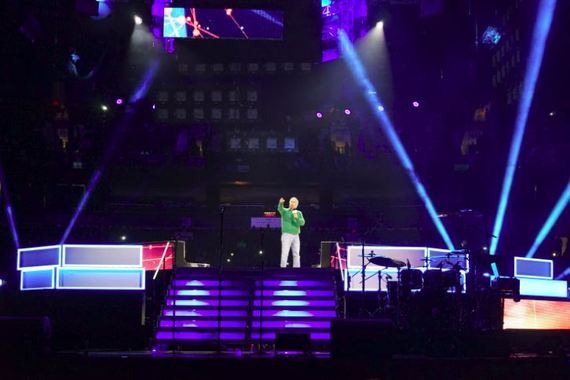 5. There's a greatness in every one of you
Henry Winkler came onstage to a deafening cheer. "I am so happy, so humbled to be in this room with you," said the actor/director/producer known for playing The Fonz on Happy Days.
Henry's heartfelt words were the highlight of We Day Vancouver. "No matter how difficult your journey is, no matter what challenge you have in your life, there is a special greatness in every one of you," he spoke. "You are powerful. Say it with me, and mean it: I am powerful!" He encouraged everyone in the arena to find that greatness and express it to the fullest.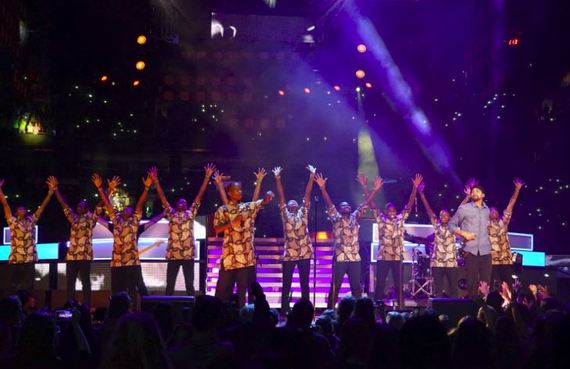 Between the talks, the students danced along to musical performances, watched empowering videos, and saw a show-stopping breakdance by 60 year old teacher Shirley Clements.
After We Day, Henry Winkler tweeted to me, "I loved being with everyone. What an event. What a concept." I couldn't have said it better.
Calling all HuffPost superfans!
Sign up for membership to become a founding member and help shape HuffPost's next chapter