Younger athletes at this year's Olympics like Michael Phelps and Usain Bolt might be household names, but here at Huff/Post 50 we think the older athletes are even more inspiring. They, too, hit the pavement, push themselves to the limit and are in the best shape of their lives.
Here are some older athletes who prove age can't keep us from accomplishing some pretty incredible things:
1. Hidekichi Miyazaki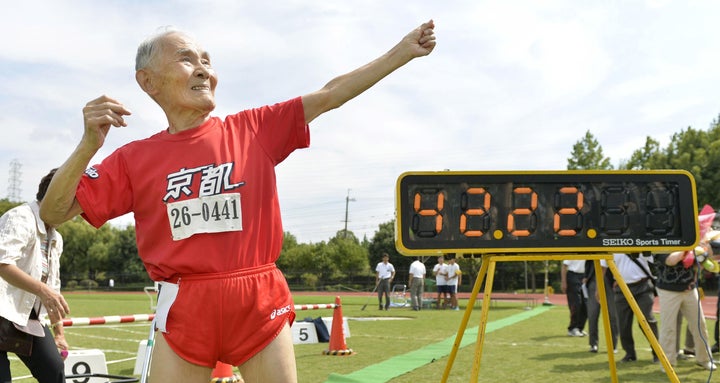 If you thought breaking a Guinness World Record was cool, imagine doing it at 105. Last September, Japanese centenarian Hidekichi Miyazaki ran a 100-meter dash in a cool 42.2 seconds, making him the oldest competitive sprinter in the world. 
But what's most inspiring about Miyazaki is that he didn't even start running competitively until his 90s! With ever the competitive spirit, he says he wished he'd been able to run the dash faster, but not to worry ― he still plans to keep at it for another couple of years. 
2. Charles Eugster
At 97, Charles Eugster has the enviable physique you might expect to see on someone decades younger. But if you ask him, there's no reason you shouldn't have a "beach body" at any age. Eugster has said he wants to be turning heads no matter how old he is, but jokes aside, he takes his fitness seriously. 
And his story is truly inspiring. Eugster is the world's fastest sprinter in the 95-plus category, though he only started running in his 90s. At age 95, he smashed the world record for the 200-meter dash in his age category. His motivation? "Our perception of age is completely faulty ... you can start something new at any age."
3. Johanna Quaas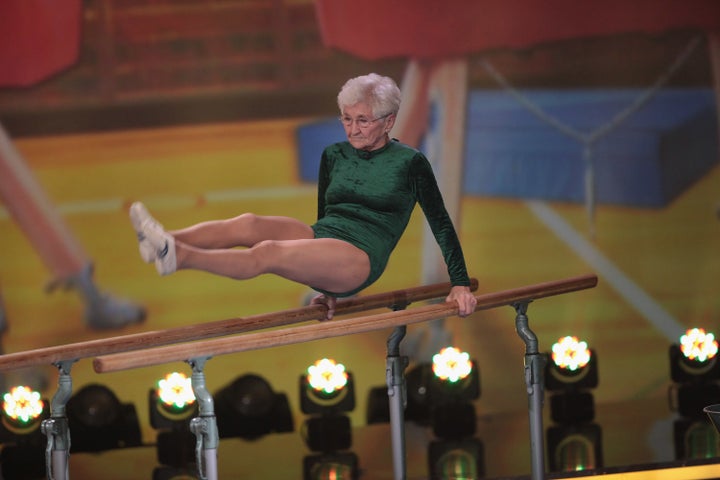 Just watching Johanna Quaas on the bars will make your core hurt. The 90-year-old is the world's oldest gymnast and still looks better in a leotard than most people could ever hope to. The retired gym teacher says there's no reason you shouldn't be able to tumble, balance and tuck at every age as long as you keep up with your fitness regimen. 
For her, that means practicing gymnastics twice a week and walking or swimming for an hour every day otherwise. 
4. Fred Winter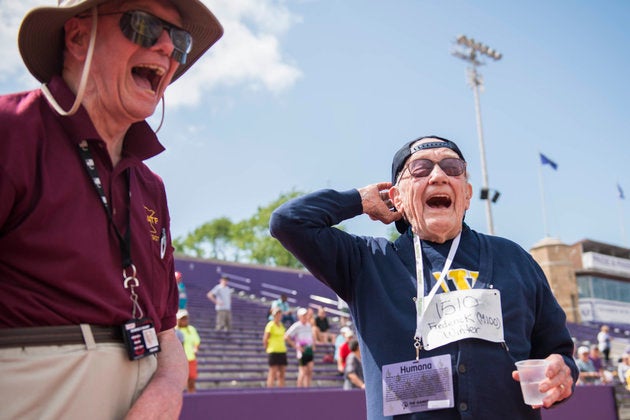 Struggling to do a single push-up? There's a centenarian that can do more than you. That's at least 100 to be exact. WWII veteran Fred Winter is in the best shape of his life at 101 years young. After deciding to get in shape after turning 70, Winter has been crushing it, competing at various senior fitness competitions and the National Senior Games. Last year he became the oldest person to run the 100-meter dash at the games and took home a few gold medals. 
So how does he do it? Winter is a self-described "health nut" and reportedly still does 100 pushups every day, watches his diet and makes sure to get plenty of exercise. 
5. Lew Hollander
This 86-year-old man of steel, er, iron has completed the ultimate test of endurance and fitness. Hollander holds the record for being the oldest person to complete the famed Ironman competition at 82. He's kept biking, swimming and running ever since, even competing last year. 
"Move it or lose it," is his mantra, and he doesn't take it lightly. Hollander's fitness routine includes strength training for his body, but he also keeps his mind sharp by playing ping-pong. 
Calling all HuffPost superfans!
Sign up for membership to become a founding member and help shape HuffPost's next chapter
BEFORE YOU GO
PHOTO GALLERY
Oldest People