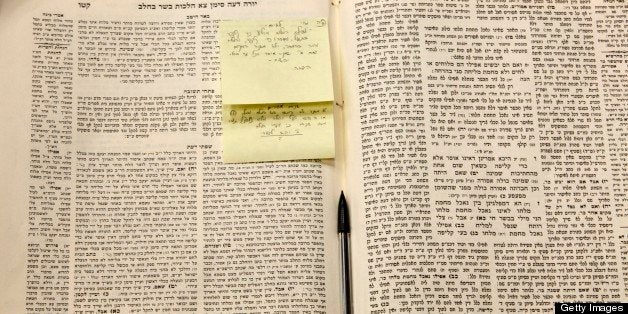 As our nation reels and begins to recover from this week's attacks, our religious traditions can offer wisdom and comfort. Below are five primary sources from the Jewish canon. I hope you find some of them helpful in your own grieving and processing. May God protect the wounded, help our national heal and help bring the perpetrators to justice.
First Response: Running to Action
Babylonian Talmud, Sanhedrin 73a
How do we know that if a person sees another person drowning, mauled by beasts, or attacked by robbers, s/he is bound to save him? From the verse, ''You shall not stand idly by the blood of your neighbor!'' (Leviticus 19:16).
Babylonian Talmud, Tractate Menachot 29B
Rab Judah said in the name of Rab, When Moses ascended on high he found the Holy One, blessed be He, engaged in affixing crowns to the letters of the Torah. Said Moses, "Lord of the Universe, why are you doing this?" He answered, "There will arise a man, at the end of many generations, Akiva ben Joseph by name, who will expound upon each crown heaps and heaps of laws." "Lord of the Universe," said Moses, "permit me to see him." God replied, "Turn around." [Moses was now transported to Akiva's classroom] Moses went and sat down behind eight rows [and listened to the discourses upon the law]. Not being able to follow their arguments he was ill at ease, but when they came to a certain subject and the disciples said to Akiva -- "Where do you know it from?" and Akiva replied, "It is a law given unto Moses at Sinai," Moshe was comforted. Then Moshe returned to the Holy One, blessed be He, and said, "Lord of the Universe, You have such a man and You give the Torah by me?!" He replied, "Be silent, for such is My decree." Then said Moses, "Lord of the Universe, You have shown me his Torah, show me his reward." "Turn around," said He; and Moses turned round and saw them weighing out his flesh at the market-stalls [Rabbi Akiva had been persecuted and tortured to death for standing up to the an oppressive government]. "Lord of the Universe," cried Moses, "such Torah, and such a reward!" He replied, "Be silent, for such is My decree."
Third Response: Thanksgiving?
A person is obligated to bless the bad things as he blesses the good as it says, "And you shall love Adonai your God with all your heart and with all your soul and with all your might" (Deuteronomy 6).
Fourth Response: Protest Against Evildoers
Babylonian Talumd Shabbat 54b
Everyone who can protest the sin of his household and does not, is responsible for the people of his household. For the people of his city, he is responsible for the people of his city. For the whole world, he is held responsible for the sins of the whole world.
Fifth Response: Protest Against God
When the men got up to leave, they looked down toward Sodom, and Abraham walked along with them to see them on their way. Then the Lord said, "Shall I hide from Abraham what I am about to do? Abraham will surely become a great and powerful nation, and all nations on earth will be blessed through him. For I have chosen him, so that he will direct his children and his household after him to keep the way of the Lord by doing what is right and just, so that the Lord will bring about for Abraham what he has promised him."
Then the Lord said, "The outcry against Sodom and Gomorrah is so great and their sin so grievous that I will go down and see if what they have done is as bad as the outcry that has reached me. If not, I will know."
The men turned away and went toward Sodom, but Abraham remained standing before the Lord. Then Abraham approached him and said: "Will you sweep away the righteous with the wicked What if there are 50 righteous people in the city? Will you really sweep it away and not sparee the place for the sake of the 50 righteous people in it? Far be it from you to do such a thing -- to kill the righteous with the wicked, treating the righteous and the wicked alike. Far be it from you! Will not the Judge of all the earth do right?"
Calling all HuffPost superfans!
Sign up for membership to become a founding member and help shape HuffPost's next chapter