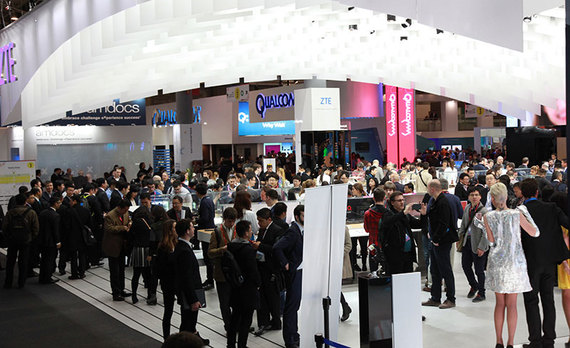 By Steve Wing, VP of Mobile & Marketplace - International, at Rubicon Project
The Mobile influence on our world has reached a tipping point, and it's culminated in this year's Mobile World Congress being the biggest yet - more than 100,000 recorded attendees over the 4 days. Steve Wing, Rubicon Project's VP of Mobile & Marketplace - International, reveals his 5 key takeaways from last week in Barcelona.
With each passing year Mobile World Congress has become less about phones, and more about people, or more specifically, the impact that mobile phone technology is having on all of our lives and the industries we work in. Yes, there were important announcements from the big hitters like Samsung and LG, amongst others, but this year the sheer breadth of industries represented at MWC 2016 was a vivid reminder as to how much mobile has penetrated into every fibre of our lives: gaming, advertising, entertainment, shopping, banking, health, education - even Virtual Reality. It's no longer about the device, but what that device lets us do.
Hopes for and commitment to 5G
The next generation of superfast wireless networks was in strong evidence and, although unlikely to have a real impact before 2020, its ability to connect the next generation of high speed services will no doubt be transformational. It also highlighted the widening disparity in mobile between the developed and developing worlds; much of the world doesn't yet have access to good internet basics whilst the focus on 5G was on how it will connect all of us and our devices to the internet to become the backbone of the 'Internet of Things'.
A panel on Wednesday featured some of the biggest mobile gaming companies including Rovio and King. The Angry Birds and Candy Crush creators respectively have seen their absorbing, innovative mobile games turn into some of the most downloaded apps worldwide. King were recently acquired by gaming stalwart Activision for just under $6 billion, and Angry Birds have a feature film due to hit cinemas in May. These are no longer simply 'mobile gaming' companies powering the app economy - with their deep expertise in mobile, they are evolving into the entertainment companies of the future.
Virtual Reality - more than just a bit of fun.
MWC 2016 saw a paradigm shift in the perception of what Virtual Reality might mean for the mainstream. With its roots in creating immersive gaming experiences, with companies like Oculus Rift, Mark Zuckerberg's surprise appearance at the Samsung Press Conference to talk about VR was an indication of just how seriously we should be taking it. With the future advent of 5G and the ready availability of VR technology, we will see it having applications far beyond gaming. Travel, healthcare, sports, entertainment and immersive brand advertising experiences are just a few of the opportunities it presents
More agencies and brands attending than ever
Mobile advertising is maturing, and the congregation of tech and mobile companies in the 'App Planet' hall at MWC 2016 was registered by the agencies and brands interested in making the most of their mobile marketing. We saw more of them in attendance than ever before, a sentiment backed up by a recent survey Rubicon Project conducted with ExchangeWire. The research found that 90% of brand-direct media buyers in EMEA were planning to increase spend on mobile video this year. Advertisers are looking for more innovative and engaging ways to attract the right consumer on mobile devices, and those at MWC 2016 were demonstrating how this was, and will be, possible.
REAL LIFE. REAL NEWS. REAL VOICES.
Help us tell more of the stories that matter from voices that too often remain unheard.