Paul Berberian -- one of those classic, renowned Boulder entrepreneurs -- gave the kickoff address recently as the University of Colorado in Boulder launched its annual entrepreneurial contest called the New Venture Challenge.
Berberian has ranged far and wide in his entrepreneurial career. He made it very clear to the mostly undergraduate crowd that, for him, it's about winning. "I'm the eclectic serial entrepreneur," he said, "I really don't have a particular discipline I follow other than, 'Can I make money?'"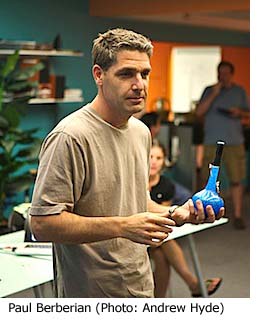 Since he cut his business teeth running his dad's plastic-badge manufacturing business, then did a stint in the Air Force, his major ventures have included Market Force Information, "the world's largest mystery shopping company" (it's still around, and he's still on its board), and his two biggest money-winners, both in telecom: a videoconferencing company, LINK-VTC, and a web and phone conferencing company, Raindance Communications, both of which were acquired and subsumed.
You'd think he'd slow down, but true entrepreneurs can't be turned off. After becoming thoroughly wealthy, he tried to take a year off with his family; that lasted four months. What's up these days? He's the new CEO of Zettasun, a Boulder company he thinks may become the low-cost producer of solar panels.
So what's his advice to the college kids about how to pick a winning entrepreneurial idea? He made five major points.
1. "Know yourself." One key variable here is, "Where do you fall on the risk spectrum?" For most young people, who are starting out with more or less nothing, it may well be a time in life for taking big risks.
2.
"What's the angle?"
The good business ideas fall into these six categories, he said:
"Roll-ups," wherein disparate players in a given market are aggregated into one firm. Consider, he mused, pulling together all the weed-pullers in Boulder;
"Better widget," offering incremental improvements. This is the area where most first-time entrepreneurs focus their fire;
"Better-faster-cheaper," and not necessarily all three of these;
"New approaches," meaning big-breakthrough ideas, a province that's not too appropriate for newcomers because it requires "big vision and staying power";
"A novel concept," who'd-have-thunk-it ideas that create new markets, and here he mentioned Twitter and Facebook;
"Geography," things like finding an idea that works in Country A and doing it in Country B, or spotting and capturing a local monopoly.
3. "Do the hard stuff first." Berberian is obsessed with rigorously evaluating business ideas. This may well involve finding the world's experts on a given business or technology, then begging them for free advice. Or finding someone -- not someone who works for your biggest competitor, but someone who used to work for them (find them on LinkedIn). Published industry data is useful, but "the real information is in people's heads." It's about finding answers to big questions like: Is it legal? Is it technically doable? Can the intellectual property be protected?
4. "Look at lots of ideas." Berberian showed the audience a 14-page list of business ideas he'd explored recently. "All of your ideas suck except the last one -- the one you choose," he said. His own personal favorites often are products or services that are hard to duplicate or are superior to anyone else's -- say, in price-performance. Also beloved: geographic monopolies.
5. "Do sh*t." Get moving, get answers. The answers probably won't come from sitting at a computer. And act with a "sense of urgency."
Follow these rules, he advised, and you have a shot at answering the biggest question: "Is this the one?"
Berberian made his comments to a packed audience at the University of Colorado Law School Nov. 11. The starting gun in the competition was fired that night, and the New Venture Challenge is off and running. The winners get not only great resume material, but also pretty big cash prizes.
Calling all HuffPost superfans!
Sign up for membership to become a founding member and help shape HuffPost's next chapter