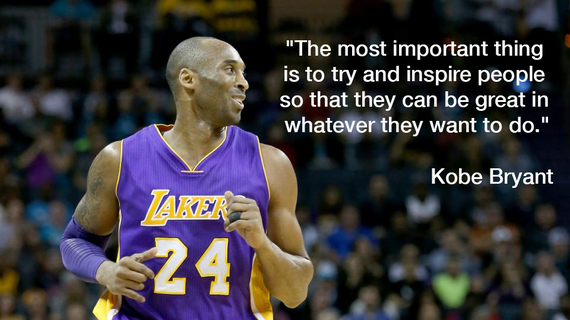 Kobe Bryant has had one of the most storied careers in the NBA. As a twenty year veteran, his stats are on another level.
To name a few:
five-time NBA champion
seventeen time All-Star team member
four-time All-Star MVP
two-time Olympic gold medal winner
career high 81 point game in 2006
the youngest player in league history to reach 30,000 career points
all-time leading scorer in Lakers franchise history
60 point final career-ending game
The list goes on!
What's more impressive than his list of feats is his attitude, work ethic, and his expectation of success. Basketball is a tough game, but so is entrepreneurship.
Here are five all-time great Kobe quotes from which entrepreneurs can draw inspiration and motivation.
Quote #1 "I'm chasing perfection."
Whatever it is that you inspire to do, push the boundaries of what you THINK is your best effort. Decide to be better than you were the last time.
Despite winning championships, Kobe was known to be found in the gym the very next day putting in work. Why? Becuase he wanted to be the most perfect version of himself that he could be.
As an entrepreneur, you have to be willing to do everything that's required to be successful. And when you think you've arrived, you have to get right back out there, because the bar just got raised.
Quote #2 "I can't relate to lazy people. We don't speak the same language. I don't understand you. I don't want to understand you."
Kobe realized that who he chose to associate himself with and spend time with affected him. His work ethic was so intense that he didn't even want to entertain the idea of laziness nor be associated with it in any way.
In the same way, every entrepreneur has a team or inner circle of people (colleagues, friends, family) around them that they entrust with their time and dreams. Keep close those who share your vision, inspire you, and push you. Don't waste precious headspace on nay-sayers.

Quote #3 "...It's just a matter of the pieces that you have around you and what you can do to elevate everybody else."
Kobe understands that winning isn't about himself, it's a team sport. Success in business is no different. Entrepreneurs should look for opportunities to put others (employees, customers, vendors) in a position to win.
Great leaders understand that they will often get the best from their people when they give their people the best opportunity for success. When your team is winning, you are winning.
Quote #4 "Everything negative - pressure, challenges - is all an opportunity for me to rise."
Nothing worth doing comes without its share of challenges and disappointments. All-star players understand this more than most, but their perspective is keenly different.
Negativity and challenge for some is often framed as opportunity for others. As an entrepreneur, your focus becomes critical for pushing through difficulty.
If Kobe misses a free throw with seconds left in the game, he has to let it go, mentally focus, and rise to the occasion, so he can hit the game-winning shot on his next possession.
Being "always on", in pursuit of accomplishment, leaves no room for lingering in regret. The opportunity is still in front of you. Go get it!
Quote #5 "The most important thing is to try and inspire people so that they can be great in whatever they want to do."
For Kobe, there will be life after basketball. For entrepreneurs, there will be life after your current endeavor.
At the end of the day, whether athletes, business owners, or stay-at-home moms, our goal should be to inspire people around us to discover what they are truly great at and help them live out their passion.
Go after your entrepreneurial dream with an unrelenting pursuit of accomplishment. Surround yourself with people who will elevate your game, not bring you down.
Failures will come but don't dwell on them. Instead, use them as learning blocks to achieve greatness. Treat your team as A players and support their dreams. The rewards will be plentiful.

Which Kobe Bryant quote inspires you the most?
Related
Popular in the Community