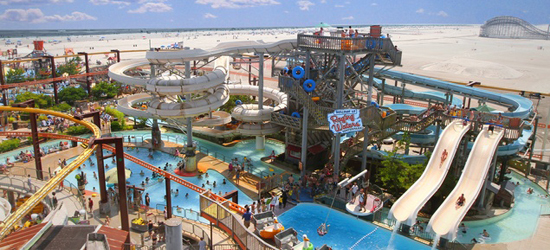 Photo courtesy of sojourner73/myBudgetTravel. Article by Kaeli Conforti of Budget Travel.
Looking for the ultimate long-weekend escape? Relax! Budget Travel has done all the homework. Whether you're craving one more trip to the beach or are searching for the perfect end-of-summer festival, getting away has never been quicker, easier -- or more affordable.
Daytona Beach: For family-friendly fun on a famous Florida beach
While the words Daytona Beach may conjure up scenes from MTV's Spring Break, the area has come a long way since then, and is now much more of a family destination offering a wide variety of kid-friendly events, festivals, and beachfront entertainment fit for all ages. This Labor Day Weekend, you can catch free concerts at the Daytona Beach Bandshell on Friday and Saturday starting at 7 p.m., including performances by a Journey tribute band -- stick around for a fireworks show starting at 9:45 p.m. on Saturday. Baseball lovers can watch the Daytona Cubs play ball on Aug. 29th, 30th, and 31st at the Jackie Robinson Ballpark starting at 7 p.m., where dogs are welcome and the kids will have a chance to run the bases -- don't miss their fireworks show Saturday night. If you're traveling without kids, check out the Third Annual Main Street End of Summer Party & Rum Fest at Main Street Station, an event held on Aug. 31st featuring live entertainment on two stages and plenty of drink specials starting at 7 p.m. Also while you're in town, stop by the Daytona International Speedway for a behind-the-scenes look at all things NASCAR. Hotels in this part of Florida are super affordable over Labor Day Weekend, too, with rates at the Courtyard Daytona Beach Speedway/Airport starting at $79 a night and rates at the Residence Inn Daytona Beach Speedway/Airport starting at $119 a night.
Lake Tahoe: For carnivals, boat races, and great discounts on ski gear
On Saturday, Aug. 30th, you'll have the opportunity to board one of South Shore's two Mississippi paddlewheeler boats, the Tahoe Queen or the M.S. Dixie II, for the 22nd annual Great Lake Tahoe Sternwheeler Race, a unique only-in-Tahoe experience that can be yours for from $25 per person including brunch and drink specials. If you'd rather be a spectator, cheer runners on from the sidelines as they compete in the third annual Heavenly Mountain Run, racing from the California Base Lodge at 6,565-feet all the way up to the Tamarack Lodge at 9,150-feet. You can also enjoy live music with an impressive fireworks display over the lake Sunday night starting at 8:30 p.m. Another notable weekend event is the 5th annual Sample the Sierra Festival on Aug. 31st from 12 p.m. to 5 p.m. at Bijou Community Park, where you can sample fresh farm-to-table food and wine creations by local chefs and farmers. Don't miss the chance to stock up on ski gear for next season at the 28th annual Heavenly Sports Labor Day Tent Sale, where you can save up to 70 percent on ski and snowboard equipment at Heavenly's California Main Lodge on Aug. 30th from 9 a.m. to 6 p.m., Aug. 31st from 10 a.m. to 5 p.m., and Sept 1st from 10 a.m. to 2 p.m.
The Jersey Shore: For beachside water parks on the pier
The beaches along the Jersey Shore have definitely bounced back from last year's storm damage with style -- some of them even made our list of America's Most Awesome Boardwalks, and Ocean City, N.J. was featured as one of BT's favorite beach towns. This Labor Day weekend, pay a visit to one of New Jersey's many beachside waterparks, like Raging Waters and the Ocean Oasis Waterpark & Beach Club at Morey's Piers in Wildwood, now celebrating its 45th season, for a fun way to cool off in the hot summer sun, whether you prefer to relax in the lazy river or take on adrenaline-pumping attractions like the Cliff Dive slide and WipeOut. Waterpark passes start at $43 for adults and $35 for children under 48". Seniors over age 65 get in free with a valid photo ID. This year, guests staying at Morey Hotels & Resorts properties like the Pan American Hotel, Port Royal Hotel, Starlux Boutique Hotel, and Blue Palms Resort can save up to 70 percent on water park and ride passes thanks to the Play & Stay package now thru Sept. 14th. Families with toddlers and small children should opt for Asbury Splash Park -- try the $50 family fun pack that includes four passes to Asbury Splash Park, four passes to the onsite mini-golf course, four beach access passes, a daily parking pass, and discounts at vendors along the boardwalk. Admission to Asbury Splash Park costs $5 for adults, $9 for children, or $20 for a family day pass for two adults and two children.
Chicago: For free art fairs and a jazz festival
The 36th annual Chicago Jazz Festival takes place this year from Aug. 28th to Aug. 31st at Millennium Park. Admission is free and you'll have the chance to view performances by Terence Blanchard with Ravi Coltrane & Lionel, Kevin Eubanks, and Eric Harland among others. From Friday to Monday, Washington Park is home to the 25th Annual African Festival of the Arts, an event featuring exhibitions by Chicago's best artists. General admission tickets cost $20 for adults; family and weekend passes are available for $30. If you believe that one man's junk is another man's treasure, you may want to check out Remix Chicago, (formerly known as Ravenswood Remix), a recycled art fair on Saturday and Sunday where artists showcase their original, hand-made art, clothing, jewelry, and crafts made from used or recycled goods. You can even attend free one-hour workshops and learn how to get in on the eco-friendly action by creating new items from old or used materials. Click here for more fun things to do in Chicago year-round.
Park City: For historic parades and the Running of the Balls
Labor Day is more commonly referred to as Park City Miner's Day in this part of Utah--a tradition dating all the way back to 1898. Each year there's a celebration in honor of the area's rich mining heritage, complete with a community pancake breakfast, live music, races and games for the kids, the Funky 5K Fun Run, and the annual Miner's Day Parade down Historic Main Street. Perhaps the most intriguing part of the celebration is the annual Running of the Balls, a charity fundraising event held on Monday at 10:45 a.m. where participants "adopt" a ball for $5 (or 5 balls for $20), and watch in awe as thousands of them are released down Main Street, racing to the bottom of the hill. The first ten to reach the bottom of the street are tracked, earning their owners a grand prize of airline tickets, season ski passes, or any number of other donated surprises.