Every great host needs an equally great dining room table. When it comes to entertaining, these massive tables from the AD archives are perfectly suited for accommodating a large number of guests. Festive tablescapes featuring colorful stoneware, an abundance of diverse cuisine, and elegant embellishments can easily be showcased on these colossal feats in dining room furnishings. A 14-foot table in architect Nunzio DeSantis's Texas home, a contemporary-style dining focal point in a Brooklyn brownstone, and a London dining room antique displayed in a Southampton residence, are just a few interior design examples utilizing these substantial surfaces. Whether you're seeking dining accommodations for your large family, a solution for your busy entertaining schedule, or simply want to gaze upon the elegant spaces, this roundup is sure to bring major inspiration to the table.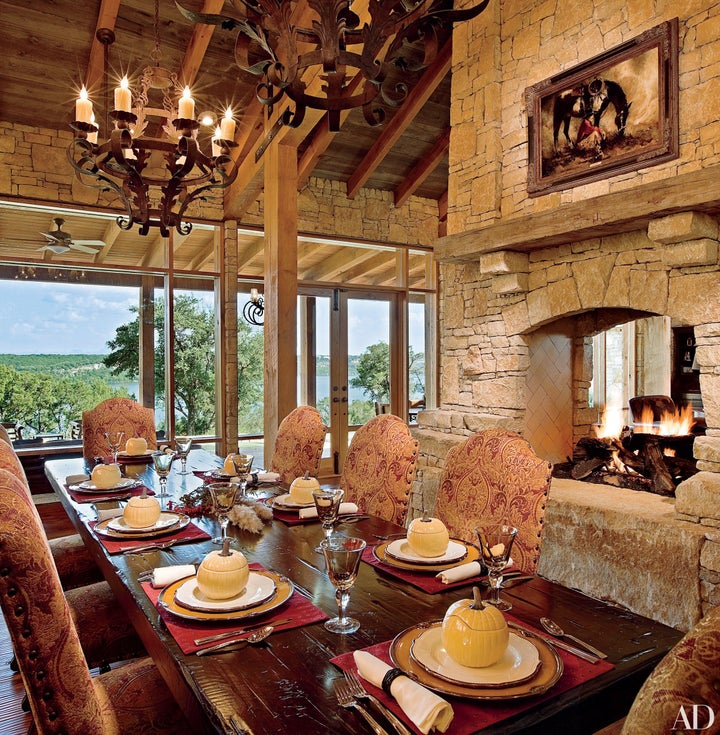 In the dining side of architect Nunzio DeSantis's Texas Hill Country great room, a custom 14-foot table overlooks the lake. "The attitude of this space is comfortable yet sophisticated," says DeSantis. "The materials are big and bold."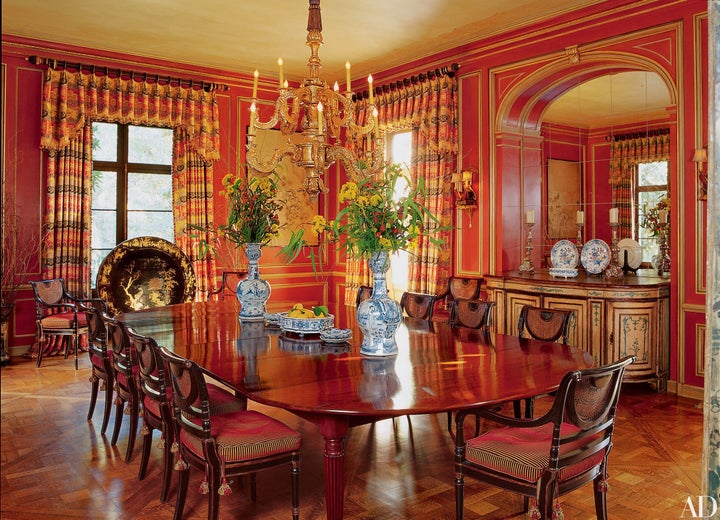 "The dining room was so large, it was difficult to make it feel intimate," says designer Paul Vincent Wiseman of his Northern California home. "The first find was the table, which established the scale of the room."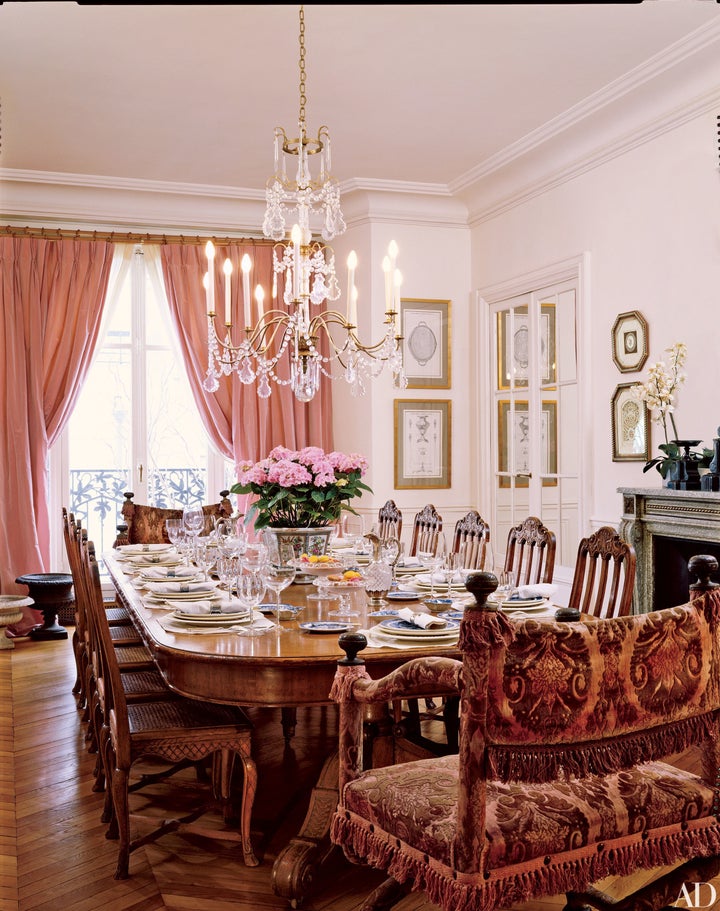 An 1880 French chandelier hangs above the massive oak table and suite of chairs in the dining room of interior designer Penny Drue Baird's Paris apartment. Baird, who is a flea market aficionado, discovered the ornate armchairs—and numerous other pieces throughout the apartment—at a Paris flea market.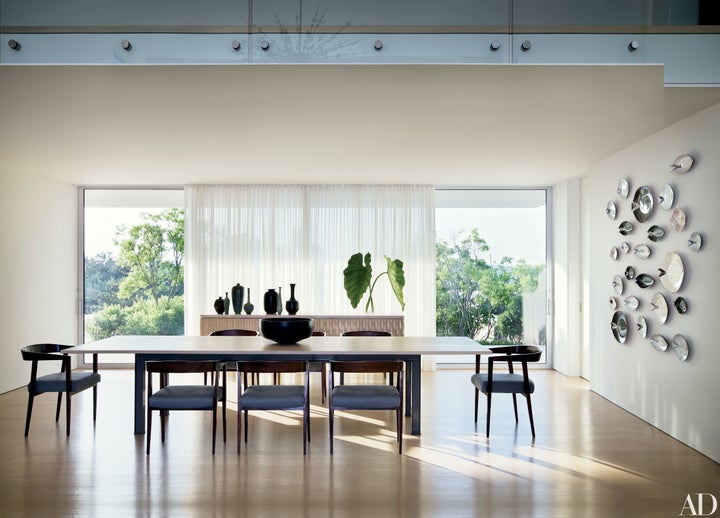 Architect Frederick Stelle united the dining room and the landscape of this Long Island beach house through floor-to-ceiling glass. A collection of 30 fish plates by La Gardo Tackett hangs on a wall. Accompanying the Hayes-designed table is a set of jacaranda chairs by Joaquim Tenreiro.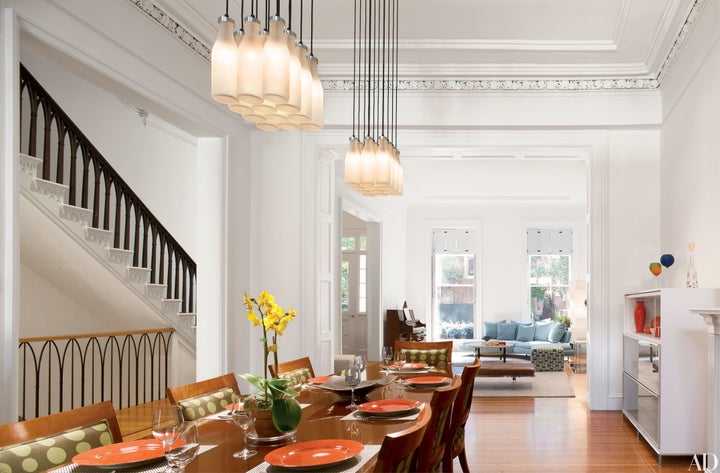 In the dining room of this Juergen Riehm–designed Brooklyn brownstone, amid the intricate detail and grand scale of the 19th-century interior architecture, a set of late-1940s chairs from Baker mixes with contemporary pieces, such as a dining table by 1100: Architect and a pair of Milkbottle lamps from Droog Design. The floor, of oak with mahogany inlay, is original to the house.
More from Architectural Digest: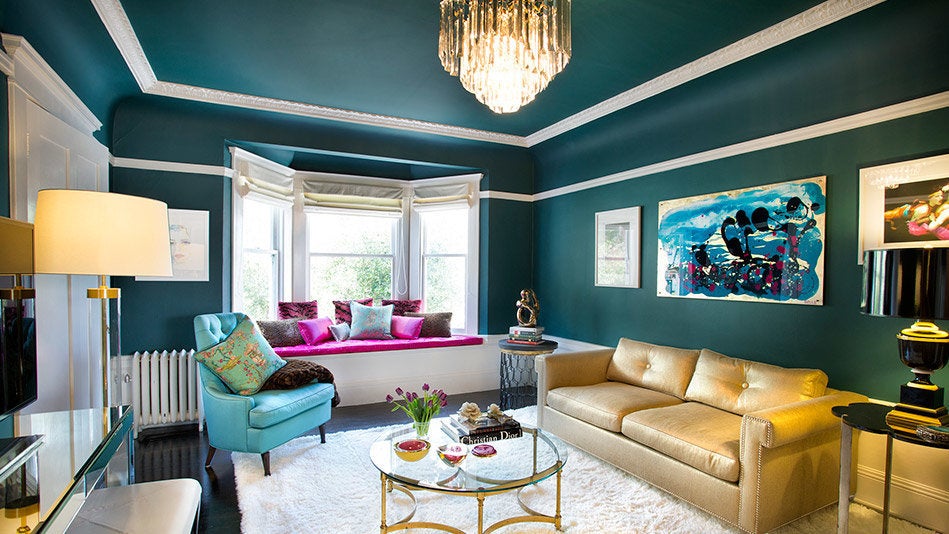 What Stylish Living Rooms Have in Common