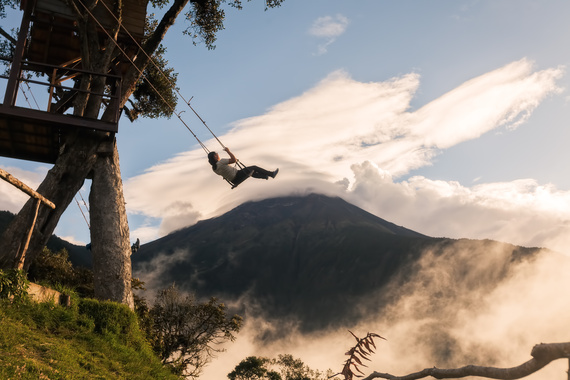 Have you ever heard of the show Treehouse Masters on Animal Planet? My oldest son is a bit obsessed with it and it pulls me in every time he has it playing on the TV.
The series focuses on Pete Nelson, a world-renowned treehouse designer and builder, and documents the amazing builds he does for clients. I've watched Pete and his team design everything from a spa retreat to a brewery, an Irish-themed cottage to an 800-square-foot Texas treehouse with a full bath and flat-screen TV!
It's pretty amazing to see the designs, but as an entrepreneur, I look at the show from a perspective beyond just how "cool" the structures are.
Here are 5 things I think entrepreneurs can learn from watching Treehouse Masters.

1. You CAN make a living doing what you love, whatever that may be!
I can only imagine that when Pete first started his business that he must have had at least a few people in his life tell him that starting a business around building treehouses was a crazy idea!
The popular show is now in its fourth season, and I am sure Pete was building treehouses a long time before landing the show. He followed his passion and has built an amazing business - and countless treehouses.
2. Love what you do and do it with ENTHUSIASM!
I'm not sure I've ever encountered anyone that has as much fun on the job as Pete Nelson! It's one of the things I love about the show. Pete's boundless energy and sense of fun remind me that it is important to keep a sense of play and enthusiasm in your work.
Don't fall into the trap of getting into routine and losing enthusiasm over work you're actually passionate about. One would think this wasn't possible - if you're passionate, surely you're enthusiastic - but I believe that if we're not careful, we can let the mundane of the day-to-day damper that enthusiasm over time.
When you operate out of your zone of genius (and not just your zone of excellence), your days can be filled with joy for your work and work will feel more like play. Keep that feeling alive!
3. You can find deeper meaning in your work, and that meaning will make you stand out.
Some have referred to Pete as a "tree whisperer" and I'd say you could call him a "client whisperer" as well. You can tell that he truly cares about realizing his clients' sky-high aspirations and building something that will last for generations.
"We awaken that inner child who dreams of living among the trees," Pete says.
He builds with love and creates spaces that are unique and meaningful to his clients. He doesn't keep repeating designs or themes that have worked in the past - he keeps innovating and creating designs that are unique and meaningful to each new client. That's why Pete is the master!
4. Let your intuition guide you for the best results.
Pete is what my online friends would call a little "woo woo" and I mean that as a compliment.
If you've ever watched Pete pick the location and trees for a build, you know he's relying not just on his know-how, but his intuition. He once said that he knows he's found the right trees on a site when the hair stands up on the back of his neck.
Pete has respect for the trees that he is building in and I believe he draws some of that boundless passion and enthusiasm from the energy he can feel amongst the trees.
5. Surround yourself with a good team that can help your dreams come to fruition.
Pete's not a one man show - after all, treehouse building is a lot of work! His crew plays a big role in bringing Pete's design dreams to reality.
While he definitely gets his hands dirty and is super involved with the building process, I feel like his crew makes it possible for Pete to focus more on where his genius lies (design work and interacting with clients) and less on details he'd enjoy less.
In fact, he's assembled such an amazing team that Pete is sometimes seen leaving a build for a day to check out another treehouse in the area that can use his expertise. (A treehouse that is getting older and in need of expert care to make sure it is safe, for example. Even though these aren't treehouses that Pete built himself, he loves checking them out and being of assistance.)
He knows that he can leave mid-build and the work is in capable hands! Isn't that what every business owner wants? To build up a support system so that we don't have to be constantly "on" and dealing with every detail?
When you build up a capable team around you (even if that's just one assistant or online business manager), you're able to stop spending your days handling small tasks that anyone can handle and you can stay in your zone of genius and do the work you love. Work that only you can do.
I love it that my son loves this show, because I think Pete Nelson is a perfect role model for going out and finding work that you love. Whether it's as an entrepreneur or an employee, we don't have to settle for work that we just "like" - or possibly even hate. (According to a Gallup poll, 70% of Americans are not at all engaged by their work!)
We CAN find meaningful work to do in the world that lights us up and makes an impact.
Anyone else been inspired by Pete and Treehouse Masters? What do you think about these lessons? Would love for you to share your thoughts in the comments.
Related
Popular in the Community