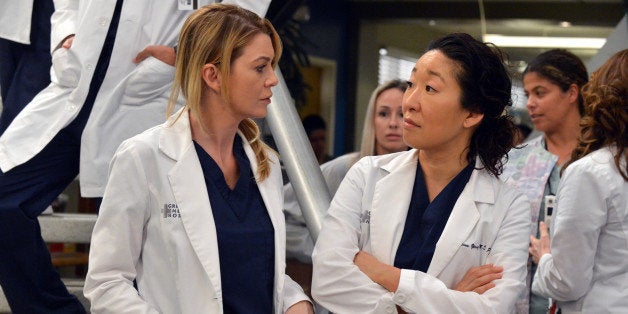 For as long as I can remember, Grey's Anatomy has been the highlight of every Thursday. For those who are unfamiliar with the show, essentially the show focuses on the lives of surgeons at Grey-Sloan Memorial Hospital as they rise up the medical food chain. Except this is no ordinary hospital. Drama between fellow doctors and their patients ensues on a fairly consistent basis. The brilliant writing of show creator Shonda Rhimes creates an environment where the audience begins to expect the unexpected. On a typical day at Grey-Sloan, there could be both a bomb threat and a cheating scandal.
Among the lineup of incredibly talented actors and actresses who make up the show's cast, Sandra Oh, who plays Cristina Yang, represents a character unlike any other on primetime television. Cristina is a bold, cardiothoracic surgeon who knows what she wants. The character has had a vital storyline since the beginning of the series in 2005. Sadly, it was announced in August that the present tenth season would be Oh's last. As a tribute to her fictional career, I present to you five lessons to learn from Cristina Yang.
1. Random dance parties are crucial for everyday function. Being in a position where you are responsible for the lives of patients on a daily basis unquestionably comes with loads of stress. Instead of letting herself melt under the pressure, however, Cristina chooses to let go and dance it out.
2. Life is too short to hold back. Cristina is blunt. If something is annoying her, she will say so. Although her unfiltered attitude trait may appear as a flaw to some, there is something very admirable about her fearless approach to life.
3. Everyone needs a person that they know they can depend on. Back in the early days of Grey's Anatomy, Cristina coined the phrase, "you're my person" referring to her best friend, Meredith Grey. Since then, their friendship has been almost unbreakable despite multiple hardships. Having a friend who you can rely on for anything is necessary to get through life's hurdles.
4. With a good work ethic, you can overcome obstacles. Cristina is known for her ambition. It is not easy to get to the top of your class at Stanford. Her drive to be successful has led her to be the mastermind behind numerous medical breakthroughs. By putting in the extra hours, she gets the relief that comes with knowing she is trying as hard as she possibly can.
5. Sarcasm can be brilliant. Some of the best lines from the show come from Cristina's hilarious sarcasm. She notably said, "I'm laughing, just not externally." Watching her deadpan delivery to these lines can't help but make the person watching incredibly envious.
Goodbye Cristina Yang. We will miss you wholeheartedly.
Related
Popular in the Community