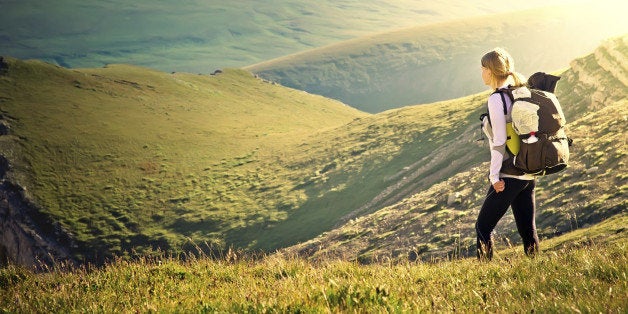 Last year I hiked through the well-known Torrey Pines and the mountains of San Diego before I knew what I was getting into with my family. This was my first time I was hiking as a mother and I was lacking courage. Granted I'm not Cheryl Strayed, author of the New York Times bestselling book Wild, who hikes alone to find herself on the Pacific Crest Trail. But I did try to let go of the thought that this wouldn't be just another family vacation.
I used to hike a lot when I was single. Then motherhood took over and I was occupied with diapering, sleepless nights and worrisome thoughts. Though I settled for walks in our local park, I wanted more of an "edge" in my life. When my second child was born, I tried taking longer walks to regain that perceived loss of freedom that comes with the feelings of mothering.
To prepare myself for that hike up and down mountainous trails and ravines, I took walks on a circuitous steep nearby park trail every day. Sometimes I'd jog feverishly to pump some adrenalin. Once I built enough stamina and endurance, I found that I hadn't lost my love for staying physically active -- I just had maintained a more indoors and homebody type lifestyle that moved me away from exploring my own courage. Here are five important "letting go" lessons I got from that hiking experience:
1. Hiking teaches you to let go. There's something about reconnecting and convening with nature that rekindles youth. City living forces you to stay on your guard but on the trail, I became alive and excited to relive my love of the outdoors and nature through my children. When you hike in nature, your worries on the trail aren't so important anymore. By just learning to let go of worries and negative thoughts that the media often imposes, you develop a fonder appreciation for your children.
2. Choose the right hiking footwear so you won't be stressed. Remember the scene in the movie Wild when the younger Cheryl Strayed throws her hiking boot off the cliff and then picks at her damaged toenail in despair? Choosing the right hiking footwear can be a big issue -- one that amateur hikers like myself don't quite understand. Halfway into my hike, my feet started to hurt and I got so stressed that all I could do was focus on the stress. I thought, "For every problem, there's a solution!" As it turned out, I had gotten some serious blisters because my hiking boots that were poorly designed, but I kept focusing on the solution. Communing in nature eases some of that unnecessary tension! By the next day's hike, I was wearing new hiking shoes thanks to doing research on hiking footwear.
3. Let go from technology. There's something about social media that's very saturating and unfulfilling. Scrolling through the images of someone's vacation in sunny Florida and hundreds of status updates keeps you connected virtually, but when you're in nature, you get to interact with your surroundings and create your own experiences.
4. Hiking reawakens courage. When was the last time I did something physically daring and out of my comfort zone? For the last 10 years, my life had been centered on raising my children. I barely left the radius of our zip code! As a result, my "courage muscle" to pursue activities beyond the scope of my work and childrens' schedules had considerably weakened. But taking this first hike as mother halfway across the United States, reminded me there was more to life than just being a mother. The more risks you take, the more comfortable you feel doing them.
5. Hiking puts things in perspective. As a parent, it's not often I get time to reflect and meditate on what's really important in life -- love for family. Back home, I have to fight distractions, temptations and ongoing challenges that often pull me away from those moments. As I hiked down the cliff of Torrey Pines to the Pacific Ocean while holding our nine month old baby, I reconnected with the peace that comes with the crashing sounds of the ocean waves and salty ocean smells.
Hiking the wild outdoors is another way to bring balance back into your life. But you don't have to be a veteran hiker to experience this. Time slowed down when I watched my child's face while mentioning the name of the plants, animals and other scenes noticed along the way. Those moments with my family could not be measured on a chart. Finding my inner peace made all the difference.