It's now been almost 5 months since the Shark Tank episode featuring Eyebloc aired. That's enough time to have let those wounds heal properly. Actually, it wasn't nearly as brutal as the editing made it seem, and it was a wonderful learning experience that has helped me grow as an entrepreneur.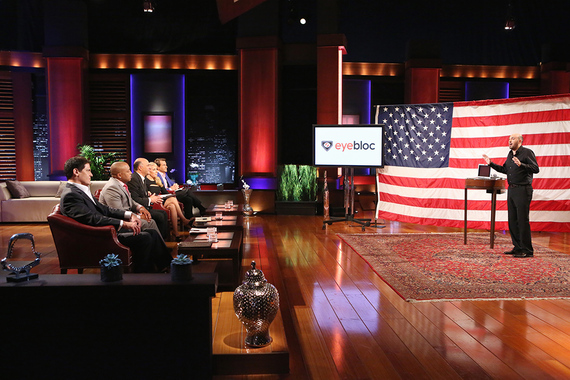 Even though the Sharks couldn't envision the need for my Eyebloc webcam cover, the news since continues to report how vulnerable we all are to internet hacking and spying. That ubiquitous camera on your laptop, smartphone, tablet, and yes, even your antiquated desktop are a gateway for criminals and perverts.
Since airing I've continued to build my business, focusing on unique promotional products more than retail. I'd like to share 5 valuable lessons with other entrepreneurs that I learned from the Shark Tank appearance.
1. Price matters, but not for the reasons I first thought.
Hey, I'm an entrepreneur and I set out to deliver a great product at a profit. The sharks laughed at the $9.99 price tag for Eyebloc. I get it. I do. However, if I price it at $1.99, that means the retailer or Amazon would take $1 and I'd get the other $1 (or often less). Even if I can get my manufacturing cost down, I learned that retailers aren't too interested in clearing shelf space for $1. They want products at a higher price point.
And that's the part I didn't get, Lori and middlemen like her are not interested in working with low cost, low profit margin products because they can't make money. And if they can't make money it's not going to get on the shelves.
It's important to consider the price of your product from the consumer perspective, but it's also important to think about it from a retailer's perspective.
2. Prototypes are easy... products are a different story.
From the time we envisioned Eyebloc to producing a prototype using 3D printing technology was less than 30 days. 45 days later I was taping Shark Tank in Hollywood. Talk about easy, right?
Getting products built is a much tougher battle. In order to mass market a product, it requires financial resources, time, molds, packaging, product testing and more.
A minimal viable product (MVP) is great to get interest, but it's difficult to get the next step to mass market.
3. People are generally nice... except when they're not.
For those who saw the Shark Tank episode (airing again May 30th), they likely sat back and thanked their lucky stars they weren't me. You know what? I was actually in there for about 45 minutes pitching the Sharks and most of them were nice almost the whole time.
Mark Cuban and the crew offered positive and constructive feedback. They helped me in ways I couldn't possibly pay them back for.
Except for Kevin O'Leary. Sure, I'll call him out for being a complete jerk the entire time. That's not surprising if you follow his views on inequality. I strive to be successful, but I never plan to treat people the way "Mr. Wonderful" does, on camera or in private.
Many people offered a lot of support and encouragement before and after the episode aired. Unfortunately a few trolls came out, taking to Amazon and giving one-star reviews even though they never tried the product.
I've learned to not get too high from the praise I've received or too low from the haters.
4. Made in the U.S.A. is not easy.
I love America. I try to buy American whenever I can. My prototypes and the current high cost Eyeblocs for sale are all made in America. So, I absolutely planned on making my mass produced Eyebloc and other products in the U.S.
It is not easy to get someone to partner in refining the product, testing materials, and creating the tooling needed to mass-produce a product. Even when I was willing to pay a premium, it was difficult to get American manufacturers interested and excited about an unproven product without a big confirmed order.
Innovation and manufacturing go hand in hand, we need more American manufacturers willing to invest in entrepreneurial ventures.
5. Getting on Shark Tank does not make you rich or famous.
After my appearance, I expected sales to go through the roof. While they did see a significant bump, I still have thousands of Eyeblocs sitting in inventory at Amazon. I've spent tens of thousands of dollars on tooling, PR, inventory, product design and inventory, but still have not made a profit.
While being on Shark Tank is a great story and good for a laugh, it's not a get rich quick scheme.
Yet, I would do it all over again because even though success was never guaranteed, I learned so much from the process. Shark Tank provided a platform to get the word out about privacy on the show and in subsequent radio and TV appearances across the country. Pursuing the American dream of creating a product from the ground up has shown me what's possible and how many terrific collaborators there are out there from my product designers, to 3D printing partners, to creative packaging designers. Since my appearance many entrepreneurs have reached out to me and we've had a chance to learn from each other. Finally I now have an even thicker skin as I continue to build Eyebloc and look to my next opportunities.
The lessons I learned along the way make me confident that one day I'll be sharing a drink by the pool with the Sharks as colleagues, not bait.