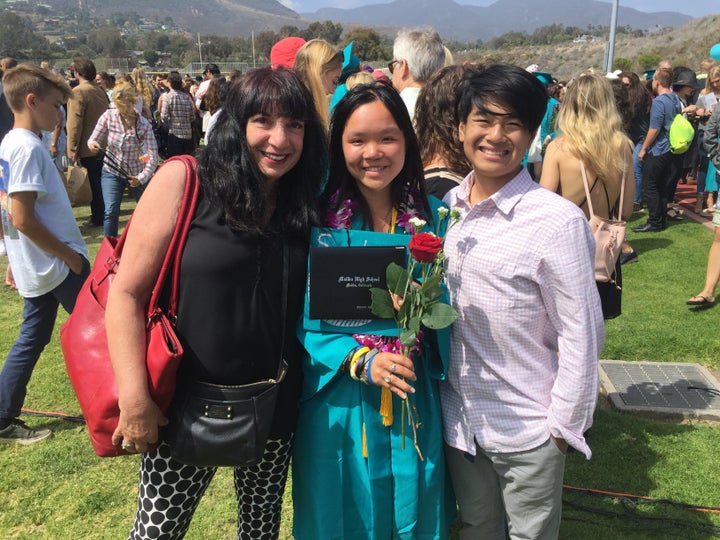 Grief is a weird emotion. Most days you function just fine, and then all of a sudden, out of nowhere, you hit an icy patch and keep falling down no matter how hard you try to stand up.
Much of what I've learned about grief has come from watching my two teenagers deal with it. For example:
1. Sometimes you just have to hit life's pause button.
For the first time ever, I committed what I regard as one of the cardinal sins of parenting: I let my son stay home from school when he wasn't really sick.
He didn't have a fever, or even the sniffles, but he was a little tired ― mostly a little tired of going to school, I suspect. This wasn't about him not finishing homework on time or forgetting to study for a quiz; he's an honor roll student. No, he just wanted to be left alone.
He kept off electronics and took the dogs out for a long walk. And he slept. He slept a lot. Sleep may be the best cure for whatever ails you, even grief. I did make him some homemade chicken soup because some part of me still needed to believe that you don't miss school unless you are really really sick.
Note to my editor: Should I call in sick one day soon, you can probably skip sending the soup.
2. There's no wrong way to cry.
My son is a stoic. The loss of his dad is painful, I know, but he doesn't cry. My daughter, on the other hand, spent quite a few of the past 70 days crying. When she goes into her room and shuts the door, I know she is crying.
I cry out of anger that my husband didn't take better care of himself and that he forgot to get the oil changed in my car before he collapsed in the driveway. Grief twists everything, including sane logic.
But there is no shame in crying, in not crying or even when the crying trigger is totally irrational. When it comes to crying, it's not one-size-fits-all. Just like grieving itself.
3. Everyone's life seems normal but yours.
Life all around you marches on. School dances are held and you are supposed to care. Fall semester college classes must be picked. Teeth need to be cleaned by the dentist.
You lose someone dear to you and your world stops. Yes friends are supportive and there for you initially, but nobody is still bringing dinners by day 70. Everyone else's lives are as they were before yours turned upside down.
The solution is pretty easy: Part of being normal is just acting normal. It's the old "fake it till you make it argument." You carry on by pretending to carry on. You'd be surprised how much of it is muscle memory.
And so, yes, you go to the school dance and yes, you make an appointment to see the dentist. When someone proposes a day at the beach or invites you for dinner, you force yourself to go.
4. Control what you can control.
You know what songs shred your insides, so stop playing them. You know which route the ambulance drove that awful day, so go the other way. That special hotel in Kauai that you stayed in on your last vacation together? Stay somewhere else.
We can't erase the pain of losing a loved one, but there is little point in doing things that remind you of the loss. As my kids have shown me, part of successfully grieving is cherishing memories while building new experiences at the same time.
When a neighbor posted about needing to borrow a walker for a friend, my daughter said, "Let's just give her Dad's." When a nephew needed a car for his soon-to-be licensed daughter, we handed over the keys.
Doing things for others helps us feel better. Doing things that we know will just upset us does not. We get to pick.
5. People will say the wrong thing, so just help them out.
Death makes lot of people uncomfortable and sometimes they unintentionally blurt out something that stings.
Like my daughter's old coach we bumped into at the library. Not knowing that her Dad had passed away, he asked how he was doing and if he was heading to watch the Cubs in spring training.
She let the coach know why that wasn't likely in a moment that was painful for all of us.
But I watched her smile and smoothly tell the coach about watching the Cubs finally win the World Series last October and how happy that made her father. The awkwardness melted away.
I still get mail addressed to my husband. Or the phone rings with someone asking for him. A timeshare company recently sent us an invitation to a presentation that said both of us had to attend. I laughed knowing what my husband would have said.