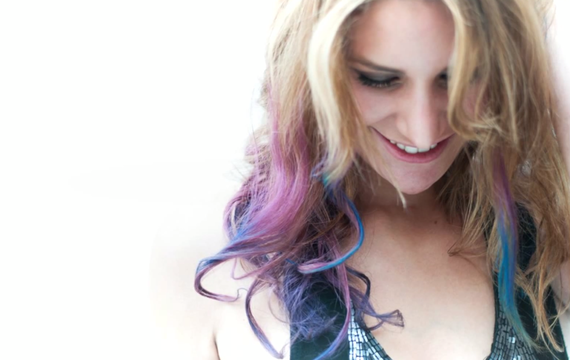 A few years ago, after my daughter was born, I considered getting a serious makeover. Nine months of pregnancy will do that to you. Funky colors were calling my name but there was no way I could pull off blue hair at my conservative office job. My stylist recommended hair chalk. I tried it out but found the flat, dusty look was not for me.
That got me thinking. Were there any temporary hair color products that produced vivid results while maintaining shine and softness? I tried hair mascara, color gel, spray chalk and color spray. Nothing gave me the look I was going for. I made up my mind that I was going to create a better product. How hard could it be?
I was in for a rude awakening. Looking back, I can confidently say that every other challenge in my professional career pales in comparison. Developing my own product, Britelites Vivid Temporary Hair Color, presented many challenges and learning experiences - but in the end it was incredibly rewarding.
Having lived through the ups and downs of getting an original product out on the market using my Shopify store, here is my advice to you:
1. You are in for a crazy ride.
I did not know what I was in for until I experienced the insanity of product and brand development on my own.
I came up with the idea for Britelites when my daughter was about three months old. You know how the baby experts recommend parents take naps while the baby sleeps? At 4 am, you could find me mixing up Britelites on my porch Breaking Bad style. I had to put up thick curtains because people were suspicious of the strange woman wearing a ventilator mask with beakers, chem coat and measuring cups all over the place. It was 50% crazy, 50% hilarious.
2. Anticipate a major product metamorphosis.
Prepare to go through numerous product transitions. The first Britelites formula was vivid, but was criticized as being too waxy. It took an entire year just to develop the product formula.
Once I finally had a stellar product with rave reviews, it was time to focus on branding. My original brand was oriented towards teenage girls and young women. (I assumed that a youthful, female audience would be the first to buy.)
As brand awareness grew, I learned that there was a huge market opportunity for seniors, men, and children! My web traffic indicated that nearly 50% of my audience was male. Some of my top repeat buyers were over 70 years old. My audience was much wider than anticipated.
This meant completely rethinking how I would appeal to my growing audience and still be the fashion-forward, smart and eclectic brand I envisioned.
After countless brainstorming sessions, the periodic table appeared in my mind's eye. I began thinking about elements and color: the simple yet sleek square design. I knew that this brand concept was going to be the future of Britelites.
3. Use negative commentary as fuel.
This is harder than it sounds when you've spent thousands of your own dollars and dozens of sleepless nights developing your product. At some point, your creation will be met with criticism and rejection. Not everyone sees or believes in your product the way you do.
In the very early stages, I thought I had found the perfect investors. They had big names within the salon industry and serious connections. Several of their employees tried Britelites and they loved the product. I thought it was a match made in heaven.
Following my initial pitch, a myriad of objective remarks ensued. Some comments were not just objective, they were downright derogatory. I smiled, shook their hands, and thanked them for their time. While I could have taken it personally, that experience fueled me to make my product better. It gave me reason to endure those long, daunting nights.

4. The entrepreneurial road may take you in a completely unexpected direction.
Several years back, I would never have imagined myself calculating chemical ratios, trying to figure out which emulsifier was going to bond with a polymer thickener. The truth is, I'm extremely right-brained. Art, songwriting, poetry, creative marketing, and branding are second nature to me.
Venturing onto the left side of my brain was intimidating at first. I had no idea what I was getting into. I began researching basic cosmetic chemistry. Google became my newfound BFF. I started by making cosmetic products like pressed powders, eye shadows, and lipsticks. As my understanding of cosmetic compositions improved, so did my product. I had pages full of various ratios with notes detailing what worked, what didn't, what was almost close, and what needed to change.
Throughout the process, I learned how to use logic, chemistry and math. While this was critical to developing my product, it also helped me to become a more well-rounded entrepreneur!

5. You will be stretched and challenged to grow personally.
Developing your own product will not always feel comfortable. You will be challenged to step outside your comfort zone.
Once I had a solid product and brand, I had to overcome the most critical aspect of future success: selling. The majority of my career had been spent as a marketer working with ideas, graphics, and software. Selling was left up to the foot soldiers.
Now, it was my turn to become a soldier. Having an awesome product and a really cool brand are not enough. People might think your product looks interesting, but what is going to motivate them to actually buy it?
I started off by offering free product demos. Customers fell in love with the way a few strands of their hair looked when colored with Britelites and couldn't wait to make a purchase. My confidence quickly grew, and selling my product became my absolute favorite part of the process!
Creating your own product is not glamorous. It is messy, exhaustive and expensive. It will challenge you and force you outside of your comfort zone. Embrace it. You may become a chemist, an engineer or an architect along the way. There is nothing as rewarding as knowing that your product began as a single thought, and your relentless pursuit to make it happen drove it into fruition.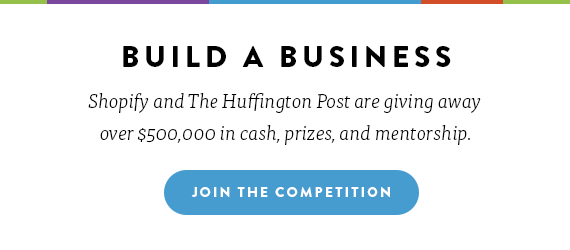 Sara Rose Anderson is the Founder and Creator of Britelites, a temporary hair color product that produces vivid, rockstar looks in minutes. Prior to launching her entrepreneurial career, Sara worked as a Digital Marketing Architect for Blue Strategy + Creative Intl and managed the digital public relations initiatives at Clickbooth.com. When she's not working on one of her ventures, Sara enjoys writing music, performing live, working on her artwork, traveling and spending time out on the ocean with her family.
This year, Shopify's Build A Business Competition is bigger than ever. Shopify is giving away more than $500,000 in cash, prizes and mentorship in its fourth annual competition. Contestants create a store and try to sell the most in their category for a chance to win $50,000 and a VIP trip to NYC to meet their mentor.
Related