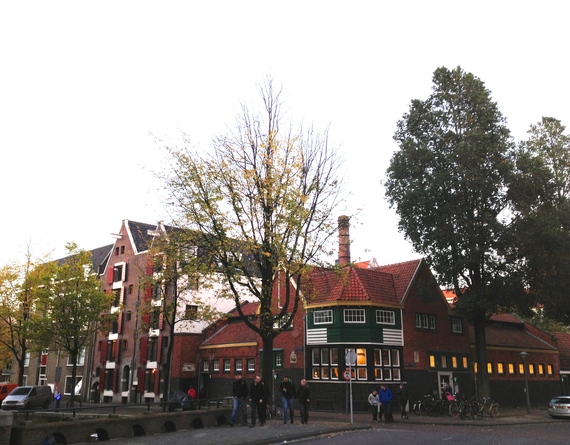 Couch surfing has always been on my travel bucket list.
If you're not familiar with couch surfing, it's a genius way to connect travelers with a country's local residents. You get to eat how they eat and live how they live in a more intimate setting minus the high price you would pay to get on an overcrowded double-decker tour bus swarming with tourists and their fancy cameras. Not that there's anything wrong with doing touristy stuff! But sometimes, it's good to experience things differently and without all the guidebooks and maps. With couch surfing however, local residents or hosts of the couch surfing community open up their homes to surfers, free of charge, making you feel like a true insider and also allowing the opportunity for a genuine cultural exchange.
From the very first evening my friend and I met our hosts in Amsterdam -- two young professional gentleman from Turkey -- it seemed as if we had all been friends forever. We spent hours sitting around the table talking about our love for travel, all of the places we have been and all of the places we will venture to next. We listened to music, switching from R&B to Turkish music and fist-pumped our way through a fun-filled night at a local bar. We shared several meals together -- alternating between them preparing food for us and us preparing food for them. On our last night in Amsterdam, we took an evening stroll to a local restaurant and enjoyed burgers and beer right before sprinting to the Metro station just in time for me to catch the last bus to Paris. Running through Amsterdam on a full stomach while watching my hosts sprinting ahead of me and holding my luggage above their head is a memory I won't ever forget.
Looking back on my amazing experience with my new friends, there are five things my couch surfing experience in Amsterdam has taught me that can possibly help you if you are daring to test the waters to hang ten on strange couches:
1. There are way more people who want to help you than hurt you.
Initially, the entire couch surfing idea did freak me out. Staying in someone's home that you meet over the Internet sparks a whole list of misgivings. What if they aren't friendly? What if they try to steal my things? What if they try to harm me? Practicing a certain level of caution when choosing to experience couch surfing is always a must and deciding who to stay with should always be based on your gut instinct. Carefully reading through a hosts' profile also makes the selection process easier because you are able to get a feel for their personality and see if there are similar interests. Nine times out of ten though, the person is harmless and just as eager to meet you, as you are to meet them!
2.Be more trusting anyway.
Regardless of if I'm traveling through Europe or hanging out in my hometown, couch surfing taught me to relax a little and not have so many reservations about every single person I meet. Building up walls doesn't allow you to experience all of the great things that are out there waiting on you to soak up if you're always on amber alert about every human who may not look like you, sound like you or have the same beliefs as you. Everyone is so unique and learning to embrace those differences, even if the person initially seems a little mysterious can turn out to be what you least expected. As long as you are in safe surroundings, take the time to get to know them and listen to their story. It may not be too different from your own.
3.You don't need much to survive.
Sleeping on my hosts' couch and sharing their apartment with four other people made me realize that although I love having my own space in my apartment, I technically don't need it to live a comfortable and happy life. Oxygen, food and water are our biggest life essentials. A king-sized bed with satin sheets and room service on the other hand is not a life essential.
4.Leave expectations at the door and go with the flow.
Having high expectations can be so taxing, especially when it comes to staying with a stranger. I'm big on cleanliness so I was really nervous about what our hosts' bathroom would look like. Would the shower have the Mr. Clean sparkle? Would the sink be toothpaste and hair free? Since we ended up staying with men, we didn't have to worry about the hair part and their bathroom was super nice by the way! But in the grand scheme of things, do all of my "non-negotiables" even matter? Am I really going to Amsterdam to hang out in a bathroom all day anyway? When it comes to traveling and experiencing new cultures, new people and a different way of life, it's best to just let the small nitpicky things go.
5.We're different, but we're not that different.
No matter where you go or who you meet, the majority of us just want to live happy lives surrounded by good people and we all recognize that a smile is the universal language of kindness. So that's always a good place to start. Our cultures may be different, we may eat different foods, and we each may define happiness differently but ultimately, we are all on a journey in search of something.