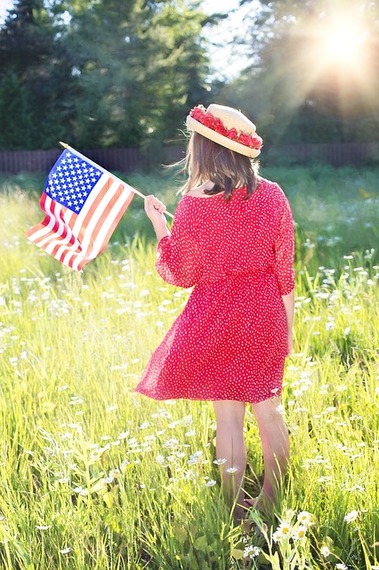 The Fourth of July is one of my favorite holidays, but it wasn't until the middle of my divorce that I realized how much divorce and the Fourth of July have in common.
What you ask? Well, just read through the Declaration of Independence (and if you've never actually seen those words it's high time you read it for yourself.)
The first paragraph alone is full of terms like "dissolving political bands" and "assuming a separate and equal station." If that's not divorce speak, I don't know what is. So this Fourth of July while you are celebrating our nation's independence, and in between barbecues, beer and overcooked hot dogs; take a moment to find the lessons this holiday can teach those of us going through divorce. Take a look.
1 . There will be fireworks.
Firecrackers, Roman candles and enormous firework displays that light up the entire night sky; [Tweet "The Fourth of July is all about pyrotechnics. Well, so is divorce."] You are gonna have fights, skirmishes, arguments; explosions large and small will blow up on your way to a finalized divorce. It's gonna happen. So be prepared when those fireworks begin.
2. Remember why you left.
In the Declaration of Independence the founders of our nation outlined all the reasons that this whole colony thing wasn't working for them anymore. They outlined their reasons. The King established taxes without representation. Kept standing armies in their midst. The colonies were clear on exactly why they wanted to dissolve the marriage to Great Britain. In the same way, [Tweet "We need to be clear and remember why we chose to end our marriage."] Remember the problems in your marriage, remember what didn't work for you any longer. Remember these things not to wallow in the past, but to avoid glossing over all the crap that didn't work in the relationship. If you don't keep in mind the bad, it's too easy to fall back into viewing the past a whole lot brighter and shinier than it probably was.
3. You are able to decide your own destiny.
Remember that whole "life, liberty and the pursuit of happiness" thing? Well, that applies to you too. You have a right and a responsibility to find your own best life after a divorce. You're now the person in charge of your own happiness. No more blaming your Ex, or expecting anyone else to swoop in with a big ball of happy for you. It's your duty to pursue the life you want to live on your own. It's your time to go and find it. No excuses.
4. It took a battle to get here.
Our nation had to fight for nine years to attain freedom. It was a long and bloody battle towards independence. Know that more than likely your journey to independence will be a battle too. It will be bloody, and messy. Don't run from the battle. That never works. Stand strong and be prepared. And like the United States and Britain became allies again, once your own personal war of divorce is over, maybe you and your former spouse can be friends again too. (That part might take a while but an eventual peace is something to work for.)
5. Don't forget to celebrate your independence.
Every once in a while take the time to celebrate your own victories. Celebrate that you are either divorced or on your way. What if you didn't ask for the divorce? Celebrate anyway. Think of all the new adventures and surprises awaiting you. It doesn't mean you have to throw yourself an out and out party with hats and streamers and a DJ, but once in a while maybe you can pause and say a little "Yay me!". We've worked hard to get here.
Have a wonderful Fourth of July!