You're busy. I get that. Heck, I'm in business development, I hear it all the time. I'm surprised you're even taking the time to read this article, so thank you. You're about to access millions of dollars of eCommerce website testing results at no charge, so it should be worth a small bit of your time, right?
If you look closely, the big time online retailer websites have a lot in common. One of those being that they spend a lot of cash testing to improve conversion rates. Come even closer and you will start to see patterns in what they are doing to increase these rates. I've compiled 5 of them and you can say thank you later.

Lesson 1 - Reduce the customers risk
People are really scared these days of the lack of privacy online provides. They're afraid that you won't do what you say you will do. They're afraid of giving personal and financial information to you. This fears equates to lost sales online.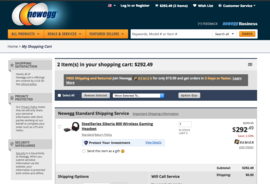 NewEgg does 2.5 billion in online sales and they take the reduction of fear very seriously. They prominently display the "NewEgg Promise" throughout the check out process.
Lesson 2 - Make cart items visible at all times
The big retailers make items in the shopping cart viewable from everywhere on their site. Ascena retailer, Maurices, does $29+ million in sales. Here's how they are currently handling cart visibility. When you hover over the area, your items become visible.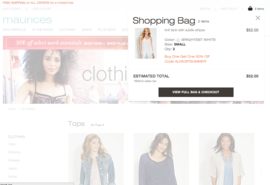 Being able to easily access what is in your cart, how much is in your cart is key for a no-fuss online shopping experience. Just like you can look into your cart at a brick and mortar store, you need to have the same feel with your online experience.
Lesson 3 - Offer free or flat rate shipping
This isn't possible for every online retailer and every product -- but offering free shipping makes a big difference. The next best thing is flat rate shipping. A Forrester study showed that nearly 50% of customers abandon their shopping carts because of high shipping costs. If you offer free or flat rate shipping advertise that fact early and often.
Echidna client, Kohl's, saw a 30% increase in online sales in Q4 2015 and, as you can see, they are advertising Flat Rate and Free Shipping site wide. They also prominently display free shipping on the product detail page.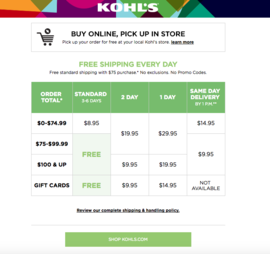 Insider Tip: If you see a multi-million dollar online retailer promoting something site wide in the header, it's probably very important to them.
Lesson 4 - Allow customers to add items to a "Wish List"
Depending on what you sell, some percentage of visitors to your eCommerce store are not ready to buy right now. They are doing research. Kicking tires. Comparing prices. Comparing offerings. According to the aforementioned Forrester study, 41% of shoppers abandon their online shopping cart because they were not prepared to make the purchase.
Echidna client, Michael Kors gives these unprepared shoppers an option to add items to their favorites (aka "Wish List") and come back at a later date to review and purchase.
Lesson 5 - Provide lots of quality imagery and be social
E-tailing's Connected Consumer survey showed that customers want to see high quality product images and lots of them. They want to be able to zoom and rotate those images and they want to see products in different colors, sizes and other options. Product images sell and even more so, products being used by normal every day people successfully sell even more. The big online retailers know this.
Notice all the options Echidna client, Sigma Beauty offers. They allow zoom, rotation, PLUS photos from customers and lots of them via their Instagram account.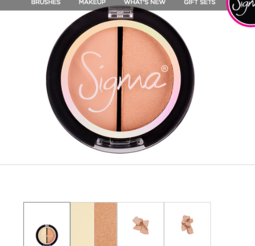 Your turn. Add your #6 element of a multi-million dollar eCommerce website. What have you tested that is increasing sales? Let us know in the comments below.
Calling all HuffPost superfans!
Sign up for membership to become a founding member and help shape HuffPost's next chapter