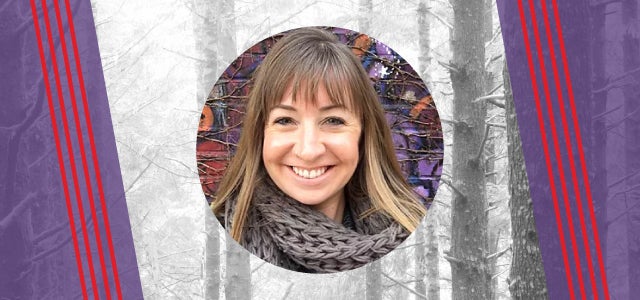 Buying a house with student loan debt seems out of reach for many of us. Add being single and a freelancer, and the whole idea might seem downright laughable.
But with a little help from an inheritance, freelance writer Britany Robinson managed to make it happen. She was $30,000 in debt from a master's degree in new arts journalism and a frequent traveler who'd never had any interest in owning a house.
Then, something within her changed - and she found herself a homeowner and landlord at the age of 29.
I sat down with her to talk about the ups and downs of being a young, single, and sometimes broke homeowner as well as what she wishes she'd known before taking the plunge.
How Robinson found herself in the market for a house
A traveler at heart, Robinson didn't plan to own a home anytime soon. But eventually, she grew sick of "picking up everything and starting a whole new life again" every time she hit the road.
"I wanted something constant in my life," she says. "I hadn't expected to - but after bouncing around and changing locations and jobs so often, it was something I was craving."
And when she arrived in Portland, Oregon, she quickly fell in love. "It was the first place that felt like somewhere I wanted to stay long term," she says.
She'd recently received a small inheritance she could use as a down payment and knew the local real estate market was booming. All signs seemed to point toward buying a house.
"I wanted to ground myself in a way where I could travel and have a place to come back to," she explains. "And it seemed like the best financial sense to own something I could rent out to people when I was gone."
Crunching the numbers behind her new home
Robinson found a two-bedroom, one-bathroom house in an up-and-coming neighborhood. It cost $239,000; she put down $12,000, making her mortgage about $1,500 per month.
She charges her roommate $600 per month and says, "Having that rent come in every month has made a big difference."
For her share, Robinson pays $900 plus utilities, which she says is comparable to what she'd pay for a one-bedroom apartment in Portland.
To afford her mortgage - plus unexpected expenses - on a freelancer's income, she's had to get a little thriftier. Instead of traveling internationally, she takes more road trips. Instead of eating out, she cooks in her big kitchen.
And although it's been tight at times (she sometimes picks up hours at a coffee shop), she's always found a way to make ends meet.
5 tips for buying a house with student loan debt
Robinson is the first to admit she didn't do everything perfectly when she bought her first house, and she says she's learned a lot through the process.
Here are some tips she shared during our conversation.
1. Don't rush into choosing your new house
"Taking your time is the biggest piece of advice I can offer," Robinson says. "As soon as I had it in my head that I wanted to buy a house, I wanted to buy a house right away."
Also, remember that it's your real estate agent's job to convince you a house is a great buy - even if it's not.
Analyze what you're looking for in a house, what neighborhoods you prefer, and, most importantly, how much you can afford.
When it comes to price, you might want to consider the 28/36 rule. The 28 refers to the percentage of your gross monthly income you should spend on your monthly housing cost. The 36 refers to the total debt payments you make - including your mortgage.
"You really can't think about this decision enough," says Robinson. "Take a lot of time to think about what works for you and what feels right. It's not something that should be rushed."
2. Think about it from a rental standpoint
If you might want to rent out your house at some point, look up rental rates in your neighborhood - and make sure they're higher than your mortgage.
When it comes to her house, Robinson notes, "I've discovered it would be possible to cover the mortgage if I still paid for utilities, but it would be hard to get the whole thing covered."
Or if you'd like to rent out a property or room via Airbnb, consider purchasing something slightly bigger, maybe even with a separate entrance.
3. Accept the house in its current condition
As we all know from "House Hunters," homebuyers are always thinking of ways they can change or update a home. And Robinson was no different.
"When you move in, you want it to be that house you imagined right away," she says. "That's why you bought it. But once you start doing those projects, you realize each project is an additional expense - even painting a new room."
Translation? It's not all going to get done right away. Robinson says it's important to understand that "the house you move into is going to be the house you'll live in for a while."
Accept that "eventually, you'll get to a place where it feels like home," she says.
4. Account for unexpected expenses
Even if you calculate your mortgage and bills down to the last cent, remember there are many costs you won't be able to predict.
"The mortgage and utilities aren't that bad," she says. "And I had planned for those. But the unexpected expenses are pretty much nonstop." For example, she recently spent $5,000 to replace her heating system.
For a single person with a variable income, these unexpected expenses can create a huge amount of financial pressure.
Until now, Robinson has been able to use the remainder of her inheritance to cover them, but "it won't last forever," she says. So she's searching for more consistent work that will allow her to build up an emergency fund.
5. Realize you won't be spending just money
Being a homeowner, according to Robinson, is "more money and more work" than you might expect.
"The 'more work' thing might be just as stressful," she admits. "Since I'm a freelancer, my work depends on constantly packing in as many hours as I can. So it's really hard to think about 'Oh, I need to fix the fence this weekend' or 'I need to wait for the electrician to get here.'"
Especially if you're doing it alone, the time commitment is not something to be taken lightly.
Can you buy a house - even with student loans?
"I feel like student loans are just this thing that many of us are going to have in our life for so long," she says. "They're just kind of there, and eventually they won't be. And as long as I can make the payments, I try not to let them impact my life so much."
Despite all the stress and worry, Robinson is happy with her decision to buy a house.
"Ultimately," she says, "I love coming home to it."
More from StudentLoanHero.com
Related
Popular in the Community