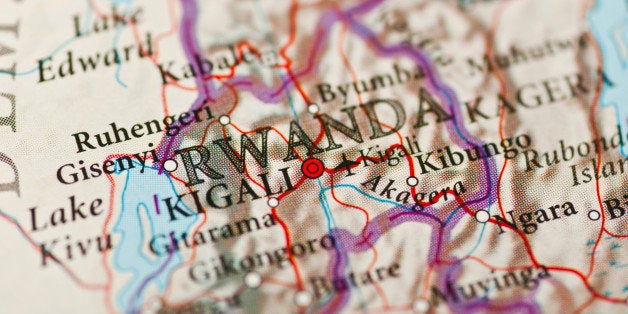 (A letter to my daughter)
Author's note: In July 2015, I returned from a humanitarian mission to the Nibakure Children's Village in Nyamata, Rwanda. The village provides a home for orphaned children in a country that is still recovering from a devastating genocide that took place in 1994. Profoundly impacted by the Rwandan culture, this is a letter written to my 4-year-old daughter, Stella, on lessons learned from these resilient survivors.

It was so hard to leave you for two weeks to travel to Rwanda and stay with the kids at the Nibakure Children's Village. I was going halfway around the world, and I felt like I was leaving my external heart back home. When I thought about leaving in the weeks leading up to departure, I had knots in my stomach, unsure if they were nerves or excitement. Then I would think about those kids, without someone to hug and tuck them in at night; no one to greet them in the morning with a smile and open arms.
It seemed like things in my life have been hard so far, and then I realized everything had been easy. My worries of the minuscule desperately needed the greater perspective of the concerns of real need. I looked around our house and wondered what the Rwandan children would think of this wonderland of endless electricity, hot water and toys. I couldn't bring that to them. But I could bring hugs, warm smiles and unconditional encouragement.
I was so scared to leave you, to take one step, much less two flights, away. But one day you will be taking those steps with me. You have already asked, "Mommy, can I go to Africa with you when I'm older to see the kids?" I'm so proud of you. I knew you would be in loving hands while I was gone. And even at four years old, you understood there was somewhere else mine needed to be.
This experience has transformed who I am as a person and will transform who we are as a family. The greatest gift I could give you from this experience are these important life lessons learned from Rwanda.
There is no known perfect path to healing. It is hard to move forward from great pain and, in the recent past, Rwanda has suffered the greatest pain, leaving no one untouched. Yet they are taking actions to bring people together, creating a sense of connectedness as a community. They are actively working to instill a sense of self-sufficiency and to move forward, together, from the scars of the past into a peaceful future.
One day you will endure pain that you will need to move forward from. I hope you will embrace your strength, lean on your community of friends and family, so you too may continue to move forward in peace.
In "African time" (an affectionate word to describe the non-urgency and natural sense of things), you know what will happen... roughly... and it will happen naturally, when the time is right. And in Rwanda, everyone trusts that that is ok, no one is worried when it is early, late or rescheduled. They are living in the moment, together. Though this idea doesn't translate well to our world, it would be nice if we tried to slow down and live on African time at least once a month.
Many things will appear scary in the world, but fear is by far the most dangerous. It can turn nations against nations, and it is powerful enough to turn neighbors against neighbors. The fear of not having enough or not "being enough" can propel people to dark places. You need to rise above the fear. You can never, ever give in -- hold on to your love with all of your strength. Love will see you through even the darkest times.
Rwandans are kind even under the toughest circumstances. Children greet you with a hug and when they sit next to you, they throw an arm over across your shoulders or over your leg. It is not uncommon for men to walk around holding hands as a show of friendship. Affection is not for special occasions; it is for daily life.
Rwandans, as exemplified by the children and mamas who care for them at the Nibakure Village, see value in each person and treat them with the kindness each individual deserves. So when your path crosses with others, even on your worst days, slow down and take a moment to offer a touch of kindness. I guarantee it will be carried forward. I can tell you I am a kinder, gentler person for having been with the Rwandan people.
One day you will be exposed to bad things that happen in the world, outside of your own happy bubble. I pray these bad things do not happen to directly to you, but when you do learn of them, there's a good chance you will be heartbroken. The grief may even paralyze you. But you can use those deep emotions to propel yourself forward and choose to make a positive change. The Rwandan people taught me that those who move forward by getting up and doing something can begin to walk away from those dark places and make a difference. The choice will be in your hands, refuse to remain neutral.
During my time in Rwanda my eyes were opened to a kind, gentle culture where; when you have nothing else to give, all that is left are relationships and all you can give is yourself.
"You cannot leave Africa and expect to be satisfied with ordinary living." - A Thousand Hills to Heaven
Calling all HuffPost superfans!
Sign up for membership to become a founding member and help shape HuffPost's next chapter