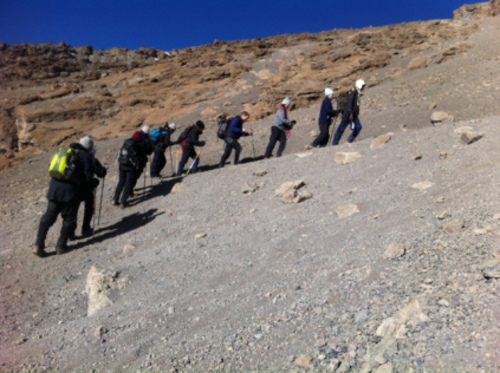 I have a confession: I've struggled recently with the belief that life isn't fair. After several months of recurring bouts of the flu, I discovered that I'd contracted Lyme Disease. To be brought so low by a bug roughly the size of a sesame seed seemed impossible. To feel unknowingly "invaded" while in my own backyard was unthinkable. And to have my summer stolen from me was unacceptable.
My world was quickly reduced to various resting spots: the bed, the sofa, perhaps a chair in the sand at the nearby beach. But while I put my own travel on hold, I managed to escape by reading about the journeys of others. And I found unexpected solace in this travel piece by Eman Zabi. Her blog begins "If you've ever climbed Kilimanjaro...." and when I read those words, I was thinking only of my own long trek toward wellness.
But whether we are humbled by a bug or by a mountain, these travel lessons apply equally to all of life's challenges.
Thanks, Eman, for sharing this unobstructed view that puts it all back in perspective.
"Pole, Pole." If you've ever climbed Kilimanjaro, the words "Pole, Pole," Swahili for slowly, slowly, will be forever be engrained in your memory. On the mountain, the words make sure you take your time as you climb, conserving energy and aiding acclimatization. Off the mountain, they keep you grounded and mindful as you focus on each step and not the end goal.
Your biggest competitor is yourself. Altitude affects different people differently. In our group, some of the fittest people on the ground were left almost incapacitated, while some others were left completely unaffected by the elevation. So really, it doesn't make sense to compete with anyone else. You're going to feel the weight of your rucksack cutting into your shoulders, your feet will be blistered and bleeding, you will be hot and cold simultaneously, you will be filthy, tired, hungry and sick. And you will want to give up. The only way to get anywhere in life is to overcome that voice in your head telling that you can't.
Know when to stop. While perseverance and stubbornness are great, you must also know where to draw the line. Altitude sickness can quickly turn dangerous, whether in the form of pneumonia or a cerebral edema. Knowing your body and knowing when to stop can be the difference between life and death. Off the mountain, this means understanding your limitations and reaching a balance between knowing when to push yourself and when to call it a day.
Remember how small we really are. We all know that we are infinitesimally small compared to most of nature's other creations. However, knowing is one thing, experiencing is another. One of my favorite memories from the climb was the night before we summited. As we all stood in silence by a sheer rock face, the clouds several hundred meters below us, illuminated by light from below, petty things from the material world melted away and in that moment, we were struck with the realization of how truly insignificant we are in the greater cosmos.
It's okay to ask for help. Stubbornness and pride only lead to more suffering for yourself. As we descended the mountain, I slipped on scree and hurt my knee. Despite numerous offers of help from the guides, I refused to be carried down, or even give up my pack. I saw this then as a show of strength, I see it now as a show of weakness. Asking for help doesn't make you weak, being unable to look past your ego does.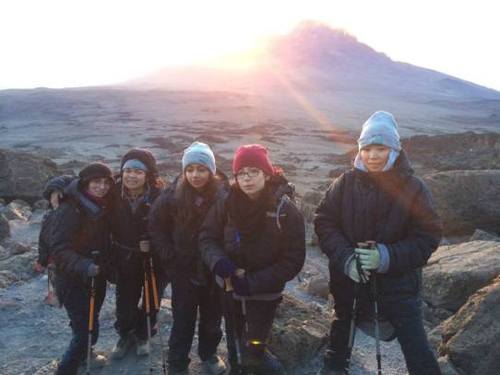 Reprinted with permission from Get Lost travel blog.
Tammy Letherer is a writing coach who loves to help others find their voice, whether in a blog or in a book. She is the author of one novel, Hello Loved Ones, and a memoir, Real Time Wreck: A Crash Course in Betrayal and Divorce, for which she is seeking agent representation.