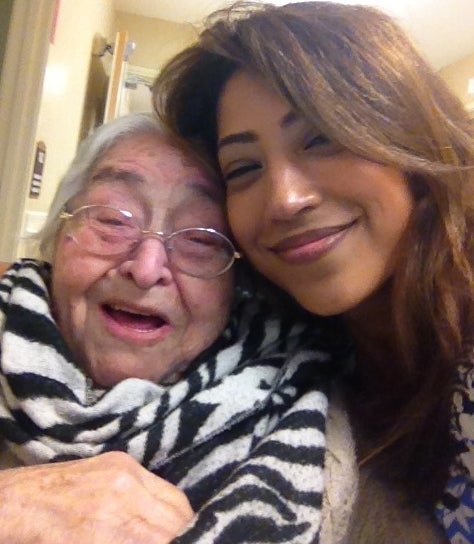 Last summer, on a Sunday morning, I received the call that would change my life. My beautiful, 100-year-old grandmother, the most important person in my life, was in critical care.
The doctor said we needed to prepare ourselves, and from that point on, I barely left her side. I got to kiss her, hold her hand, tell her I loved her, and make sure she knew I was there.
Five days later, I lost her.
My grandmother was and continues to be the biggest influence in my life, my relationships, and my businesses. I didn't know it growing up, but she was my personal life coach.
My grandma had an incredibly loving and generous heart, which I experienced first-hand as she helped me with homework, celebrated every success I had, and consoled my every heartbreak.
She always had a hug and a wise piece of advice for me, from slipping me a $20 for gas, to telling me a joke to cheer me up, to hugging me as she'd whisper, "This too shall pass, mija."
The funny thing about death is that it reminds us of all of the lessons that person taught us while they were living. My grandmother raised me and was my mother, mentor, best friend, and personal life coach.
Here are five of the most powerful life lessons I learned from her:
1. Have a sense of humor.
"Learn a few jokes, okay? Everyone loves to hear a good joke," my grandma would tell me. She was right. I witnessed her use her humor to get through difficult moments and to make others feel better. That was one of her secrets.
You can survive sadness, tragedy and heartache with laughter and a positive attitude.
But be sure to make time to cry, as well, otherwise you'll go crazy ― and no one wants that.
2. Do the right thing.
"Stand up and be a voice for those who may not be as strong as you." If i see someone in need of help I usually offer it if i am able to. If I know what the right thing is, I need to do it. Always.
Since I was a little girl, I've been a translator, mediator and negotiator, even if at times it meant I felt uncomfortable. It didn't matter, because I was giving a voice to someone who needed it and I was doing the right thing.
3. Be kind.
"Be kind to others, even if they're not kind to you."
"It will make a difference to that person, and will make you a better person for it."
Make generous assumptions about what other people are going through. Do your part to show kindness to others as often as you can. What you give, you will receive, maybe not from the same person, but from someone else.
4. Stay curious.
"Don't stop being curious, okay? People will keep surprising you, and you should want to be surprised all the time."
My grandmother attributed her youthful spirit and good health to being interested in life, getting excited about seeing new things, meeting new people, and finding passion in life.
In her lifetime, my grandmother saw more innovation than I ever will. In her later years, I'd show her to use a smartphone to connect with family all over the world. She was always amazed and excited by our latest "toys" and asked me to show her how to do it herself. Stay curious, and you'll stay youthful.
5. Collect perfect moments.
"I'm memorizing this perfect moment."
During our weekly Sunday dinners, I'd often observe my grandmother smiling as she watched all of us talking over each other, playfully fighting at the dinner table, teasing each other and laughing ― the louder, the better. When I asked her what she was thinking, she'd say, "I'm collecting this moment for later."
I was so blessed that my grandmother had been collecting all those perfect and imperfect moments her entire life. As the collector, she was my personal historian. I understood early on that it was important to witness those moments and just as important to share them, which is what I intend to do.
For the rest of my life, I will honor my grandmother's memory by continuing to carry these lessons with me and to share them with others. She raised me to be a strong, independent, loving and thoughtful woman, and I miss her every single day.
Each morning, I can hear her say, "Put on a little lipstick ― it'll brighten up your face."
"Yes, Grandma," I smile. And I do.
Veronica L. Sagastume is a Business Coach and Strategist for ambitious entrepreneurial women. She's also the founder and CEO of BizFit Coaching, Inc. Before launching her current business, she built a multiple-six figure consulting practice, serving corporate Start Up clients in San Francisco and the Silicon Valley. Prior to that, she worked in the Corporate world as an Accounting, Finance & Operations executive in the Bay Area. Veronica's mission is to inspire & empower women everywhere to launch their own business and build a life they love. Ready to turn your business idea into reality?...visit BizFitCoaching.com and grab your 9-step checklist to launch like a pro!.