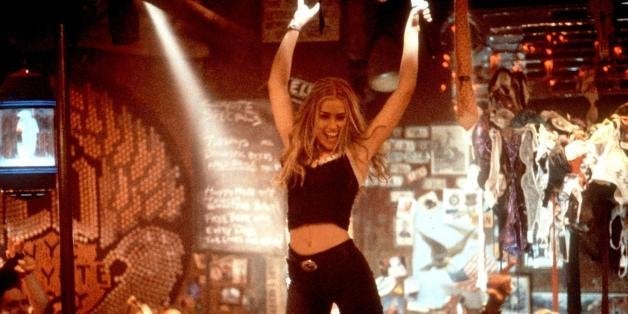 It's hard to believe that this movie is almost 15 years old.
Do you remember the year 2000? Y2K?

I feel like I'm sounding like my parents here -- but I feel like 2000 was yesterday.
I specifically remember going to the movie theater twice to see Coyote Ugly -- and alone by the way. Boy, that sounds a bit sad! ☺
2000 was an interesting year for me. I had a lot riding on that year -- college graduation and my "real life" starting were at the top of my list. That, and of course not staying single.
So in 2000, I did what probably a lot of single girls did -- I went to the movies and watched Coyote Ugly, the tale of the young girl, Violet (or 'Jersey' as she's affectionately called) go off to the "big, bad city" (NYC) to make it big.
I watched this movie again last night -- and it's ironic to me.

Ironic that I watched it last night - - in the comfort of my living room in my new house that my husband and I purchased a few months ago, while my two beautiful kids (and hubby) lay asleep down the hall.
I remember in 2000 so badly wanting what I have right now -- an amazing family, a supportive husband, and a company and team I am fired up about.
The irony doesn't slip past me.

I remember being that 25-year-old girl and thinking that knew I was at a crossroads in my life -- but a bit sad, because I couldn't quite see what life had in store for me next.
As I watch the movie, I can't help but watch with a twinge of sadness as the Twin Towers were in the background of so many shots in the movie. At the same time I also smiled to myself because I used to think having a guy like, "Mr. O'Donnell" would be the end all and be all.
I remember thinking how freaking awesome it was that Violet was making her dreams come true.
Last night, I giggled watching the movie as Violet had to use a pay phone and change to call home. Or the scene where she is trying so hard to unlock the door so she won't miss her phone ringing.
Or, when she plays back the answering machine with a tape -- yes, those did exist just 15 years ago.
How about her demo tape -- was literally a cassette tape?

It's ironic that when I watch this movie now and I think about how much I have compared to where I was when I was barely 25-years-old.
2000 was the year before I met my husband -- before my life took a complete 360 and the year before 9/11 -- the year before the country took a complete 360.
So what are these lessons learned from Coyote Ugly?
1. Believe in the power of your dreams. Whether you are 25, 35, 45 or any age -- it's never to late to make your dreams come true. It's never to late to do what you want to do! Stop wishing and start doing. Start crossing those things off your Bucket List. Make a list and just start doing it. We aren't promised any more days -- so what are you waiting for?
2. Don't be afraid to dance on a bar. Ok, so maybe you wouldn't really dance on a bar, but don't be afraid to look silly or sound goofy. Don't worry so much about what you look like or sound like and just go for it. Imagine what you would do if you weren't afraid. Ask for the big raise. Ask for that big contract. Start creating videos for your business. Stop messing around on stuff that doesn't matter. You want to do something freaking awesome -- you need to BE freaking awesome! (That's a tweetable folks!)
3. Sometimes you need to sing at the top of your lungs. So you may not have a voice like Violet (or Leann Rimes who played the voice of Violet) but don't be afraid to let your voice be heard. Speak loudly. Speak strongly. Doesn't mean you need to be a jerk -- but speak up because no one is going to speak up for you.
4. Know when to walk away. In life, know when to throw the towel in. It's ok to say, "it's time to move on." It's not quitting, it's not giving up -- it's making the best decision for you. I know when I started my own company two years ago, it was scary as hell. But the scariest part was just in making the decision. In life we look back at endings and beginnings -- the end of school, the beginning of our life, the end of a job, the beginning of a career, the end of being single, the beginning of sharing your life with someone -- and the list goes on and on. Know when the end is near, and know that a new beginning is right around the next bend.
5. Don't ever forget where you came from. When you 'make it big' don't let it go to your head. Check your ego at the door. You are not as important as you think. For as many people know you, there are many more that have no idea who you are -- so don't let your success inflate your ego. Work hard. Nothing happens by accident or luck -- it's the result of hard work and persistence. Be appreciative of where you came from. And don't forget to be give back!
So, to quote a link from the movie : "What do you do when you realize all of your dreams have come true?"
My answer? Keep at it, because it's not the end... it's just the beginning -- and I'm just getting started.
This post originally appeared here
If you liked this article, please leave me a comment below or send me a @katielance. I am a wife, a mom to two beautiful boys, a speaker, a consultant, a blogger, a coach, an iPhone addict and a wine lover. You can find out more about me here or connect with me on Facebook.