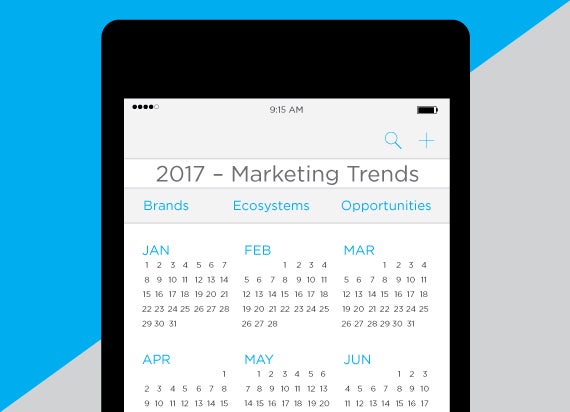 As the year winds down, I find myself reflecting on the past year and trying to sort through what's to come. However, one thing is very clear, disruption is the new reality and modern marketers should look for ways to leverage it. The following are my predictions for where the greatest disruptive opportunities may lie and what marketers need to watch out for in the coming year and beyond.
Post-Communications Ecosystems
Innovative mediums and services are cropping up in ever-increasing ways, from Amazon Alexa and Google Home to HTC Vive, Nest and Hololens. These platforms will not be friendly to communications-based brand building, like advertising. Brands will win by creating services, products and markets meant specifically for them. For example, MasterCard, rebranded as MasterPass, is now a payment system driving easy food purchases on Samsung-connected refrigerators. It won't be long before brands like LiveNation sell first-row subscription tickets to any event anywhere around the world, but attended virtually from your VR home experience. Marketers need to look at these environments and ecosystems not for what messaging they will allow, but for what services and value brands can provide. Creating this brand value addresses the ever-increasing use of adblockers as well.
The New Definition of Media
With the explosion of choices and continued rise of fragmentation, media has never been more complex than it is today. What's more, it's now easier for people to ignore, skip or block ads at an ever-increasing scale. But that doesn't mean advertising or traditional media is dead. Marketers need to view the media landscape and their investments in a new light. By understanding human behavior, brands can create a more targeted impact by finding the right opportunities and moments to provide real value versus only looking at scale, tonnage or clicks. Brands should consider how the combination of paid advertising, content marketing, media partnerships, experiences, earned media, utility and product or service improvements can help achieve their business objectives. In order to adapt, it's important to shift dollars into solutions that go beyond advertising to create enduring brand experiences. When Land O'Lakes' WinField United division invested in the development of Crop Adventure, an interactive museum experience that explores how modern agriculture works, they created a brand asset that will educate generations to come.
It's no longer enough to just post, tweet or snap what you're doing. People now want their friends and followers to actually experience what it's like to be there with them in the moment. Facebook Live, Instagram Stories and continued innovations at Snapchat will further increase the real-time, "moment-based" marketing trend. As brands move beyond ads, marketers need to give people more ways to become part of their omni-media experiences in order to maximize ROI and share their stories.
The segregation of media has the potential to divide the nation even further, regardless of political leanings. While fabricated news has always existed, the speed, scale and influence of social media today (nearly 50% of Americans get their news from Facebook, for instance), allows people to find and share any type of content that aligns with their views, regardless of whether it's fact-checked or completely fake. Plus, a Facebook or Twitter share often equals site traffic revenue for publishers. Marketers have a responsibility now more than ever to think beyond the impression, click or CPM of a search, social or programmatic media buy to truly understand the authenticity of the content of their advertising message and where it shows up. Media brands like Google and Facebook have a responsibility too. Relative objectivity in the news media has long been a hallmark of this country, and it is extremely valuable to building strong, authentic and enduring brands.
Brands will need to address the uncertainty and anxiety caused by the changing presidential administration. As many in the country are divided, the challenge to brands is the difficult choice of either, 1) trying to appeal to all audiences equally, which will require them to be somewhat generic in their purpose, personality and messaging; or 2) following suit like brands Allstate, Orbitz, Miller Lite, Target and others that are making a conscious choice to stand for values like equality and inclusion; or, conversely, Chic-Fil-A or Hobby Lobby that stand for conservative social values. Taking a specific stand may alienate people who do not agree with your position, whereas choosing to be neutral may cost your brand relevance. This is a massive shift that could create a large schism in brands, as well as give birth to new brands with the intent of serving one group and not others.
As technology, the political climate, and ways people interact with content and each other continue to evolve, we need to pay attention to the trends shaping our world and the implications these have on marketing. In 2017 and beyond, brands will have to move faster than ever, and those that embrace disruption will have an advantage.
Calling all HuffPost superfans!
Sign up for membership to become a founding member and help shape HuffPost's next chapter
This post was published on the now-closed HuffPost Contributor platform. Contributors control their own work and posted freely to our site. If you need to flag this entry as abusive,
send us an email
.