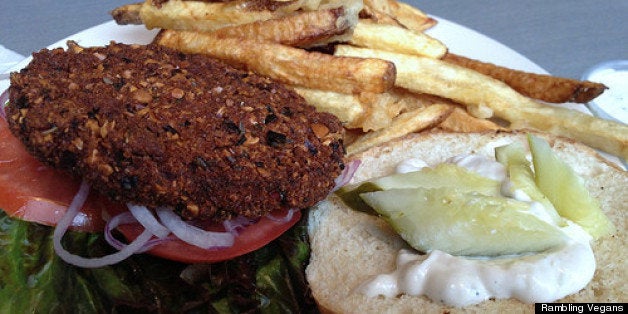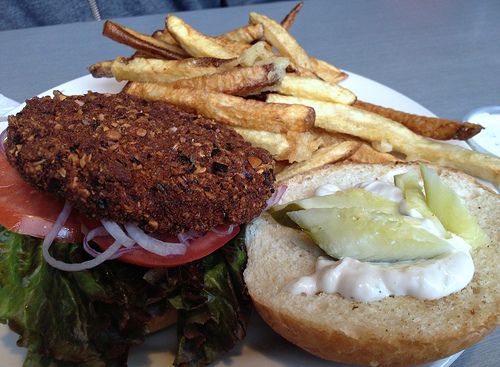 The popularity of burgers has created a demand that goes far beyond traditional beef. And with the growth of vegetarian and vegan meal options, why should the carnivores get all the fun?
There are many ways to create a patty without meat or animal byproducts. While the many methods each have their pros and cons, there are some burger options that might even fool the average meat-eater. Here are five:
1. Soy Burger
When it comes to doing away with meat, a soy burger is among the healthiest of options. However, with different types of soy and many brands of soy burgers, you'll find different flavors and textural effects on burger patties. So if you don't like the first soy burger you've tried, keep trying. You may eventually find one that gets it just right.
The Flaming Ice Cube in Cleveland, Ohio has definitely got its soy patty figured out. The burger comes dressed up with a combination of mustard, ketchup and vegan mayo, creating a meal worth writing home about.
2. Hazelnut Burger
Many of us associate the hazelnut with Nutella, but this versatile nut can be used to create burger patties, too. Plus, adding hazelnuts to your diet provides a great source of calcium for bone strength, iron to aid production of blood, and potassium to help create a strong muscle system.
Milwaukee, Wisconsin may not be well-known for its vegan leanings, but The Comet Cafe has created a delicious vegan version of its "Big Luck Burger," with lettuce, pickles, red onion, tomato, and vegan thousand island dressing.
3. Mushroom Burger
The "meaty" mushroom gives a little more substance and depth of flavor than many other meatless burgeroptions. You may find finely chopped crimini, shiitake, and Portabello mushrooms combined to make a patty, or you may find a Portabello mushroom cap in the starring role. The latter is exactly how The Eatery on Farwell makes it, adding a second veggie burger to make the city of Milwaukee proud. The "Ratatouille Burger" consists of a grilled Portobello stuffed with roasted veggies and topped with vegan mozzarella cheese and garlic aioli. Get it with steak fries or the housemade chips.
4. Tempeh Burger
Tempeh is a cousin of soy that comes from Indonesia. A tempeh patty's rather firm texture will give any traditional meat eater a run for the money. The taste is nutty but sometimes bland, so burger toppings are essential.
A great tempeh burger can be found at Aux Vivres, one of Montreal's many vegetarian specialty restaurants. Aux Vivres loads its tempeh burger with caramelized onions, lettuce, pickles, and tomatoes, and puts it over the top with chipotle mayo. Accompanying the burger are some mighty large potato wedges.
5. Combination Veggie Burger
Limiting oneself to a single element for a vegetarian patty doesn't always do it. Combining nuts, soy, and grains create endless possibilities for the perfect veggie burger.
Burger on Smith in New York City is home to such a burger. With a combination of nuts, veggies, and quinoa, the "Nutty Professor" is a fan favorite, topped with oven-roasted tomatoes, avocado, and a creamy vegan herb sauce.
Mr. Lew is a high school teacher from Montreal, Quebec. In 2009, after trying Montreal's supposed best burger, he decided to see what else was out there. So, every week, a new burger was added to the Great Burger Search. Since then, Mr. Lew has tried more than 100 burgers in cities across Canada, and hopes to one day expand to the rest of North America. Since Mr. Lew is part Chinese, the search isn't limited only to great burgers, but to other types of cuisine that makes Montreal one of the greatest culinary cities in the world.