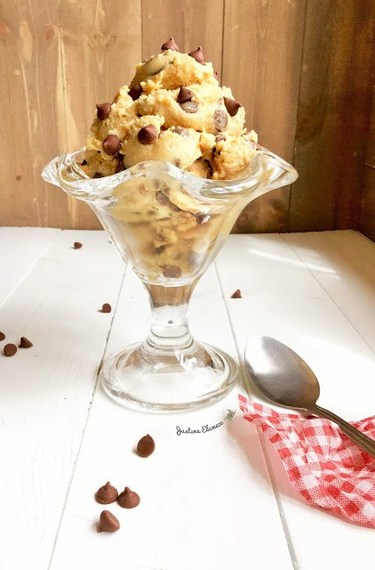 A couple of months back, I spotted the beautiful Bethany Ugarte's Instagram post (guys, you HAVE to follow Bethany @lilsipper as her recipes are just AMAZING!) for her delicious cookie dough.
The fact that it looked amazing was already enough of a persuasion to try it out myself (I mean, chocolate chip cookie dough, who wouldn't?) but it wasn't until I scrolled down the page and discovered that the main ingredient was chickpeas, that I was totally sold!
Chickpeas! A delicious chocolate chip cookie dough made out of chickpeas!
Do the wonders of tasty gluten free recipes ever cease!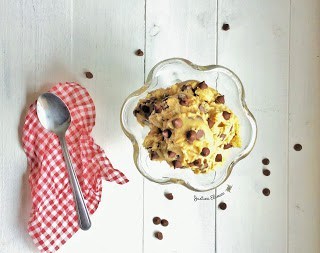 Thankfully, I had the ingredients all to hand so set about making Bethany's creation straight away. Needless to say, it was so delicious and the realisation (as I scoffed the lot in less time than it took to make!) that this cookie dough is healthy, tasty and gluten free had me skanking round the kitchen like a total nutter!
I then re-read Bethany's Instagram post and realised that I was supposed to have frozen it for a while so that it became... COOKIE DOUGH ICE CREAM!!
Life had got even better.
Of course I made another batch of the wonder stuff and with enormous willpower managed to let it freeze.
Actually, that is a complete and utter lie. I had no willpower. The only reason why you guys are seeing these pretty pictures of my second batch of cooke dough is because I totally forgot that I had put it into the freezer and only discovered it last night, some two months later, when getting some food out for dinner.
Anyway, as the saying goes, "All things work for good..." as now - with it 'officially' being summer - is no better time to share this recipe for chocolate chip cookie dough ice cream.
If like me, you forget (or don't want!) to wait for the dough to freeze before serving, then go for it with a huge smile on your face, safe in the knowledge that it actually doesn't matter and that life is most definitely good!
1 15oz Can of Organic Chickpeas (or you can soak chickpeas over night and cook accordingly)
1/2 Cup of Raw Honey
1/4 Cup of Raw Almond Butter
1/2 Teaspoon of Baking Soda (to give that 'cookie dough' taste)
Pinch of Himalayan Salt
1/2 Teaspoon of Vanilla Extract
Milk Chocolate Chips
Setting aside the chocolate chips, blend the remaining ingredients until smooth. Then fold in the chocolate chips and enjoy!
You can pop the cookie dough in the freezer for an hour or so beforehand. Or you could just not!