It's a beautiful 80-degree day and you are sitting on a perfectly positioned balcony overlooking the crystal blue water. Next to you sits a table with a cool beverage and some delicious snacks. Your workday routine consists of checking emails on your devices, dreaming up your new marketing campaign and taking a late afternoon Skype call with your business partner, who is 2,000 miles away.
While others are sitting in an office with fluorescent lights, behind their tiny cubicle walls, you see nothing ahead of you but pure bliss.
The life of an entrepreneur has many perks, including the ability to work from almost anywhere at anytime. Getting a business up and running in this technology driven society is a breeze compared to even just a few a years ago. Every aspect of your business can be run and managed from your virtual office (aka your laptop and cell phone).
The social circle of mobile apps has exploded faster than you can get the words out of your mouth. With this never relenting surge of apps, there are five mobile apps that every entrepreneur should have at their fingertips: Expensify, Credit Sesame, YNAB, Shoeboxed and Dollarbird.
Expensify: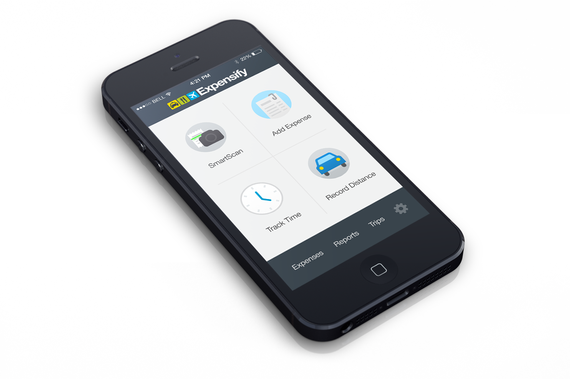 Ask any entrepreneur and they will all tell you that paperwork is not the best use of their time. Entrepreneurs want to be creative, and like to play in the "big thinker" space, as they should. Expensify works to simplify and automate the tiring process of expense reports. Does anyone like creating those reports? With some great features, you can scan and store your receipt, let Expensify go to work and have a crisp expense report ready just when you need it.
One of their best features is SmartScan. "Our OCR technology reads the merchant name, date and amount for you so you don't have to enter your data manually. You can SmartScan by taking a photo of your receipt with our mobile app or by forwarding your receipts to receipts@expensify.com," says CEO and Co-Founder David Barrett.
"Entrepreneurs are busy formulating their strategies and running a company, so they don't want to waste time worrying about the small stuff. When it comes to expense reports, we make it easy for them. As soon as you get your receipt, take a picture of the receipt with the Expensify app. Throw away that receipt - you won't have to worry about that expense until you're ready to submit your expense report. We're trying to help users change the way they think about expense reports, starting with one habit at a time. We're built for entrepreneurs who want to focus on building their product, not on expense reports," adds David Barrett.
Credit Sesame: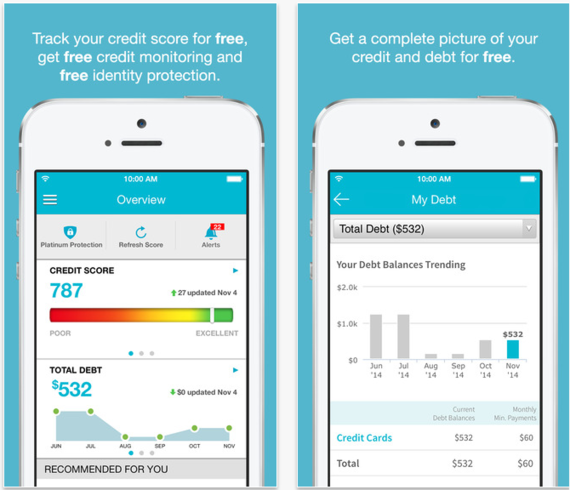 Your life revolves around numbers - phone numbers, birthdates, house numbers, friend's numbers, driver's license number, and so on. Arguably the most important number is that little 3-digit number known as your credit score.
Tied to your social security number, your credit score is the gatekeeper for an entrepreneur's ability to access money, loans and credit. If your credit score is sub-par, under 700, then your choices of financing flavors are severely limited - no coffee mocha chocolate chip praline for your business.
Credit Sesame's secure mobile app allows you to track your all important credit score monthly, and gain an overall snapshot of your credit and debt, all in one place. Another great feature is that with their mobile app you can see a home value estimate for your home, in case you land that big contract and want to rush to put your house on the market.
"Fast access to important information, like your credit scores, is becoming increasingly important for consumers and entrepreneurs alike. But doing so safely and securely is just as important. By adding a layer of biometric authentication like a thumbprint, you're essentially giving hackers the finger," sites Neal O'Farrell, the Security and ID Theft Expert for Credit Sesame.
YNAB: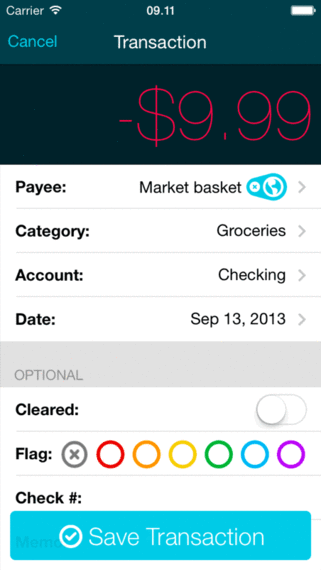 If we are talking about entrepreneurs, we're going to need to talk about the dirty "B" word. Yes, budgeting.
With the tagline, "Budgeting at its very best," YNAB (You Need A Budget), is a digital solution to your budgeting blues. It's easy to use the excuse, "out of sight, out of mind," when talking about why budgets fail so often. YNAB's mobile solution gives you access to your budget at your fingertips.
With Cloud Sync technology, you can enter your transactions right at the scene of the crime. Sure, as an entrepreneur, you will still need to keep that receipt for tax purposes, but what's better than having your numbers accessible to you in real time. Not to mention, with YNAB's Fast Budget Switching capability, you can toggle seamlessly between your personal and business budget in a matter of seconds.
Here's what the YNAB Founder, Jesse Mecham has to say, "When I started using You Need A Budget for the You Need A Budget books, it was a game changer. It cut my time doing monthly bookkeeping in half - huge win. Preparing for taxes is as simple as exporting an income vs. expense report and sending it my accountant - super easy. But the real win was the budget. I have always been conservative with the business money, but when I started using a real live budget, things started to change - most dramatically, my stress level. I didn't have to stress, because cash flow wasn't a concern. I cannot emphasize enough how the budget will reduce (eliminate?) your stress. By budgeting for your business, you will spend less frivolously. Guaranteed. We save for big projects and fun stuff (like our annual meet-up), and we set aside money for our buffer. I feel more comfortable taking risks, and we can be more aggressive with hiring because I can see that the money is there. It really helped me accelerate growth - but some more swashbuckling entrepreneurs, it may help you slow down a bit (and that could be a good thing too!)."
Shoeboxed: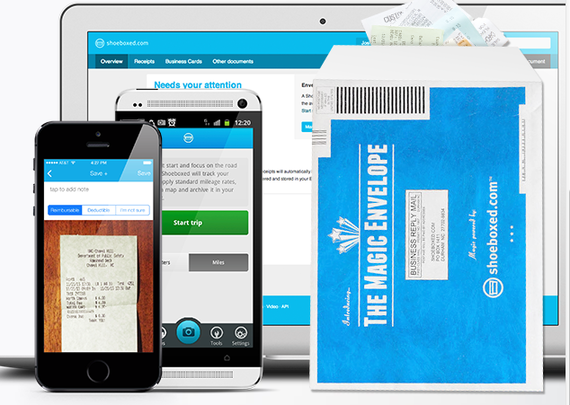 Raise your hand if your box of receipts looks like a wild animal from some far away land was called in to organize them. Entrepreneurs are seldom detail people on tasks that they would rather not partake in. However, being an entrepreneur means you must keep accurate track of your business deductions, including your car mileage. Not only will this score you big points with your CPA come tax time, but should you ever be audited your records will be your saving grace.
Shoeboxed offers a free mobile app that does just that. You can instantly capture receipts from anywhere in the world, and with their super savvy GPS system you can easily, and accurately, track mileage. Did you know that your phone could be that smart?
"I have always been an entrepreneur. I owned a video production company in high school and developed some social networking websites during my early college years. Entrepreneurship is exciting and very fulfilling, but my least favorite thing about running a business was dealing with paperwork. I wanted a way to get rid of dealing with paper clutter and that's how I came up with the idea of Shoeboxed. With all of your documents securely organized online, all administrative business tasks like tax prep, accounting, expense reporting and contact management are simplified and streamlined. This lets entrepreneurs focus on more important things like growing their business and doing what they love to do," according to Taylor Mingos, Founder and CEO of Shoeboxed.
Dollarbird: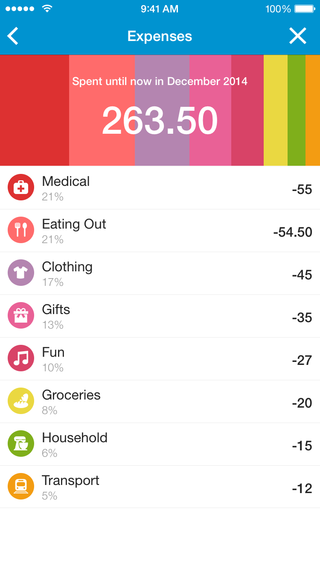 "Did you pay the electric bill that was due last week, or was I supposed to pay that?" With a sometimes-lengthy to-do list, simple everyday tasks like remembering to pay your bills, or even how much money is your bank account can easily slip your entrepreneurial mind.
Dollarbird, titled a "Smart Personal Finance Calendar," is leagues ahead of your cat calendar hanging on your wall. Dollarbird lets you track and forecast your money as easily as adding events to your calendar on your phone. You can not only find out what you are spending your money on now, but you can also project into the future - a modern day DeLorean in the form of a mobile app.
Why is this important? Quite simply, entrepreneurs always need to be looking forward, projecting and then making adjustments to those projections.
"Knowing what your cash flow and balance looks like, up to five years ahead, is very important for an entrepreneur, since money is one crucial resource for any business (man). Not to mention having an overview on the weight of the different incomes and expenditures, which help you identify the black holes of your budget. What's more, it comes in very handy to have all this information available at a glance, at any moment, and all this in an easy-to-understand manner, and with minimum effort from your side. One last aspect worth mentioning here is that all your information is confidential, available just to you, saved only on your device. This is Dollarbird's unique strength: simplicity combined with powerful information," says Levente Szabo, co-founder of Halcyon Mobile.