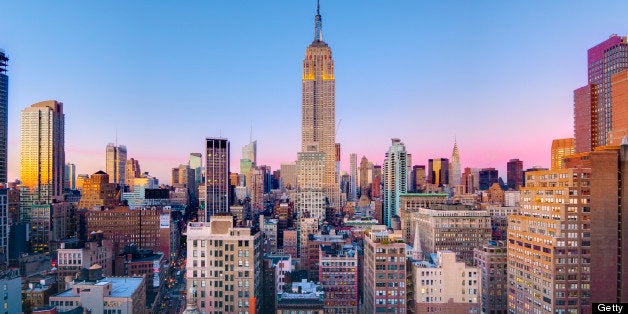 New York City exudes an energy like no other city in the world. Each time I visit, I discover new things to experience as I relish the many things that I have delighted in before. But there is always something new.
Coming from the Midwest, I know that I have arrived in New York City when the first sights I see are the electrifying glow of Times Square and the hustle and bustle of endless yellow taxi cabs. Usually when I travel to New York, I know I'm going to splurge in a big way. But for me, splurging at certain times in life is about buying experiences. And in that vein, New York City is a perfect place to give myself permission to do just that. It is a city that represents the best in fine dining, the arts, and fashion -- the things that make New York one of ( if not the) most interesting cities in the world.
My most recent jaunt to NYC revealed five more reasons why I keep going back to savor yet another splurging adventure.
1. Le Bernardin on West 51st St.
For those individuals who have eaten at the three-star Michelin Le Bernardin, you will understand what I mean when I say that it is truly a culinary experience of the senses. The space itself is a beautifully calming environment, in which Chef Eric Ripert shows himself to be a master of detail.
Each course was delivered to my table with exact precision by the staff -- led by the very pleasant and highly skilled fromager, Julio -- and was so visually breathtaking that I felt as though I would be indulging in the tasting of fine art. That is who Chef Ripert is -- an artist whose medium is food.
Aside from the exquisite presentation, the flavors were an experience unto themselves -- the likes of which I have no comparison. Le Bernardin is on an entirely different level and is very possibly the best restaurant in all of New York City. If you enjoy seafood luxuriating in silky sauces, then this is an adventure I highly recommend.
2. Four Seasons Hotel on East 57th St.
Another way to pamper yourself on a trip to New York City is to stay at the Four Seasons Hotel in Midtown Manhattan. The decor of this five-star luxury hotel is subtle elegance -- simultaneously grand and unpretentious. In addition, the rooms are, in my opinion, much more spacious than other hotels of this caliber.
Known for its top level of service, the staff greets you with big smiles. Each and every person is extremely welcoming and accommodating. For example, when my room was not quite ready upon my arrival, John, at the front desk, provided me with a complimentary drink from the bar. The next evening, when I returned to the Four Seasons after a night out in some very high heels, the door man anticipated my sore feet and handed me spa slippers as I stepped out of the cab. I was so grateful! Who does that?! The Four Seasons gets my vote for best in quality, service and compassion.
Whenever I visit New York City, I always get tickets to see a show. Sometimes it's on Broadway (which never disappoints) and sometimes it's a concert. On this particular trip, I was fortunate enough to catch the collaborative effort of Sting and Paul Simon at Madison Square Garden. Here you have two musical icons who are longtime friends and New York royalty. And yes, I got to hear Sting perform "Englishman in New York" (in New York).
With Paul Simon being Sting's mentor and teacher for many years, their combined talent created magic. From "A Brand New Day" to "Bridge Over Troubled Water," it was the experience of a lifetime.
The fact that the Four Seasons Hotel is very close to the best shopping in New York City is also a definite bonus. For my browsing pleasure, I prefer the Gucci flagship store on 5th Avenue. Now I don't care if you go for the sole purpose of appreciating the aesthetics of the impressive glass structure and the fine quality of Italian-crafted merchandise, or if you actually end up splurging on a little treasure for yourself or a loved one, walking through this multi-level store is an exciting experience.
Not only are the products positively lovely to look at, but unlike many high-end stores that I have been in, the sales force is very nice and engaging. A lot of times in various cities you'll venture into an expensive store and the staff is aloof and standoffish (which makes no sense to me considering the whole point is to get customers). I'm not naming any names, but you know who you are... (insert Pretty Woman reference here). In contrast, the sales associates at Gucci on 5th Avenue are wonderfully helpful. In particular, a young lady by the name of Bahareh is the cream of the crop when it comes to building relationships with customers. Her knowledge of the beautiful quality fabrics and leathers and naturally sweet personality made strolling around in this establishment a highlight of my day.
Every time I visit New York City, I realize that the people of New York are themselves a reason to go there; that remains a constant in my book. I'm sure there are times when you might encounter someone who displays rude or abrasive behavior, but you find that anywhere, and I have never had that unpleasant experience. I think New Yorkers have gotten a really bad rap somewhere along the line with some folks in other parts of the country. New Yorkers take great pride in their amazing city, and they should! No matter if they're born and raised or transplanted later in life, I encounter positive attitudes wherever I go. There is no place on Earth quite like New York City and no people on Earth quite like New Yorkers.
When I'm in NYC, I can be who I want to be. I can dress really chic or totally casual, lots of makeup or no makeup at all, partake in excitement and adventure or just kick back and relax -- it's my choice. New York offers the best of both worlds in one central location. Can't wait for my next sojourn there because.... well... I (heart) NY!
Popular in the Community