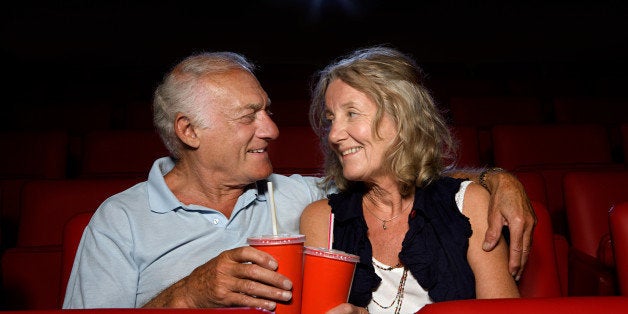 Recently more people than ever before have begun to take a look at their hopes and desires for the end of life and are even putting those wishes into writing. Through movements such as Aging With Dignity and The Conversation Project, individuals of all ages are being encouraged to talk about that day when their own life will come to an end and to express their thoughts and feelings about it with their loved ones.
As a society we are waking up to the fact that we need to tell others what we want for our final days of life in order to make it happen. However, once we figure out how we feel about our own death and dying, the next step we must take -- initiating the conversation with our loved ones -- is often the most difficult step to complete.
But here's an idea for you if you are struggling to find a creative way around the barriers to an end-of-life conversation: host a "movie night" and feature a film that will introduce the subject for you and get your loved ones in the "mood" to talk about death and dying. A movie can inspire your imagination, stir up your emotions and provoke your deepest thoughts, so it's an excellent way to introduce a difficult topic and start a conversation.
There are many excellent movies that address the end of life, including some recent independent films and documentaries, but these are my top five recommendations for commercial films that can be used to lead into an end-of-life discussion. Choose one that best fits your situation:
1. The Bucket List
This movie focuses on the joys of living life fully, even up to your final days, rather than on dying itself. The two main characters Carter Chambers (Morgan Freeman) and Edward Cole (Jack Nicholson) both learn that they have only one year left to live and decide to help one another fulfill their "bucket lists" before they die, leading them to many adventures and learning experiences.
Think of The Bucket List as "End-of-Life Lite" since it doesn't directly deal with dying as much as it emphasizes living. But it can be a gentle introduction to the subject, providing just enough humor and conflict to be entertaining without causing much discomfort for the viewers. You could show this movie to loved ones of all ages and then embark on a discussion by asking: "What's on your bucket list?" When you share your own list, be sure to include your wishes for your final days, e.g., "I want to be at home for my last days of life and have my family nearby." You'll be planting a seed with each person in the room and opening the possibility for deeper discussions in the future.
2. Beaches
This popular film from 1988 focuses on the unlikely friendship between two women, C.C. Bloom (Bette Midler) and Hillary Whitney (Barbara Hershey), as it evolves over many years. The movie provides some humor, plenty of relationship issues and conflicts, and cathartic emotional appeal -- especially for women viewers. But the story ends with Hillary's death and that's what makes it a good candidate for an end-of-life movie night.
Like The Bucket List, Beaches gently introduces the subject of death and dying and helps open the viewers emotionally and prepare them for the conversation that will follow. This movie would work best with adult audiences and seems most suitable for women, but men would be touched by the story as well.
3. Marvin's Room
This powerful film from 1996 centers on the relationship between two sisters with very different lives, Bessie (Diane Keaton) and Lee (Meryl Streep), who must deal with the challenge of providing suitable care for their elderly father and aunt. Bessie has cared for them by herself for the previous 17 years but now faces a terminal diagnosis of her own. The movie beautifully portrays the suffering within a dysfunctional family, but shows the healing and redemption that are possible as well.
Marvin's Room provides a compelling look at the challenges faced by family caregivers and would be an excellent stimulus for a conversation about where and how to care for our elderly when they become ill. This is a serious movie that requires an audience comfortable with looking at deeper emotions, family conflict and the challenges of caregiving, but the ending provides catharsis and inspiration for all viewers.
4. Life As a House
This 2001 film is one of my all-time favorites and I have watched it many times. The story centers around George (Kevin Kline), an architect who decides to build a house on his family's property after he receives a terminal diagnosis. The primary conflict in this story is between George and his teenage son Sam (Hayden Christensen), who eventually heal their estranged relationship by working together on the house. The building of the house throughout the movie serves as a metaphor for finding meaning and purpose at the end of life.
Since the father-son relationship is central to this film, Life As a House can appeal to both men and women and is suitable for a younger audience, as well (teenage and up). The movie teaches us about the opportunities for transformation that dying can offer and opens up possibilities for a discussion of how to live your life with meaning.
5. The Barbarian Invasions
This French-Canadian film is an intelligent and cynical look at various aspects of the end-of-life, which focuses on Remy, a radical socialist professor during his final days battling cancer. The story is provocative and controversial and ends with Remy choosing to die by a lethal dose of heroin while surrounded by his family and friends.
The Barbarian Invasions is a challenging film and would be best for an audience already open to the subject of death and dying and willing to engage in discussion about some of the controversies facing the end-of-life movement, such as physician-assisted death. This thoughtful and disturbing movie raises many questions for the viewer and should lead to animated discussions amongst audience members.
Of course there are many other movies that deal with death and dying so don't limit yourself to this small list (also check out Stepmom, Dying Young, My Life, and Terms of Endearment). Think about who you want to invite and what issues you would like to discuss and choose a film that best suits your needs. Have some snacks and beverages on hand, comfortable seating and plenty of tissues, since tears may flow freely. No matter how you begin, this conversation about the end-of-life is one worth having -- you will feel relieved and supported once you get started and make your wishes known!
For more ideas on planning for the end-of-life you might enjoy listening to interviews at End-of-Life University - a free online educational series. Just go to www.eoluniversity.com to learn more and register. About the Author: (Dr. Karen Wyatt is a hospice and family physician and the author of the award-winning book "What Really Matters: 7 Lessons for Living from the Stories of the Dying." She is a frequent keynote speaker and radio show guest whose profound teachings have helped many find their way through the difficult times of life. Learn more about her work at www.karenwyattmd.com.)
Support HuffPost
A No-B.S. Guide To Life
Related
Popular in the Community