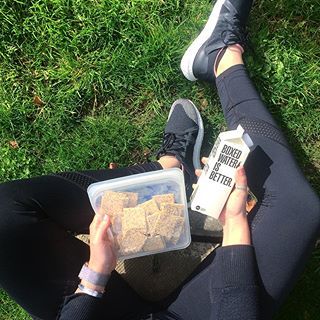 Earth Day is right around the corner, so let's all take a moment to reflect on the things we use in our every day lives. How do they affect the environment? Is there a more sustainable solution for these common items?
Luckily, the answer is YES. Below are five products that will not only help the earth, but can also save you some money in the long run.
If you're someone who often brings their lunch to work, this is a great replacement for plastic baggies. Think about just how many sandwich bags are thrown away every single day. Instead, get a Stasher. They're reusable, airtight, and non-plastic.
The snack size retails for $9.99 and the sandwich size is $11.99 (you can also find them on Amazon). In July, they're coming out with a half-gallon size. You can rinse them out in the sink or throw them in the dishwasher for a deep clean after each use.
By now you've probably heard, seen, and read about how we should all cut down on our plastic bottle use. But if you're looking for a good reusable bottle, where do you start? One option is the S'well bottle which combines functionality and fashion. These sleekly designed bottles are high quality and will keep your drink hot or cold for hours.
The company also partners with a number of nonprofits like UNICEF USA. By giving back, they're able to help provide clean water for people throughout America and the world.
Sometimes, like actual bamboo, it seems that bamboo products are sprouting up everywhere -- and not without reason. Bamboo is a wonderful material to work with and can be used in a variety of settings like flooring, cooking, and yes, even towels and bedding. I adore my bamboo towels. They're absorbent and super soft. Even after years of use they're still fluffy and feel new.
Bamboo is more eco-friendly than typical cotton. It grows and replenishes itself faster and absorbs more carbon dioxide from the atmosphere.
If you're looking for a small change that will use less energy around the home (therefore saving you money), then consider switching out your standard incandescent light bulbs to energy-efficient LED ones. They use around 75% less energy and last 25 times longer than incandescents.
These bulbs have been gaining popularity lately with more people trying to 'go green.' In fact, a recent study showed that people who believe humans are responsible for climate change are 5 times more likely to go green.
Clothes From Recycled Material
A recent green trend has been using recycled materials to make clothing. Some companies, like Lur Apparel, use both old scraps of cloth along with recycled plastic bottles. This provides more sustainability while still being comfortable and fashionable.
Earth Day is the perfect time to look at ourselves in relation to our environment and the planet as a whole. If you're trying to live more sustainably, there are more and more options out there as the demand grows. Consider switching out some of the basics in your life with these five eco-friendly products.
Related
Popular in the Community