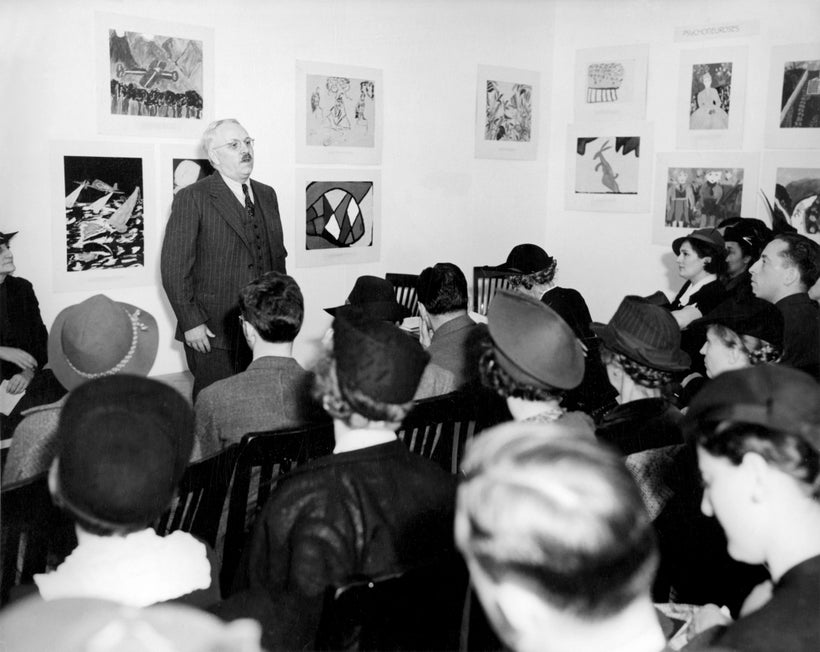 For more than a century, Harlem has been at the forefront of emerging culture. We all know it for its jazz, its Lindy Hoppers, and its food, but what about its studio art spaces?
A vibrant art scene exists in Harlem, many of the pieces a testament to the neighborhood itself. Works by the Black Masters, celebrations of all things jazz, and relics of a Harlem that once was fill these dynamic galleries.
If you're curious where to start, these 5 art galleries, museums, and spaces are well worth your time.
1. The Studio Museum in Harlem
Arguably one of the most important contemporary art museum dedicated to the works of African and African American artists, the Studio Museum in Harlem is a must see. Founded in 1968, its permanent collection houses nearly two thousand works of all media, dating from the nineteenth century to the present.
The "Studio" aspect comes from its residence program for Artists, supporting over one hundred local artists who have gone on to establish themselves as significant names in art. Among them, Chakaia Booker, David Hammons, Kerry James Marshall, and Julie Mehretu.
Location: 144 West 125th Street
Hours: Thurs-Fri 12pm-9pm
Sat 10am-6pm and Sun 12pm-6pm
2. The Dwyer Cultural Center
Opened in 2009, The Dwyer Cultural Center touts itself as "the only multi-media center in America devoted to the history, contemporary culture, and creative genius of Harlem". Ranging from the origins of the Harlem Renaissance to the Savoy Ballroom (now the Savoy Park Apartments) to the present day, Dwyer strives for authenticity and innovation. It possesses a vast array of spaces for rent where artists and community members can put on performances, display art, or offer general programming.
Location: 258 St. Nicholas Avenue
3. The Essie Green Galleries
Located in the historic Sugar Hill section of Harlem, the Essie Green Galleries have established themselves as a notable and classic presence. Since 1979, they have featured the works of many Black Masters of the 19th and 20th centuries, including names like Romare Bearden, Charles Alston, Lois Mailou Jones, and Jacob Lawrence. Always, they strive to "become a centerpiece of the new renaissance in Black culture not only in New York but throughout the whole of America."
Location: 419A Convent Avenue
Hours: Tuesday to Saturday, 10am-6pm.
4. Sugar Hill Children's Museum of Art & Storytelling
The newcomer to the list, the Sugar Hill Children's Museum of Art & Storytelling, opened its doors in the Fall of 2015. It was built by Broadway Housing Communities as part of the Sugar Hill Project, an initiative to revitalize community and culture, and as a place to address the needs of children who come from the neighborhood's low-income, low-education families.
The museum is a place "where [young children] would not only see art and talk about art, but share their own stories and make art from them".
Location: 898 St. Nicholas Avenue
Hours: Thursday to Sunday, 10am-5pm
Art in Flux was launched in 2012 as an arts initiative with two goals: to create opportunities for artists while simultaneously expanding accessibility to the arts in Harlem. Although not a physical gallery or museum, they have taken over underutilized and unique spaces for pop-up art exhibitions, such as in parks, schools, lobbies, and streets. Their annual FLUX Art Fair (happening May every year since 2015), features over 40 local and international artists in various locations throughout Harlem's parks and neighborhoods.
Location and Hours varied.
Whether it's checking out the cool contemporary vibe in town or taking your child to a museum made just for them, whether you're an art enthusiast or a casual visitor, there's something for everyone to see and experience in Harlem's booming art scene. Explore these spaces. Let us know which one is your favorite.
Calling all HuffPost superfans!
Sign up for membership to become a founding member and help shape HuffPost's next chapter
This post was published on the now-closed HuffPost Contributor platform. Contributors control their own work and posted freely to our site. If you need to flag this entry as abusive,
send us an email
.