1. Two Palms -New York
Pier 94 - Contemporary, Booth 732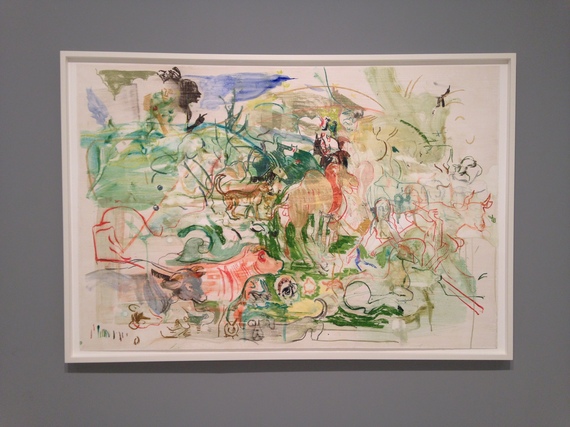 Cecily Brown, Untitled (Paradise), 2015
Monotype in watercolor, pencil and pastel on lanaquarelle paper
For starters, credit must be given to Cecily Brown's solo presentation at Two Palms. This booth is not only a beautiful display of the artist's recent work in large monotype, but also an assertive showing by Two Palms - a Manhattan-based gallery and studio that collaborates with artists to publish print and sculpture multiples. Relying on a single artist at a fair can be risky, but fortunately for Two Palms, Brown is compelling and exuberant in her blend of human and animal imagery inspired by the Old Masters (namely, paintings of animals from Hieronymus Bosch and Jan Brueghel the Elder). As the figures and landscape weave in and out of each other, so too does Brown's wet and dry media of watercolor, pencil and pastel: A detail that must be seen in person. With so many high-quality examples, it's hard to pick a favorite.
2. John Szoke Gallery - New York
Pier 92 - Modern, Booth 124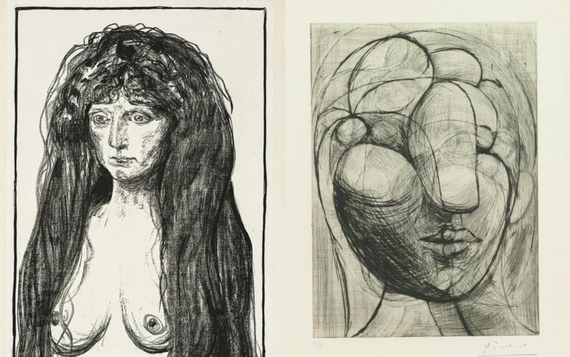 Edvard Munch, The Sin, 1902
Lithograph printed in black on medium heavy cream paper
&
Pablo Picasso, Sculpture, Tête de Marie-Thérèse, 1933
Drypoint on laid paper
The John Szoke Gallery specializes in works on paper by two monumental artists - Pablo Picasso and Edvard Munch. What's special about this presentation is the rare occurrence of paper-based works by two historic artists. Paper is simply too sensitive for public institutions to have them on permanent display. A variety of techniques are shown, from drawings to woodcuts to lithographs and etchings. The Picasso portion focuses on his portraits of women, while the Munch side features portraits of women as well as couples. Grouped separately, you see how Picasso evolved the abstraction of his human forms while Munch played with setting and shadow in order to affect the psyche of his figures. Each of the museum-quality artworks seen here are quiet showstoppers. And don't forget: Behind the back wall is a charming set of small drawings by Jean Cocteau.
3. Ota Fine Arts - Tokyo/Singapore
Pier 94 - Contemporary, Booth No. 748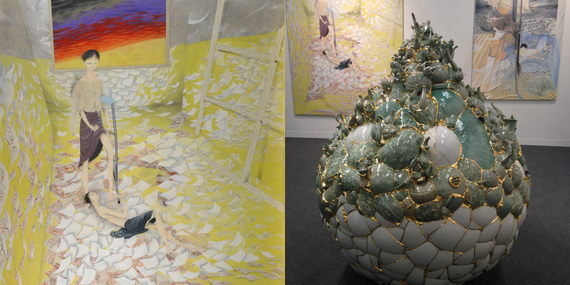 Tomoko Kashiki, Arm Piano, 2015
Acrylic, alkyd, pastel, pencil, gypsite and linen on wood panel
&
Yeesookyung, Translated Vase, 2015
Ceramic shards, epoxy, 24k gold leaf
Established in 1994, Ota Fine Arts champions Japanese artists through a diverse array of media. For their exhibition at The Armory Show, they chose two complimentary artists for a subtle, yet refined presentation of several paintings that gravitationally surround one large-scale sculpture. Both artists share a similar tone in careful execution, delicate display and underlying strength. Tomoko Kashiki's paintings are heavily labored in their removal of the artist's hand - the surfaces are surprisingly smooth and its multiple materials expertly blended. Her images, however, are both intimate and surreal. The booth's centerpiece, Yeesookyung's bulbous assemblage-sculpture, is likewise contradictory in the solidity of its spherical shape and obvious composition of balanced ceramic shards.
4. Mayoral Gallery - Barcelona/Verdu
Pier 92 - Modern, Booth 406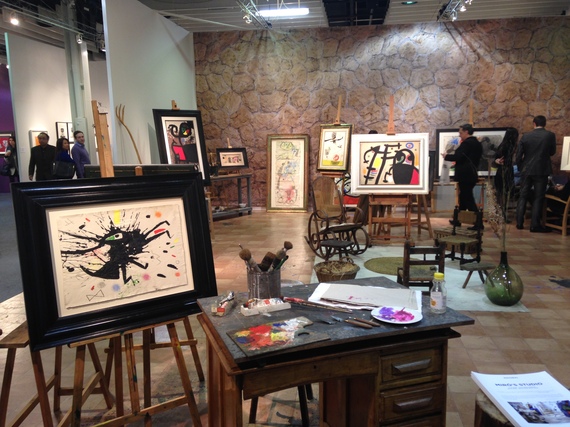 Installation, Mayoral Gallery, The Armory Show 2016
For a dose of theatricality, drop by the Mayoral Gallery's booth-turned-studio in the fair's Modern section and walk into a historically accurate reconstruction of Joan Miró's Mallorca studio, which he inhabited from 1956 until his death in 1983. All 22 drawings and paintings were made in the original location and amongst the objects, easels and chairs you see here. The experience serves as a reminder of the context in which artists make their work and offers a sense of the Mediterranean atmosphere and light that Miró was influenced by. Designed by his close friend and architect Josep Lluis Sert (whose letters with Miró are also exhibited), the studio allowed Miró to develop his creativity with newfound space to accumulate objects and expand the size of his work.
5. Donald Ellis Gallery - New York
Pier 92 - Modern, Booth 238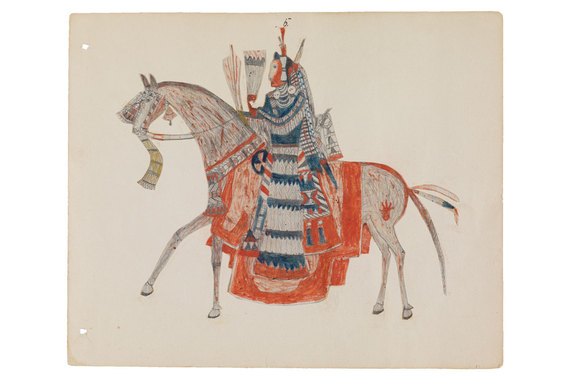 Crow Ledger, Northern Plains, ca.1890
Watercolor, graphite and colored pencil on paper
The Donald Ellis Gallery features historical works from Native American artists that includes the northwest coast, Inuit and Eskimo art as well as the American woodlands and plains. In this understated exhibition, the gallery presents an outstanding series of ledger drawings by anonymous Native American artists that lived on the greater Interior Plains (now the Canadian Prairies) during the 19th century. Ledger art, an evolution of animal hide painting, flourished in the area with the introduction of European materials and ledger paper. In these works, we can peer into a culture that is too easily overlooked and was at a point of momentous change just prior to the Modernist era. These poignant drawings document the existence of a disappearing nomadic culture that is well deserving of our critical and aesthetic attention.
REAL LIFE. REAL NEWS. REAL VOICES.
Help us tell more of the stories that matter from voices that too often remain unheard.