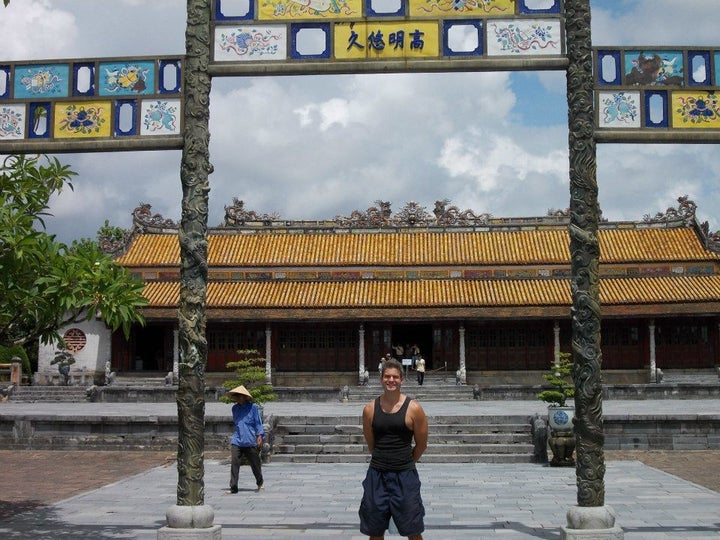 Vietnam gives travelers a fun mix of convenient major cities and sleepy village life, from urban centers like Hanoi to the rice fields around Hoi An.
Kelli and I visited this Southeast Asian gem for 3 months.
We loved the incredibly friendly locals along with the stunning beauty of its natural parks, rice fields and impressive mountains.
If you want a 1 month long itinerary of what to do in Vietnam enjoy this helpful itinerary from Katie and Ben of Two Wandering Soles:
Let's take a look at 5 must see spots in Vietnam, shall we?
Hustle. Bustle. Millions of motorbikes.
I only spent a few hours in HCMC while waiting for a train to Danang, as we made our way to Hoi An.
Definitely up there on places to see in Vietnam.
The intensity of the place along with charming local 'hoods and hectic SE Asian city feel makes it a must see spot in a must see land.
Hoi An was my favorite place to visit in Vietnam.
Peaceful, serene and fascinating, with its UNESCO world heritage site tag and French influence, Hoi An is a perfect little beach side town that mixes mild tourism with authenticity quite nicely.
Kelli and I spent many days at the beach to cool off from stifling temperatures. A few hours later, after a shower, we would head into town for some great eats at one of the many restaurants.
Danang offers you a mix between city life, and, if you want to chill, a trip to nearby Hoi An.
I liked this urban center for its convenience. Nice change up from Hoi An which was a little off the beaten path for creature comforts.
Do you know the way to Hue?
Hue's Imperial City was an impressive fortress, perfect for passing a morning or afternoon in this Central Vietnamese city.
Yep; Kelli snapped that image of me above at the Imperial City.
Restaurants abound here. We dug the DMZ Bar.
Hue was a solid city for pedestrians, which worked out nicely for us walking folks.
No visit to Vietnam is complete without a trip to Hanoi.
Trying to cross the street there was an intense experience. One step at a time grasshopper, as you take a step, wait a second or 2 for the wave of 2 million motorbikes to drive around you, then the next step.
A while later you will reach the opposite sidewalk. Eventually.
Hanoi has a world renowned street stall scene with absolutely delicious fare guaranteed to melt in your mouth. Or, to melt your mouff, if consuming a spicy dish.
If you want to learn more about these fun spots in Vietnam buy my eBook: