In 1897, over 100,000 would-be-miners and dreamers traveled from all over the world and stampeded into Alaska on their way to the Klondike Valley to find their riches during the Klondike Gold Rush. Many of those prospectors came through Skagway, Alaska.
During the spring of 1898, with 1,000 prospective miners passing through the town each week, the population was estimated at 8,000 residents, and at one point it climbed to over 30,000. Realizing how difficult the trek ahead would be en route to the gold fields, some folks chose to stay behind to supply goods and services to miners. Within weeks, stores, saloons, and offices lined the muddy streets of Skagway.
Today, the population of Skagway is around 920 residents, however it doubles in the summer to handle the over 900,000 visitors. Skagway has a historical district, which looks like a Hollywood movie set, of about 100 buildings from the gold rush era. Although many of the shops, restaurants and attractions are geared to tourists, there are some that will give you a good flavor of what Alaska is about and are worth a visit.
The White Pass & Yukon Route Railroad (WP&YR) tours, which is the most popular tour in Skagway, is probably one of the best tours that gives you a good overall history of Skagway and the 1897 gold rush, as well as some truly magnificent views.
According to the WP & YR website, in 1898, this narrow gauge railroad was built in only 26 months at a cost of 10 million dollars. It is an International Historic Civil Engineering Landmark, a designation that the Panama Canal, the Eiffel Tower and the Statue of Liberty also hold. The WP&YR railroad climbs almost 3000 feet in just 20 miles and included a steel cantilever bridge, which was the tallest of its kind in the world when it was constructed in 1901.
The train tours are fantastic and although they are best taken when the weather is good you will not be disappointed in any weather. The train personnel are friendly, very knowledgeable and each train tour is fully narrated. In the town of Skagway, on Second Avenue, they also have a Depot with numerous artifacts, historic displays and memorabilia. Next door to the Depot is the White Pass & Yukon Route Train Shoppe. Here you will find terrific souvenirs and gifts, as well as books on the history of the Yukon gold rush, videos of the train tour and much more. I bought a lot of great things here, as they were not the typical generic Alaskan merchandise found in every town.
Although you can book a tour directly with the railroad, if you are on a cruise it's easier to go through the Shore Excursion Desk. There are a number of excursions to choose from including 3 ½ to 8 hour round trip train tours, one-way train trips, train and motor coach excursions, overnight camping and hiker services.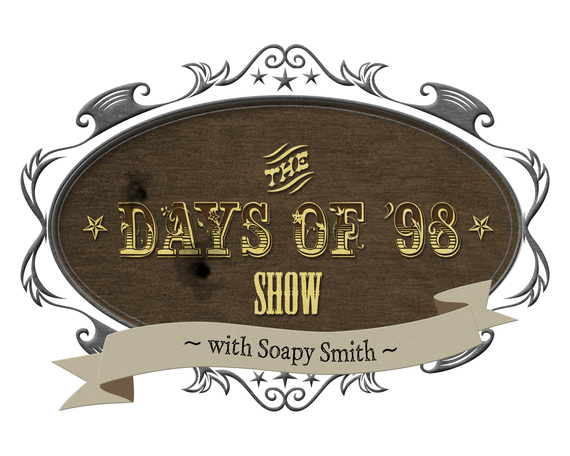 If you like your history to come with a little song and dance, then head down to Eagle's Hall on 6th and Broadway and catch a great show, The Days of 98 Show. This show, which is the longest running show in Alaska, started in 1923 when steamships began bringing tourists to Skagway. The locals decided to put on show about the history of the town to raise money for their local hockey team so they could buy uniforms to compete against their rivals in White Pass, Yukon, in the White Pass Athletic League.
For the past 91 years, the show has stayed pretty much the same. Today, the show is co-owned by Jonathan Baldwin (Artistic Director) and Jonathan Hayes (General Director). The Days of 98 recalls the birth of Skagway and the rise and fall of Alaska's most notorious outlaw, Jefferson Randolph "Soapy" Smith from 1897 to 1898. This one hour, family-friendly show is a vaudevillian musical revue about Soapy Smith's life and ultimate demise and features can-can dancers, ragtime music, humor and history.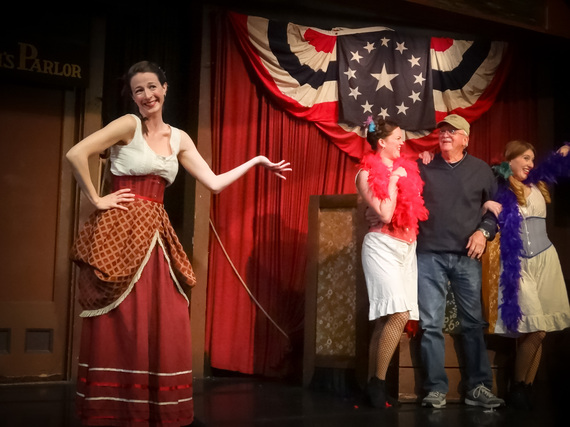 Photo: L to R - Allison Graham, Meridith Keller, audience member "Deadwood Dickie," and Tess Brenner
After the show, the cast will be out in the lobby and are more than happy to pose for pictures and answer questions. Also, take some time to look around Eagle's Hall, it's still an active lodge owned by the Fraternal Order of Eagles. There are some great historical photos and memorabilia on the walls and a casino that is a throwback to the early 1900s.
From take away to sit-down restaurants, Skagway offers a number of good places to eat while you're in town. One of my favorite places is the Skagway Brewing Co.
The Skagway Brewing Co. first opened its doors in 1897 and at the height of the Alaskan Gold Rush; the brewery was producing 30,000 barrels of beer a year. In 1900, when the gold rush began to decline so did the town's population. The brewery closed its doors in 1904 and in 1916 Alaska passed the "Alaska Bone Dry Law" that brought an end to producing and consuming alcohol in Alaska.
In 1997, the Skagway Brewing Co. opened once again, but only to close in 2002. In 2007, the Brewery was once again resurrected and today it's a popular place for locals and tourists alike to eat and enjoy some great local brews.
The menu features dishes for everyone including Hot Soft Pretzel served with a cheese sauce or grain mustard, locally caught Alaskan Halibut and Sockeye Salmon sandwiches, which are perfectly deep-fried, crispy and tender. There is also a Brew Master's Halibut Fish & Chips with the halibut battered in their own ale, as well as burgers, pastas, nightly specials and other specialties, many with unique twists.
Don't forget to try one of the house-made, handcrafted ales, which include the Prospector Pale, Chilkoot Trail IPA, Boom Town Brown, Blue Top Porter and their signature ale, Spruce Tip Blonde, which is made with hand-picked Sitka Spruce tree tips.
In addition to the White Pass & Yukon Route Train Shoppe, for souvenirs that are unique and different head to the Skagway True Value Hardware store, yes a hardware store, at 400 Broadway for unique coffee mugs, key chains, and other items. In a corner, near the front window, is a collection of old Alaskan license plates that are also for sale. One block from the Skagway True Value is Kirmse's. Dating back to the gold rush, Kirmse's Emporium was a family business until 1977. Today, Skagway locals own it. The shop features regional and local artists and crafts persons offering one-of-a-kind jewelry, house wares, pens, Russian nesting dolls and other unique and beautiful items.
Before you leave Skagway, make sure you stop by the Alaskan Fudge Company at 7th and Broadway for some delicious, and cleverly named, fudge including glacier chip, inside passage, gold rush, Mendenhall mudd, Glacier Bay walnut and 14 other flavors.
Of all the towns and cities I visited while cruising through the Inside Passage, Skagway was my favorite place and I think it will be yours as well.
References:
White Pass & Yukon Route website
Berton, Pierre. The Klondike Fever, New York City, Basic Books, 1958, Print
The Days of 98 website
Wikipedia
The Skagway Brewing Company website
The Alaskan Fudge Company website