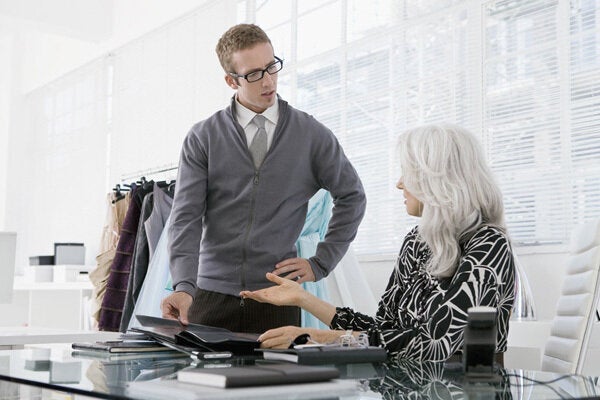 Forget about rabbits. 2011 is officially the Year of the Human.
The daily news may be filled with stories about scarcity -- we're seemingly running out of everything from natural resources to patience to [fill-in-the-blank here]. But the one thing we are definitely not running out of, at least not any time soon, is feeling, thinking people.
Yet, many companies are still missing the boat when it comes to getting their people to show up at work with their hearts, minds and bodies present. Most employees view work only as a means to an end--a way for them to collect a paycheck and receive health benefits. Part of the problem is that companies consistently fail to make a strong connection between their own "big picture" and its relevance to their employees. They continue to talk at rather than with their workers, dictating what's good for them, rather than making an effort to understand their wants and needs.
It's no wonder that these are the same companies that continue to battle against low morale, high turnover and flagging productivity. According to Human Resources Magazine, employee disengagement is estimated to cost the U.S. economy as much as 350 billion dollars every year. Choosing to tap into employees' full potential, or not, can ultimately mean the difference between the success or failure of your business.
Employee engagement is often lumped in with those things we know we should be better about doing, but often aren't (flossing and cleaning out the refrigerator come to mind), and is still something that is sorely lacking in the world's greatest companies. But unlike flossing and cleaning out the fridge, engagement can be fun, interactive, and can result in amazing returns for your business and the people who are the lifeblood of your organization.
Here are 5 "must-dos" to effectively engage your employees in 2011:
1) Ask and you shall receive: The New Year is here, and it's not business as usual. Instead of trying to "solve problems by using the same kind of thinking that created them," look to your employees to help define your corporate challenges and, in turn, devise innovative solutions to address them. One dynamic way to do this is to create an internal design team that includes people from of all levels of your company. Commit to taking regular "pulse surveys" to find out what your people are thinking about, worrying about and dreaming about, rather than resorting to the ho-hum annual survey. How do they like to work? What makes them happy? What gets them excited? Taking the first step to simply listen will begin to foster trust and deepen your connection with your employees.
2) Find the fun: They don't call it work for nothing, but all work and no play makes for an unproductive and bored-out-of-their-minds bunch of employees. Fun should be a consistent and easily accessible part of your office environment. Many innovative ways to connect already exist in the outside world. It's time to start welcoming more of these tools inside the walls of your company. Targeted social media and gaming sites like SVNGR.com and Seriosity.com can help keep your employees accountable and anchored to your mission, each other and their own personal incentives.
3) Use social good as a Trojan horse for engagement: Connecting the dots between engagement and social responsibility is no longer the "wave of the future." It's what companies need to be doing now to get ahead. Aligning your employees around a common cause that transcends generational divides, gender and ethnicity is a sure-fire way to spark a sense of purpose and belonging. When your employees feel educated, inspired and empowered around the company's commitment to social responsibility, sustainability and citizenship, the real magic starts to happen. This kind of "good work" is also what the next generation of employees is adamantly expecting from their employers.
4) Inspire viral and grassroots learning: It might be hard to believe, but in the next four years, Millennials will make up more than half of our country's workforce. This super-digitalized generation is already accustomed to being engaged virally and through social media. Offering online mentoring and learning opportunities, as well as easy and entertaining ways to collaborate and share ideas, such as through Spigit.com, Slideshare.com and Twiddla.com, enables your employees to dictate what's most important to them and spur companywide participation. A little healthy "collabotition" in the workplace goes a long way to igniting ambition and inspiring innovation.
5) Create a company of micro-philanthropists:It's likely that your company already donates money to various causes. Why not ask your employees to get involved, rather than dryly recounting the company's actions during the next all-staff meeting? Sites like Donorschoose.org, Mobilegiving.org, Changenet.org and Causecast.org all allow individuals to make small donations to the organization of their choice. Make giving an integral and personal part of your company culture by allowing each of your employees to choose a specific non-profit recipient and track the impact of their donation.
Whether you are already engaging your employees in one or some of these areas, the most important thing to keep in mind as we head into the Year of the Human is to start viewing "work" through more holistic eyes. Engagement is a two-way street and, to be successful, it requires commitment, enthusiasm and consistency -- all things that tend to be in greater supply at the fresh start of a New Year.