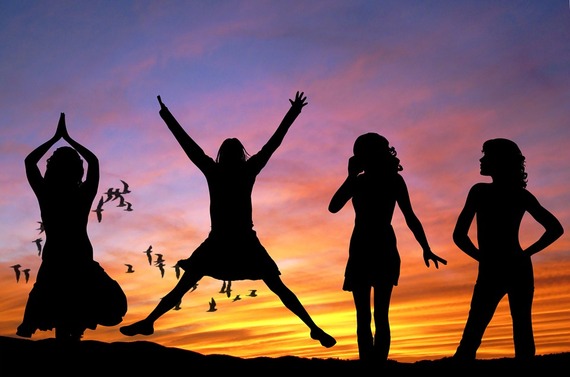 Women's status in business has improved drastically over the last few years, and even though there is still a long way to go to achieve complete equality, women are important contributors to the economy.
More than 9.1 million firms in the U.S are owned by women, according to the National Association of Women Business Owners, generating 1.4 trillion in sales--impressive figures by any measure, regardless of gender. So how do these successful ladies do it? Well, in the hands of every successful business women there's a smartphone or tablet equipped with the best productivity and business apps.
Whether you run your own business, you're a freelance, or you work for a multi- million-dollar corporation, you need to stay on track with your goals and manage your time wisely.
Pave your way to success with these top-notch apps that will help you get the job done (guys you should check these out too).
Expensify- If you run your own company or travel often as part of your job, this is a vital app for you. Save time recording your mileage and receipts by using Expensify's SmartScan technology; use your smartphone's camera to take pictures of receipts and select the expense report to assign for each receipt. The app retrieves important information like date, time, and amount and eliminates the manual and wearisome process of tracking your expenses.
Awesome Note- Time management is a crucial skill we all struggle with in the modern world; juggling numerous work-related duties and personal commitments is a stressful task. Awesome Note lets you combine and organize every important piece of information into an all-in-one organizer with a calendar, to-do lists, and folders divided into various categories like ideas, anniversary, daily-life, thoughts and more, so you'll never get overwhelmed again.
Pepperi- For women involved in B2B sales, Pepperi offers an e-commerce sales experience that's fully automated. Sales reps can download the mobile CRM tool on an iPad or tablet and browse e-catalogs, place a hassle-free order, and review order history for faster purchases. The app offers seamless integration to leading ERP systems, and allows field agents to maximize sales opportunities and offer better customer support throughout the purchase process.
Basecamp-Collaborating with others is easier with a project management app that keeps participants on the same page and keeps relevant information in the same place. Your workspace is online, and you and your colleagues can discuss, share, manage and review deadlines in order to get things done effectively. Features include real time chats, file storage, a centralized schedule, and to-do lists to divide the workload between employees.
IFTTT- "If This Then That" is a cool app that lets you combine two apps you love into a powerful service; you can create a "recipe" of conditional statements that automates the link between one action that occurs in one app with another. For example, link every starred message on Gmail to Evernote to create a new note, or post daily reminders for your time members on Slack, and even keep track of sleep patterns with Fitbit, and Google Calendar will remind you to catch up on your sleep.

You don't have to be Yahoo's Marissa Mayer, or Facebook's Sheryl Sandberg to know your time is valuable and your business matters. Women have more opportunities to succeed today and with the right tools at their service, they will able to maximize productivity and boost business performance.
By the way, if you are a guy and you are reading this, I'm pretty sure you can find this article very helpful!
REAL LIFE. REAL NEWS. REAL VOICES.
Help us tell more of the stories that matter from voices that too often remain unheard.