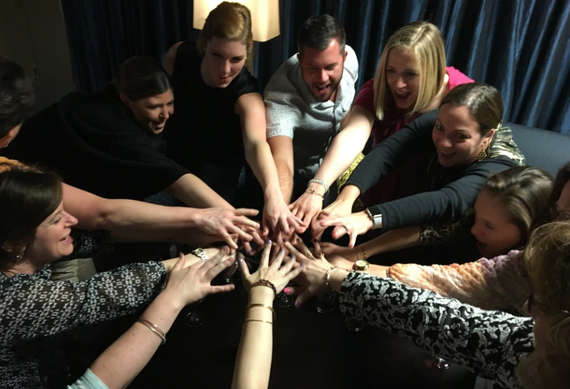 As I stood in front of the group, charged with leading them in a 90 minute team building activity, I was inspired by the cohesiveness they brought to the activity, having spent the previous 30 hours bonding, building and reinforcing the ties that brought them together. The group, an entirely volunteer board, pressed pause, and left behind the daily push-pull of emails, text messages, staff meetings, agenda making and dozens of other responsibilities (including their families), for the greater cause of coming together as a unit. They realized without this retreat, forging solid bonds is sometimes a difficult thing to do.
What I walked away with was something entirely different than I had expected. I only had a brief sliver of time with them (just about 90 minutes), but its impression will have a permanent mark in mind. It was me who walked away inspired, motivated and completely charged up. Although I already knew many of the people in the group (we all belong to the same Washington, D.C. area chapter of an association called Meeting Professionals International), the filter I will see them through from this point moving forward will be forever changed.
My takeaway and five points I think are valuable when considering any team building program:
Take it out of the office. Although short programs that will encourage team building can be done in the office, there is a huge value placed in doing team building outside the four walls of an office. Just the change of environment can make a huge impact. Meals, socializing and conversations all happen outside the team building activities, but this, in and of itself provides a great opportunity for team building too.
Encourage open, honest conversation. Ground rules should be set at the onset of the activity allowing for open and honest conversation. Team building provides an environment for change, growth and improvement for the greater good. Although bonding is obviously one of the results of team building, the sharing of ideas freely will help everyone grow in the group. Natural leaders will rise during this program and you will be amazed with the results.
Pass the pillow. I witnessed this firsthand and it was truly inspiring. At the tail end of the second full day of activities, everyone in the group had an opportunity to discuss what they have gotten out of the team building program. A pillow passed from one person to another helped control the conversation, if you had the pillow, the floor was yours. Even the quietest of participants (yes, there are always a few shy ones) had an audience. It was an emotional time. What I found most interesting about this portion of the team building retreat, was that this was an unscheduled portion of the program, but still had a tremendous impact on all attendees.
Open the no judging zone. You want everyone involved in the program to feel as though any comments they make or views they present will be heard, discussed and a part of the conversation without judgement. I sat in on several conversations before and after the 90 minute team building activity I facilitated that, outside of this environment, I feel would have never occurred for fear of statements made would have been judged by others. A byproduct of spending two days with others? The lines between business and personal become blurred and your judgement of them becomes less critical; you begin to understand what motivates and inspires those you are with. Keep this time as a judgement free time.
Stretch limits and explore new ideas. Team building activities challenge you to think outside the box. Although there are hundreds, more likely thousands of activities, they do not have to be physically demanding. When I pulled up to the retreat, there were companies doing ropes challenges and obstacle courses on the grounds of the retreat. Alternatively, I have seen tabletop chocolate bridge building, television trivia and game show fun provide a great opportunity for team building as well. Inherent to the activity are the positive results when you have an opportunity to brainstorm with others. Troubleshooting solutions while breaking down obstacles and removing barriers are common, encouraged and expected results. This translates very well when the team building activities are completed and re-entry to the "real world" occurs.
It's not what you do or even how you do your team building, but it is the sheer fact that you are doing it that creates an impact. Team building does just that, it builds your team. If you have not done it for a while and you are in a position to make it happen, I would encourage you to do it, soon. It will make a difference. What I found most interesting is that each time I go out to facilitate a team building project, I am the one that comes back pumped up, motivated and inspired, ready for action and feeling like a part of the team. We all win!