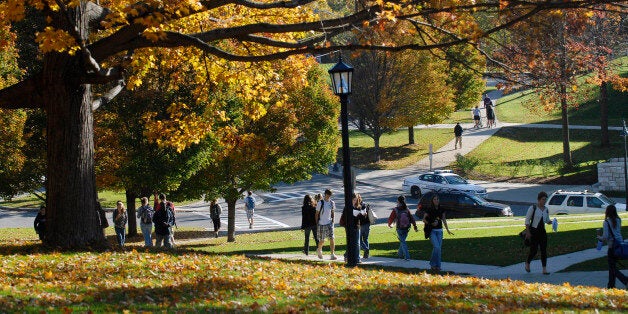 There is a sea of misinformation out there regarding the value of a liberal arts education. Endless job searches, mountains of debt, and a world inaccessible to anyone but the most elite; these are just some of the myths people point to and claim the liberal arts are dying.
The reality, however, is that higher education in the liberal arts is actually alive and well - continuing to provide a path to a rewarding career and richer life for students of all backgrounds. Students and their families can't have an open discussion about their best college option unless we dispel some of these misconceptions about the liberal arts.
1. A liberal arts degree won't work in this economy.
An incredibly persistent yet misplaced concern - often voiced by parents who have the best interests of their children at heart - is that a liberal arts degree will not prepare students for success in the job market. But what these parents don't know is that lifetime earnings for liberal arts graduates are comparable to those of graduates from other more vocationally or technically oriented colleges. Majors in the humanities and social sciences actually earn more than professional majors at their peak earning ages (from 56-60 years old).
And a liberal arts education fosters skills like creativity, problem solving and critical thinking that are hot commodities in the job market. A study by the American Association of Colleges and Universities (PDF) found that 93 percent of employers say someone's ability to think critically and communicate clearly is more important than his or her major when making hiring decisions.
2. You can't succeed in the STEM fields with a liberal arts education.
Another popular misconception is that a college education in the liberal arts will prevent graduates from landing a job in the ever-competitive STEM (Science, Technology, Engineering, Math) job market. The assumption is that "liberal arts" exclusively means the humanities and the arts, but a liberal arts education also includes study in the sciences. Nationally, liberal arts schools offer, and excel at educating, majors in mathematics, chemistry, biology, and physics.
A survey conducted by the National Academy of Sciences found that nearly 20 percent of scientists elected into the Academy over a two-year span came from a liberal arts college or university even though only 3 percent of college graduates attended such a school, as Nobel laureate and chemist Thomas R. Cech, has highlighted (PDF). Education at a liberal arts institution often provides access to first-rate faculty in many different departments and actively fosters thinking across disciplines - a key skill for any profession, even in a STEM field - and helps to minimize "group think."
3. Small liberal arts colleges are only for wealthy, white liberals.
4. Most students and their families can't afford the cost of a liberal arts education.
Too often students and parents think a liberal arts education is just too expensive for them - unless they are among the 1 percent. But the truth is that as the cost of higher education has increased across all types of colleges and universities, liberal arts schools have worked hard to remain affordable and accessible to students from all economic backgrounds. We have seen a range of nationally respected liberal arts school actually cut their tuition.
The institution I lead, St. Mary's College of Maryland, has frozen out-of-state tuition and decreased in-state tuition. In fact, this year marks the third straight year of our tuition freeze, meaning students in the class of '16 will graduate without tuition ever having gone up. There are also a handful of other public liberal arts schools throughout the United States that similarly aim to combine the traditional vision of a small liberal arts college with the economically diverse, populist public mission of state colleges and universities.
5. If you go to a liberal arts school, you'll be buried in debt by graduation.
And lastly there's the quintessential criticism of college education in the liberal arts: that you'll be digging yourself into a hole of student debt that you'll never be able to climb out of. The data simply don't support this myth; liberal arts colleges provide an excellent return on investment. In fact, at liberal arts schools, the return on investment is actually 50 percent higher than business schools. Liberal arts institutions also have relatively high four-year graduation rates, performing very well when compared to national universities - particularly for low-income students receiving Pell Grants.
Despite the continued proliferation of these myths and the argument that the liberal arts represent an outdated view of higher education, liberal arts colleges continue to provide a first-class education that broadens the career and economic horizons for students of all backgrounds. And it's a great option for any student.
Popular in the Community