ScottDW, aka, flimmaker Scott David Winn didn't always have the confidence he has now as a youtuber with videos that get millions of views. I went Behind the Brand with Scott and learned a ton about the negative and positive habits we need to break or keep to be at the top of our game.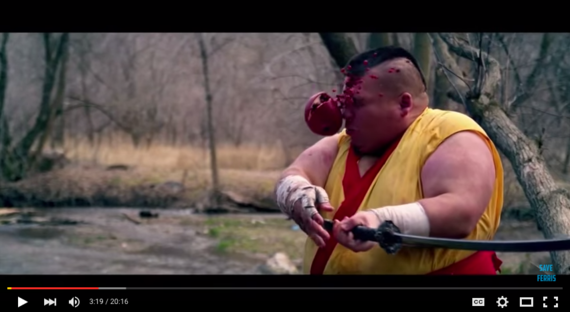 In his own words Winn describes what he does making videos for a living as an on-going struggle. Growing up Scott wasn't always treated kindly. Kids made fun of him for his bushy eyebrows and other things. As a result he still battles self-esteem issues and imposter syndrome from time to time.
Next, Winn has a wife and two children, balancing his demanding career and family life is also a challenge. There is outside pressure on filmmakers in this space to remain untethered. They need to be free to drop everything and hop on a plane to film their next big project. Lastly, ScottDW continues to have health issues. During the filming of one of his last big projects he was really sick and didn't know if he would make it through the experience.
Scott's story really struck a chord with me because I understand first-hand how hard living the dream can be. The struggle is real. If you're in it with us, I hope this helps you a little.
Here are 5 negative habits anyone who wants to be successful should learn to break:
1. Stop caring what others think about you
The moment you stop caring what others think is the moment you're free to climb to great heights. I'm not saying that you should dismiss or ignore feedback. Feedback or the lack thereof can be important signals for you to focus on improving your product or finding the right audience.
Just remember that no one cares about what you're doing as much as you. Your friends or family might not see the vision you see. If Winn had listened to critics he wouldn't have made his very first super successful cat video. Don't let what others think or feel control you. You are the "captain of your soul."
2. Avoid negative self-talk
The principles around the self-fulfilling prophesy are real. Your thoughts are the seeds of action. Negative self-talk can only yield a negative result. The opposite is also true. Positive self-talk helps us to keep trying. We might change direction, pivot or cut bait on projects but we shouldn't give up on trying to become our best.
ScottDW told me that he stopped reading his Youtube comments because sometimes it would send him into a tailspin. Positive thinking doesn't mean sweeping adversity under the rug or that by some kind of magic our troubles and trials disappear. But keeping our chin up allows us to keep moving forward. With our eyes up and on the prize we can spot and possibly avoid new obstables that come our way.
3. Understand the difference between guilt and shame
Author Brene Brown helped me understand and deal with this in my own work. In Brene's words, "guilt is feeling bad when we've done something wrong. Shame is feeling that we (not our actions) are bad."
We will make mistakes and maybe apologies to others are in order. But there are very few occasions to accept and feel shame. Brown points out that it's something we're quick to manufacture in our own minds as we're hardest on ourselves when we fall short. We need to separate these two emotions and not let shame convince us that we don't have value or have the right to try (again).
4. Stop trying to be someone you are not
In our video interview you can see ScottDW pause several times as if he was thinking hard about sharing the very personal things he did. I'm glad he opened up and shared with all of us and that he is making new progress in being more true to himself.
It's ironic that transparency leads to more trust, not less. It's not easy to be different when everyone else seems to be doing the same thing. Oscar Wilde said it best, "Be yourself; everyone else is already taken."
5. Avoid "all or nothing" thinking
I've been here before and it's not pretty. "All or nothing" thinking is seeing things black and white. If your performance falls short you see yourself as a total failure. Most of the time it's not all or nothing. Author David Burns has written and spoken a lot on this in his book, Feeling Good. It's a process of elimination trying to figure out the right recipe for success.
What did I leave out? Post a comment below or tweet me @BryanElliott and I promise to reply. For the full library of Behind the Brand videos click here. Thanks for reading and watching!
Calling all HuffPost superfans!
Sign up for membership to become a founding member and help shape HuffPost's next chapter