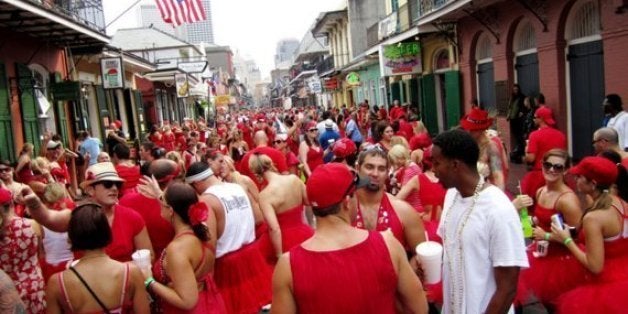 Despite the swampy heat and humidity, the people of New Orleans don't sweat the small stuff. Instead, they let the good times roll throughout the year celebrating any and everything they can. From cultural celebrations to culinary creations, New Orleans has a festival for every occasion and as a New Orleans native, here are my suggestions for five you need to visit.
1. Jazz Fest: Always the last weekend in April and the first weekend in May, the New Orleans Jazz and Heritage Festival gathers at the Fair Grounds to celebrate all things Louisiana in food, art, music and culture. My must-eats are cheesy crawfish bread, Crawfish Monica pasta and the Cochon De Lait Po'boy. With 12 musical stages -- buzzing with jazz, gospel, zydeco, blues, funk, rock, folk and more -- Jazz Fest has seen great local and international artists, such as Professor Longhair, the Neville Brothers, Preservation Hall Jazz Band, Jimmy Buffet, Simon & Garfunkel, Elton John, The Who and more.
2. Po'Boy Fest: Free and open to the public, the Oak Street Po'Boy Festival is held on Oak Street in uptown New Orleans in November and celebrates the "poor boy" sandwich famous to the city. Choose from classics like fried shrimp, fried oyster or roast beef po'boys to unique choices like the fried lobster or seafood-au-gratin po'boys. Don't forget to order it "dressed" (lettuce, tomatoes, onions, mayo).
3. Voodoo Fest: Growing up in New Orleans, my parents told me I was not allowed to go to Voodoo Fest until I turned 18 years old. What started out as a small event featuring mostly dark metal bands every year around Halloween has blown up into a mega concert post-Hurricane Katrina. The lineup at the 2015 Voodoo Music Experience -- whose motto is "worship the music" -- will see big names like Florence + the Machine, Ozzy Osbourne, Dead Mau5 and local favorites Dumpstaphunk and Soul Rebels Brass Band.
4. French Quarter Fest: As a native New Orleanian, French Quarter Festival is my personal favorite. Celebrating all things Vieux Carré, the French Quarter is dotted with 23 musical stages playing those old familiar sounds of home. Some of the best restaurants in the city set up booths serving their tastiest, craftiest dishes. This festival is a great way to explore by foot the cobblestoned streets of the French Quarter in spring before the humidity gets too intense. And the city's relaxed open container laws let festival goers sip on iced Abita beers while strolling.
5. Red Dress Run: And while most events are a celebration of the city's history and culture, others are held for a good cause too. On the surface, the annual Red Dress Run looks like just one big party after a casual jog through the French Quarter in August. But in reality it's a fundraising event that's contributed more than $1 million to more than 100 New Orleans charities. Adorned in red dresses, women and men - yes men too - parade at all speeds through the streets of New Orleans, most with beers in hand. After the run, the debauchery continues in the city where debauchery was invented.
The Big Easy is all about that lagniappe, appreciating that little something extra that makes our city special. And don't fret, there are even more festivals throughout the year in New Orleans, including Oyster Festival, Creole Tomato Festival, Louisiana Cajun Zydeco Festival, Essence Fest, White Linen Night and Southern Decadence.
This piece was originally published on Travelzoo.
Mary Walker Baus is a producer at Travelzoo and based in Los Angeles. Travelzoo has 250 deal experts from around the world who rigorously research, evaluate and test thousands of deals to find those with true value.