Whether it's a souvenir from your coworker's trip or an awkward holiday present, you have probably received a coffee mug as a gift at some point in your life. The problem with that is, well, you only really need one mug. Here are some ways to repurpose your...'collection.'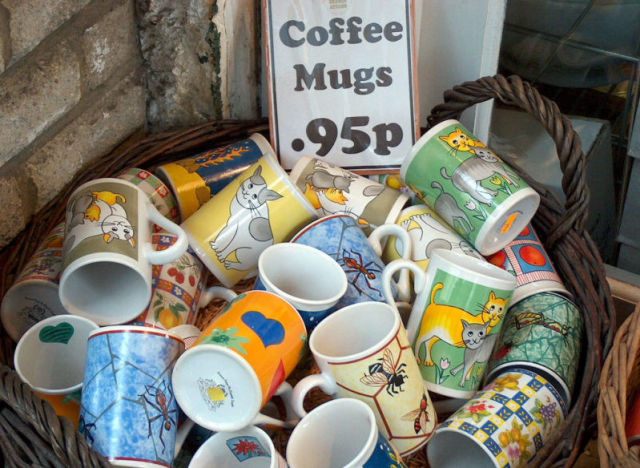 Flickr photo by Sami KeinAnen
Small Plant Pot
A mug is the perfect size for a tiny plant. Try planting a hearty small plant, or even some basil in it. Just make sure you have it in a place where it'll get plenty of light. (Just don't over water the plant, as the mug does not have a drainage hole.) If you don't have a green thumb, try growing a cactus.
Candle
If you make candles as a hobby, try making one in a coffee mug instead of a glass jar. Just pour your melted wax and add your wick. When it sets, you'll have a unique candle. This is also a great use for a tea cup. (When was the last time you saw someone drinking out of a china tea cup anyway?)
Gift Holder
If you go to a thrift store, you can find some great unintentionally ironic mugs. You can cheer up a coworker by getting mug from an absurd travel destination like Branson, Missouri, or some weird corporate event and fill it with candy.
Bathroom Organizer
Do you share a bathroom with a roommate or family member? Mugs offer a great way to separate your toiletries, like toothbrushes, razors and such. That Garfield 'I Hate Mondays' mug? Clearly not yours. No more bathroom mix ups!
Mosaic
Do you have a favorite mug that wound up being chipped or cracked? Break it up and use the pieces to make a ceramic mosaic, if you're so inclined.
Do you have any other uses for mugs? Share them in the comments!