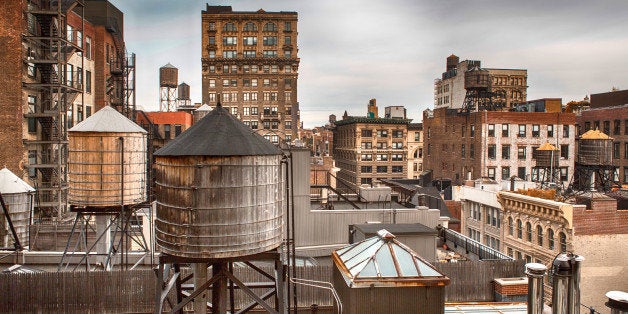 There are many unique adventures to be had in New York City which continue to gather large crowds of people looking to replicate these once in a lifetime experiences. They are written down in guide books and talked about on blogs and done over and over again for very good reasons but there are also well known experiences that unfortunately have morphed into tourist traps with long lines. While these places might be more well known, there are very similar experiences that can often be much more authentic and enjoyable. Here I hope to show you 5 of some of the most iconic experiences that New York has to offer, where you think you should go to find these events and where you should go instead.
Where you think you should go...
When you think of seeing the New York skyline the first thing that comes to mind is the iconic Empire State Building soaring upward above the other large New York buildings. Due to this, many people think that going to the top of the ESB is the best place to view the city but sadly this is not the case because not only does the ESB have some of the longest lines you are likely to see anywhere in the city to visit the roof viewing deck but you will also be paying a good deal more than some of the other building roofs. Top that off with the fact that no picture you take will have the ESB in it means that this is not your best choice for taking that iconic New York photo.
Where you should actually go...
If you are looking for that iconic view of Manhattan than there really isn't a much better place than the Top of the Rock. Not only do you get a beautiful view of most of Manhattan, Brooklyn, and New Jersey but you also get these views combined with one of the best views of the Empire State Building around. Couple this with the fact you are paying much less than if you went to the top of the ESB and this is a no brainer. From the north side of the building you can also get a fantastic view of the park makes this a fantastic spot to take your pictures and brag to your friends with that awesome photo you just took.
Eat Some Fantastic Italian Food
Where you think you should go...
Your first instinct is going to be to go visit Little Italy in lower Manhattan, and why not -- it has Italy right there in the name. While this neighborhood used to be full of authentic restaurants, shops, and bakeries these are sadly now few and far between. You are more likely to find large groups of tourists and average pasta than that iconic New York Italian experience you were hoping for. Yes there are a few amazing places still around here but Little Italy now has a store that sells Christmas items all year round which should tell you all you need to know about how much this neighborhood has changed.
Where you should go instead...
While slightly off the beaten path, Arthur Avenue up in the Bronx is everything you would look for in a Little Italy experience in New York. This street gives off a 1960s Bronx Tale neighborhood feel with small stout buildings with large storefront windows. Most of the restaurants here will not disappoint with homemade pastas and brick oven pizzas that will impress even the pickiest eaters. Try Zero Otto Nove for delicious pizzas or Roberto's for homemade pastas in an iconic Italian restaurant setting. Really anywhere on Arthur Avenue won't disappoint. The charm of Arthur Avenue is not just in its restaurants but also in its many stores, markets, and bakeries. Check out the Arthur Avenue retail market for amazing cheeses, hand rolled cigars, and the most amazing casual beer/wine hall you are likely to find in the five Burroughs.
Looking for a True Chinatown Experience
Where you think you should go...
Chinatown in Lower Manhattan is rich with history and culture but it unfortunately is dwindling with every passing year as this Chinatown gets smaller and smaller. While there are still some restaurants with some amazing food (America's Greatest Noodle Town is a personal favorite), these places are getting harder to come by as rising rents push out these once hubs of the community. Still a great place to get inexpensive produce and fish in the right places, you often have to fight through large crowds of people to get there.
Where you should go instead...
Flushing Queens for the past few years been considered the real New York Chinatown and is the second fastest growing Chinese community outside of China. Both the cultural and food scene have exploded over this time often being featured on shows like Anthony Bourdain's No Reservations. Boasting some very large Chinese goods markets and restaurants like Xi'an Famous Foods, you will see why this is such an up and coming neighborhood. Located only a short distance from Manhattan and easily accessible using the 7 train, Flushing is a fantastic place to soak in Chinese culture without having to take a 15-hour flight.
Looking for Some Amazing Cupcakes
Where you think you should go...
The TV show Sex and the City really made Magnolia Bakery a must-visit for any tourist visiting the city. It has gotten so popular that they have expanded beyond their original West Village location and can now be found all over the city. While Magnolia does have one of the best banana puddings in the city, the cupcakes for which they are famous are definitely not worth the lines and the hype. Those looking to fulfill some desire to relive the TV show will find good cupcakes but not ones you will be talking about for months to come.
Where you should go instead...
While there are many bakeries churning out fantastic bakery goodness, our recommendation is Two Little Red Hens on the Upper East Side -- a charming establishment which is filled with locals looking to satisfy their sweet tooth and not with tourists looking to relive an old TV show. You can't go wrong with any of the cupcake flavors here and they also come in two different sizes so if you can't make a choice just get a bunch of the bite-sized versions. Eating a cupcake here is truly an experience worth having!
Looking for a Fun Time in Times Square
Where you think you should go...
The movies have made Times Square seem like a magical place but any New Yorker will tell you they avoid it like the plague. Unless you enjoy getting harassed by grown men in costumes, need to get an overpriced caricature of yourself, or really need to eat at the Bubba Gump Shrimp restaurant you should really avoid it here at all costs. Maybe worth going for a quick photo opportunity, most locals don't understand the appeal of the bright lights and even bigger crowds. Throw in large groups of tourists who have forgotten how to walk and you wonder why the Times Square subway stop give most New Yorkers nightmares.
Where you should go instead...
Literally anywhere else! New York is full of rich history and culture that is hard to imagine why many flock here. Go explore the Lower East Side or venture off into Brooklyn and make your own adventure!
Calling all HuffPost superfans!
Sign up for membership to become a founding member and help shape HuffPost's next chapter