Yes, it is exciting to look at all the photos from New York Fashion Week, what with all the glamorous celebrities, magazine editors and bloggers dressed to the nines (completely disregarding the temperature outside). At the same it can be a little depressing as most of us cannot afford one designer item -- much less many of them. But there has been a change in the air at Fashion Week in recent years as more cost-friendly retailers have been invited to participate as they up their quality and participate in collaborations with high end designers (like Zac Posen and Brooks Brothers this year). Here are a few brands that showed at New York Fashion Week that you can definitely afford.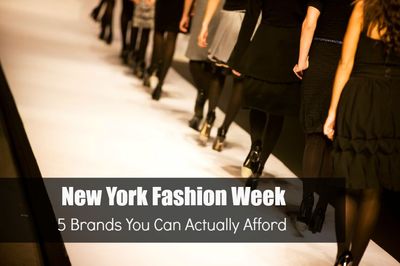 1. Banana Republic
Creative Director for Banana, Marissa Webb, has really outdone herself this year. Her spring/summer 2016 lines are perfect for the workplace and won't break your bank account. She told InStyle.com, "It's about having fun and taking suiting out of that serious box. (The collection) isn't completely different from the past because there's still the tailored element, but it's about styling and mixing and matching elements." The collection was part of a partnership with Timo Weiland and the CFDA, an ongoing program that supports emerging American designers and American manufacturing.
2. Lauren Conrad
Lauren Conrad's line for Kohl's, LC Lauren Conrad, has always been budget friendly. So just because she made her debut at Fashion Week this year it doesn't mean she's forgotten who her customer base is (prices range from $12 to $300). And if you like white, lace, tulle, shorts and a 70s aesthetic then this is your brand. Plus, Kohls.com already marked the collection down by 25 percent.
3. Tory Burch Sport
In addition to doing a runway show, Tory Burch also managed to launch a separate line: Tory Sport. The activewear collection includes clothing, bags, shoes and accessories for running, studio, tennis, swim and Coming & Going -- a category of pieces that can be worn before and after a workout. And with its super chic and old school preppy 70s appeal, you are going to want to be playing tennis in no time.
Burch said in a statement, "We focused on the elegance of sport--the performance aspect is a given, not a design detail. I have always been passionate about sports, and activewear is something I have wanted to do for years. Classic silhouettes from the Seventies have always resonated with me. Our goal was to design a collection that balances fashion and function." Prices range from $55 for performance tops to $550 for outerwear.
4. J.Crew
Though J.Crew has been showing at NYFW for a few seasons, it is actually moving away from high fashion and going back to basics. Fashionista reports that the brand will be reissuing some of its classics that people have faithfully loved and gone back to year after year (such as a blazer that came out in 1993, trench coats and sweaters).
5. Brooks Brothers
Zac Posen is breathing a little bit of fresh air into the classic brand's womens' line. It's not the likeliest of pairs, but the collaboration is receiving high praise. "Through the process of working with Brooks Brothers, my secondary line, and now into my collection, as you'll see in a few days, there's a sense and need for ease, especially as a fashion message to women," Posen told Vogue. "She doesn't have to be the loudest person in the room. It's what's inside that matters."
Though the collection features a lot of looks women can sport in the office, he plans to make a bigger push in that direction -- he feels it's an untapped and very important market. "It's not about women dressing as men, which is how my mom tells me women dressed on Wall Street in the 1980s," Posen said, "but we have a history of suiting and mixed separates that can be redeveloped from the inside out, for many different body types."
Get more work and money news from GoGirl Finance delivered to your inbox every week: Click Here to Sign Up
Meredith Lepore, the author of this article for GoGirl Finance, is the former editor in chief of the women's career site, The Grindstone. She writes regularly for InStyle.com, Bustle, Levo League, Food&Wine.com and her work has appeared in Marie Claire, SELF, Women's Health Magazine and Cosmopolitan.
Calling all HuffPost superfans!
Sign up for membership to become a founding member and help shape HuffPost's next chapter