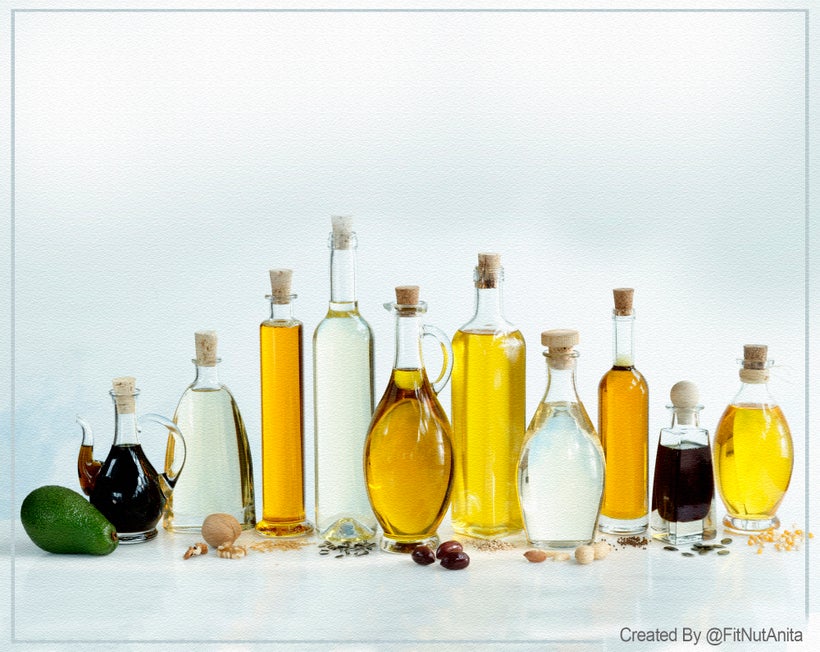 I always have one goal in mind when I start the day. It's about how many vegetables I can consume and in how many different ways. Some days are boring and I'll just sauté spinach to throw in an omelet and other days are zesty and include a green superfood protein smoothie, a farro based stir-fry or even a seasonal soup or salad blend. For most of my clients, the thought of meal prepping vegetables is an arduous task, partly because it's time consume and partly because eating vegetables just seems like a chore.
(Not if it is tasty, right?)
Because there are many different ways to cook vegetables i.e. roasting, sautéing, baking, grilling, pan-searing or raw in salad form, it's important to understand how to give them the best flavor palate. For example, a simple vegetable roast pan could have a multitude of vegetables with an oil drizzle and salt/pepper to taste on top. However, the oil you use could have an impact on the final taste profile as well as nutritional quality. I've chosen 5 oils I feel should be in your "rotation" and provided insight on best use.
Instead of the old-school industrial frying oils the fast food industry boasts, why not upgrade your kitchen with this oil for all your browning or frying needs? Safflower oil is high in monounsaturated fats (and low in saturated fats) which could help lower your LDL (bad cholesterol). This oil has the highest smoke point of all the oils.
Food Prep Ideas: Sear/Fry fish, homemade French fries or Sweet potato fries
After previously receiving a bad reputation, this oil contains medium chain triglycerides (MCTs) and they're powerful. MCTs have demonstrated to burn calories, which could lead to weight loss over time. It also contains Lauric acid, which has demonstrated immune boosting capabilities (especially during the winter season!) Focus on the organic, virgin, expeller pressed varieties.
Food Prep Ideas: Option to replace it with butter in recipes (i.e. homemade granola), Bake Vegetables, Marinate meat before roasting, Scrambled eggs
Brands to Try: Nutiva, Spectrum
Ghee is also known as clarified butter. If you're on the path to becoming lactose intolerant, ghee is a better option for you. Ghee is rich in choline and fat-soluble vitamins (A, D and E) and has a higher smoke point (think: major roasting or broiling). Consider using ghee oil in the winter months for the Vitamin D optimization as well as for the Butyrate, an anti-inflammatory short-chain fatty acid. Ghee also contains MCTs — similar to coconut oil.
Food Prep Ideas: Roasting Vegetables, Scrambled Eggs or Omelet
Brands to Try: 4th and Heart
If you're pan frying with medium heat (425F), this is a good choice. If you don't consume fatty fish, obtaining your Omega 3's through this nutty oil is a smart choice because it offers 1,900mg per serving. Because walnuts have offer a vasodilation effect, they could help increase blood circulation. They also contain Vitamin E - a powerful antioxidant. Walnut oil does have a nuttier, toasty flavor so keep that in mind when pairing it with your recipes.
Food Prep Ideas: Vegetable Stir-fry, Pan-fried vegetables
I would say Avocado oil is an upgrade to the olive oil. "The perfect salad topper," so using avocado oil for homemade salad dressings is tasty and nutritious. It does not have a relatively high smoke point. It is also a good source of lutein, a carotenoid that's naturally found in your eyes as well as carrying antioxidant properties (i.e. increasing the absorption of carotenoids)
Food Prep Ideas: Drizzle over crudite, Create salad dressings, Ingredient in mayo or hummus
Brands to Try: Spectrum, Chosen Foods, La Tourangelle
FYI: Smoke point is important to understand because that is how kitchen fires get started. You should be pairing cooking oils with cooking methods in order to practice safe cooking skills as well as to obtain and preserve as much nutritional quality as possible.
REAL LIFE. REAL NEWS. REAL VOICES.
Help us tell more of the stories that matter from voices that too often remain unheard.
This post was published on the now-closed HuffPost Contributor platform. Contributors control their own work and posted freely to our site. If you need to flag this entry as abusive,
send us an email
.