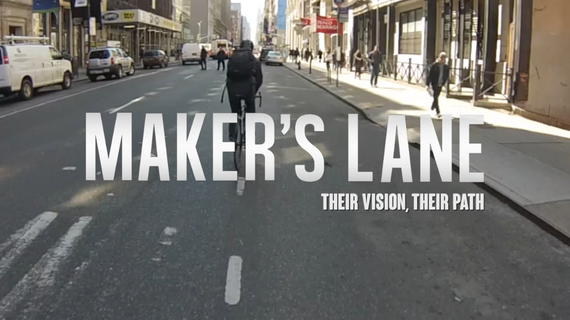 Today, the Internet offers immediate access to resources and tools that make it possible for people to create their own businesses -- whether it's starting a clothing line, a mobile app or YouTube channel. Entrepreneurship is growing faster than ever, and no matter the venture, it's an incredibly exciting time for innovation and trailblazing that abolishes the concept of gatekeepers. I've always been motivated by the idea of creating your own path and pushing past the boundaries of societal norms, so I created the docuweb series about New York City entrepreneurs, Maker's Lane, to inspire others with stories of risk taking, vision making and courage.
In elementary school, I felt embarrassed that my parents didn't have "respectable" professions, that they showed up to my school in dirty clothes from work, and that my mom washed my classmates' clothes. My mom owned and operated a laundromat and my dad owned a floor sanding company. Both of my parents escaped Vietnam by boat in 1980 after the war, then stayed in a refugee camp in Hong Kong for a few years until they got sponsored to come to the United States. Growing up, I didn't think of my parents as entrepreneurs -- I just considered them manual workers doing hard labor. Looking back, I see how amazing my parents were to immigrate to the U.S. with no money, to navigate a new bureaucratic system with no English skills and to build their own businesses -- both which survived the recession -- with no American education. My whole life, my parents taught me that there are no limitations when it comes to creating a better future for yourself. Even more, my parents showed me that I can carve my own path, I can defy existing systems, and I, too, can be a boss.
With the spirit of the American Dream in me, I decided to launch the first 5 episodes of Maker's Lane highlighting Asian American entrepreneurs as a way to celebrate Asian Pacific American Heritage Month (APAHM) in May. In addition to creating uplifting content for viewers, I'm passionate about diversifying portrayals of underrepresented communities in mainstream media. I handpicked a roster of NYC entrepreneurs that represent a spectrum of ethnicities, genders and industries: custom bike shop owner, Cory Ng of Mott Street Cycles; software developer and on-demand delivery app co-founder, Calvin Lai of WunWun; fashion designer and owner of EZ Threadz, Inez Galvez; spoken word poet and founder of Moving Earth Productions, Kelly Tsai; culinary hustler and owner of Smorgasburg's vendor Outer Borough, Carson Yiu.
The first five episodes show the diversity, creativity and innovation within the Asian-American community. Entrepreneurs are forging new lanes in the future of technology, arts, fashion, food and product development. APAHM happens to be a timely opportunity for me to bring attention to these stories. But I don't encourage people to watch these episodes because they tell a uniquely Asian American story. They don't. These are stories about entrepreneurs who brought their unique vision to life through hard work, failure and persistence. Race is just a backdrop. Part of challenging mainstream media norms is changing the perception that content with Asian-American faces is only relatable to an Asian=American audience. Maker's Lane is for anyone who dreams about creating a life on the path less taken. At the core
of these entrepreneurial stories is a humanizing experience about the American dream.
Check out the trailer and first 4 episodes below. The fifth episode for APAHM premieres Wednesday June 2nd at makers-lane.com